JNW is the world's leading provider of cleaning systems and services for the outside cleaning of all kinds of air-cooled heat exchangers. Air-cooled heat exchangers are used in a variety of industrial settings including power plants, waste incineration plants, the chemical industry, refineries, the petrochemical industry, the gas industry, the automobile industry, the timber treatment industry, the food and beverage industry and the ceramic, glass and paper industries. We can provide cleaning systems and services for the outside cleaning of heat exchangers, infrasonic soot and dust cleaning systems, Conco Systems for the inside cleaning of heat exchanger tubes and full maintenance of fan drives
With JNW cleaning systems all known air-cooled heat exchangers can be cleaned:
Air cooled condensers (ACCs)
Flat coolers – both induced and forced draft
V-designs
Vertical designs
Hybrid cooling towers
Natural draught cooling towers
The consequences of fin tube fouling
Air-cooled heat exchangers are constantly at risk from external fouling of the fin tubes by pollen, dust, insects, leaves, plastic bags, bird carcasses, etc. This reduces the airflow and the heat transfer coefficient, causing deterioration in performance and resulting in lower process efficiency and higher operating costs. A small amount of external fouling will have a significantly negative effect on performance. Typically, on a vacuum steam system, a 20% reduction in airflow will increase the turbine backpressure by 33% so even at low ambient temperatures it is not possible to maintain the turbine backpressure.
For types of heat exchangers (e.g. process coolers) other than air-cooled condensers the process temperature will increase or output will reduce. Reductions of 20% are not unusual; in extreme situations it can be as much as 50%. Using a high-pressure hand lance or fire hose only leads to a small improvement and a superficial cleanliness, since only a small part of the fouling can be washed off. The rest is pressed between the fin tubes and will not be rinsed out. Once the fouling itself is compressed it not only obstructs the heat transfer, but also the airflow of the fans. Cleaning by JNW removes deposits from external fouling of finned tubes in a way that is impossible when using a hand lance or fire hose.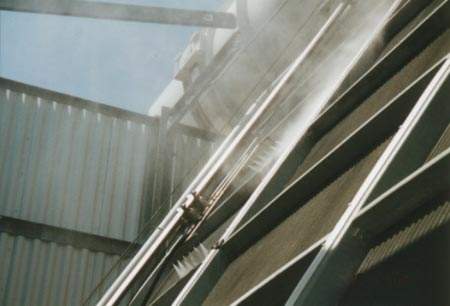 A permanent JNW cleaning system operating at a power plant in the USA.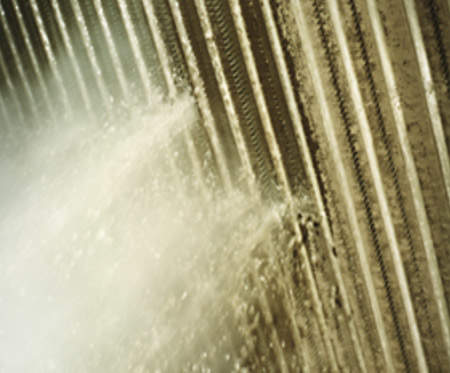 A water jet inside an ACC roof.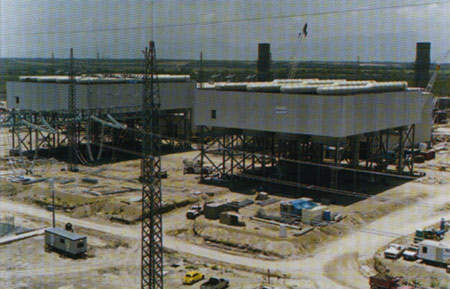 An ACC in Mexico equipped with a JNW cleaning system.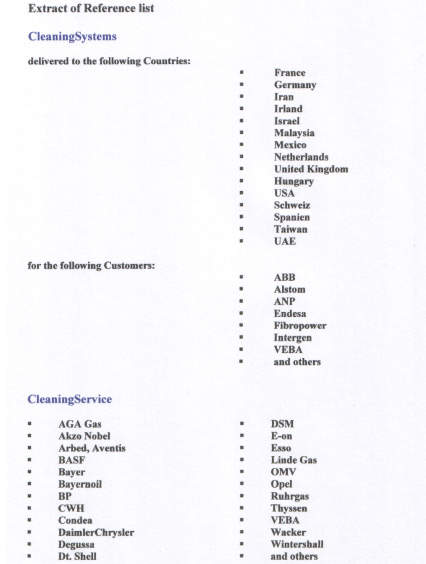 Some examples of JNW customers in countries across the world.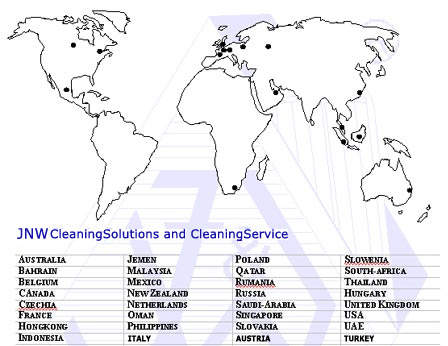 A map showing the many countries throughout the world JNW operates in.
Efficient and ecological cleaning
The effectiveness of this JNW cleaning is so remarkable compared to cleaning procedures by hand lance or fire hose that the original design data of heat exchangers can be achieved again. Due to the substantially improved output after a JNW cleaning, the cost of the cleaning soon pays for itself. For example, a 400MW power plant in Great Britain could sell more power for €24,000 per week after JNW cleaning. Our cleaning uses only high-pressure water without any additives. This is made possible by the JNW nozzle beam, which is optimally designed for the geometry of each fin tube with an always-constant jet angle.
The unbeatable advantages of JNW cleaning systems
Suitable pressure means careful cleaning of galvanized surfaces
Nozzle beams optimally fitted to the bundle geometry, giving the best cleaning between the fin tubes
Careful cleaning due to the constant jet angle and constant speed at all times
No scaffolding of bundles
Specially developed for all kind of fin tube material – steel, aluminium, brass, copper, etc.
No bending off of fin
Cleans while running
Power plant cleaning systems
One of the world's leading power plant design companies equips all ACCs in newly-built power plants worldwide with JNW cleaning systems. For example, three power plants with a total output of 1,220MW in Mexico and five power plants with a total output of more than 3,000MW in the US and UK were equipped with JNW cleaning systems in 2001.