Kockum Sonics pioneered sonic cleaning technology more than 35 years ago. Kockum Sonics' origin was at the Kockum Shipyard where we have been developing and supplying the acoustic signalling systems for more than 100 years.
We noticed that onboard a ship, ash would fall off the chimney when the ship's whistle sounded. Realising the advantages of using sound for cleaning, Kockum Sonics has been constantly developing and improving sound cleaning products for various
applications ever since.
Our developments have always been made in close cooperation with our end users, as well as with boiler, filter and catalyst manufacturers.
SONIC CLEANING PRODUCTS
The Kockum Sonics range of sonic cleaning products includes: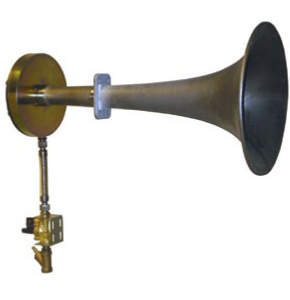 Sonic horn IKT 230/170.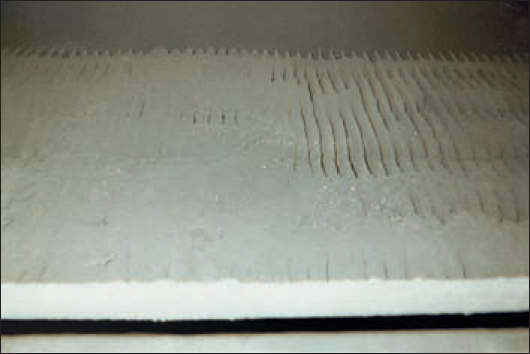 Economizer without sonic cleaning.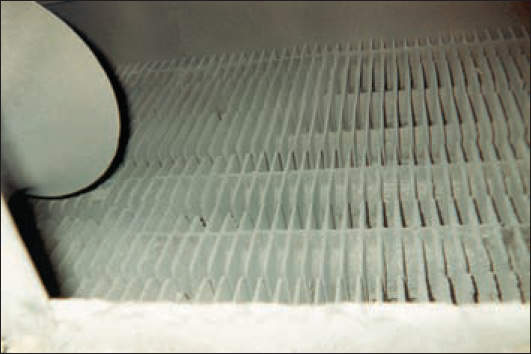 Economizer with sonic cleaning.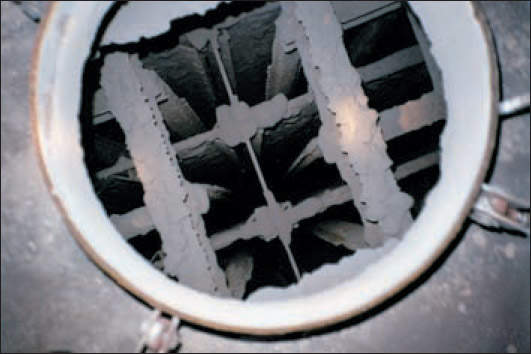 Electro-filter without sonic cleaning - dust emission 29.4mg/Sm³.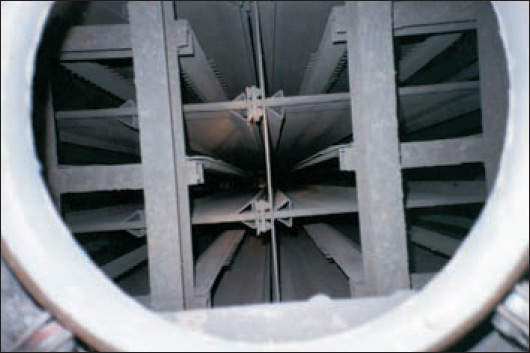 Electro-filter with sonic cleaning - dust emission 13.5mg/Sm³.
SONOFORCE® – Kockum Sonics' series of pneumatic audible sonic horns
INSONEX® – Kockum Sonics' series of pneumatic infrasound generators
PULSATOR® – Kockum Sonics' pneumatic silo-fluidizing discharge system
SONIC CLEANING FOR BOILER CLEANING
Kockum Sonics' sonic cleaning can be used to clean a wide range of boiler applications, including super heaters, re-heaters, economizers, SCR-catalysts and air pre-heaters. Our sonic soot blower is, in most cases, a better alternative to steam soot
blowers, steel ball cleaning or air-lance cleaning.
SONIC CLEANING FOR FILTER CLEANING
Sonic cleaning is also ideal for cleaning textile filters, electrostatic precipitators, cyclones, hoppers and ID fans. Our sonic cleaning products are, in most cases, a better alternative to pulse-jet cleaning, reversed-air cleaning,
rappers and hammers.
ECONOMIC BENEFITS FOR BOILER AND FILTER CLEANING
Sonic cleaning provides numerous economic benefits for boiler and filter cleaning. These include:
Constantly cleaned heat-transferring surfaces
Increased power output
Higher fuel efficiency
Improved heat transfer and filter efficiency
Decreased maintenance and operation costs
Improved lifetime on boiler tubes and filter bags
No dead spots – sound waves reach everywhere
Easy to retrofit
SONIC CLEANING FOR FOOD AND FINE CHEMICAL APPLICATIONS
Kockum Sonics' sonic cleaning products have been successfully used for spray driers, filters, ductwork, and silos for the food and fine chemicals industry.
SILO DISCHARGE SYSTEM
Kockum Sonics' fluidising system for handling bulk and powdery material uses a pneumatic pulsator. The pulsating air is injected through panel activators into the powdery material.
SONIC HORNS FOR INDUSTRIAL ALARM AND CIVIL DEFENCE
Kockum Sonics also provides a wide range of sonic horns for industrial alarm and civil defence. These sound emitters are either electronic or pneumatic and fulfil all specified regulations for these types of product.
The alarm products are also used for tsunami warning systems and port facilities.
Our alarm products are:
TYFON® – Kockum Sonics' series of pneumatically-operated sonic horns
TYFONIC® – Kockum Sonics' series of electronically-operated sonic horns
DELTA® – Kockum Sonics' series of electronically-operated sonic horns
SCHALLREINIGUNG FÜR KESSEL UND FILTERANLAGEN
Kockum Sonics, ist der ursprung der Hörbaren Schallreinigung und Infraschallreinigung. Für einsätze im bereich von überhitzer 1250C, Katalysatoren, Luftvorwärmer, Elektrofilter, Schlauchfilter und Silo. Kockum Sonics schallsender und pulsator systeme hat für mehr als 35 jahr im betrieb sein.
SILOENTLEERUNG
Kockum Sonics Fluidisierung für Bulk und Pulver hantierung brauchen einem vollpneumatischen Pulsator. Die pulsierende luft wirt injiziert und dann mittels Aktivierungsflächen im Pulvermaterial verteilt.
SCHALLSENDER FÜR ALARM UND CIVILSCHUTZ
Kockum Sonics bietet Warnsystemen mit Elektronischen – und Pneumatischen – Schallgeber an die entsprechen Forderungen.