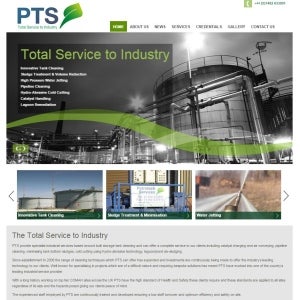 PTS has unveiled a new website that showcases the company's vast range of services.
From small beginnings in 2006, the company has grown with the employment of experienced staff and has had numerous relocations to accommodate the increase in equipment and administration support staff.
The company's client base covers a range of industries, including oil refineries, power stations, tank farms, international oil terminals, and chemical plants. These clients are scattered across the UK and PTS can provide a seamless service in any location, no matter how remote.
If you have bulk storage for your process, whatever that may be, PTS will be able to offer a service to suit your requirements. The services are detailed on the website and include tank cleaning across a range of products, sludge treatment and hydrocarbon recovery, cold cutting, catalyst handling and water jetting.
For those who are not planning maintenance at the present time, PTS also provides a reliable reactive service, including emergency response.
After looking at the site, why not download the brochure from the company's white paper page on power-technology. This provides a detailed look so you can have the information to hand. Alternatively, please get in touch via the details below to request a hard copy.
The website has been built by SSInternet a company close to the PTS head office in East Yorkshire.
As is the PTS way, we have had a long standing relationship with SSInternet, who have provided the print and design services for the company since its establishment.
PTS believes that if you find a trustworthy supplier this is worth nourishing and the business is built on solid relationships. This stability is passed on to our clients.
Contact PTS on +44 (0) 1482 633901 or email sales@petrotechservices.co.uk.