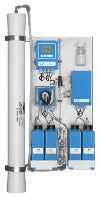 The first member of the AMI Silica family, the AMI Silica, was introduced in 2011. Our AMI Silica is a highly reliable analyser, which covers a wide range of applications, including water steam cycles, cooling, and surface water, due to its wide measuring range.
One new family member is the AMI Silitrace, which complements the Silica Family.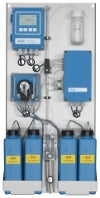 With its tempered photometer, it is suitable for use in a variety of low-temperature applications. The measuring range of the AMI Silitrace starts at 0,5 ppb, which makes it ideal for applications, such as make-up water, as well as pure water treatment systems, and condensate.
Another new family member is the AMI Silitrace Ultra designated for ultrapure water and Semicon applications.
It is the only instrument on the market able to measure low silica concentration levels to fulfil the strict guidelines of the International Technology Roadmap for Semicondutors (0,01ppb / 10ppt).
The AMI Silitrace Ultra will replace the COPRA Silitrace.
The AMI Silica remains the ideal instrument for boiler water and steam applications, with silica values higher than 1.0ppb.