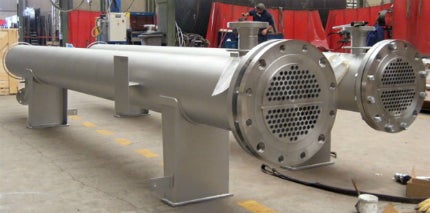 ARROSPE is a general boiler making / engineered custom metal fabrication company with more than 30 years' experience in the design, fabrication and installation of stainless steel and special steels equipment, such as tanks, vessels, reactors, separators, scrubbers, heat-exchangers, columns, deaerators, skid units, piping works and apparatus.
We specialise in stainless steels (from austenitic to duplex and superduplex), nickel alloys (incoloys, hastelloys) and recently became certified for titanium. We also work with carbon steels, but normally as 'not in contact' parts of stainless steel equipment or in high added value / complex projects.
Tube and shell heat exchangers
We design and fabricate equipment in accordance with according European (EN) or American (ASME) standards; we are certified with ASME VIII Div1 U Stamp and according to European Pressure Equipment Directive PED97/23EC.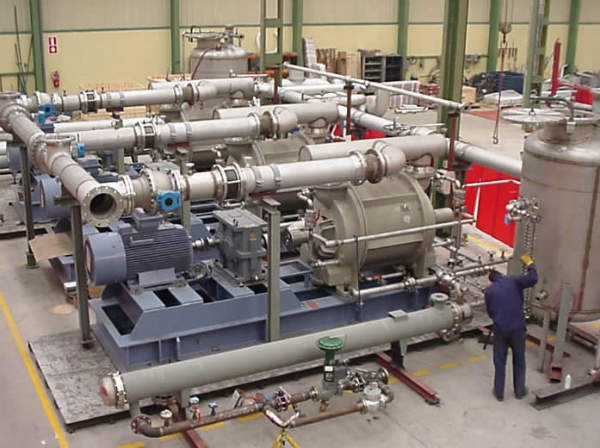 Arrospe provides mechanical design, fabrication, assembly, testing and CE marking of vacuum / heat exchanging skid units.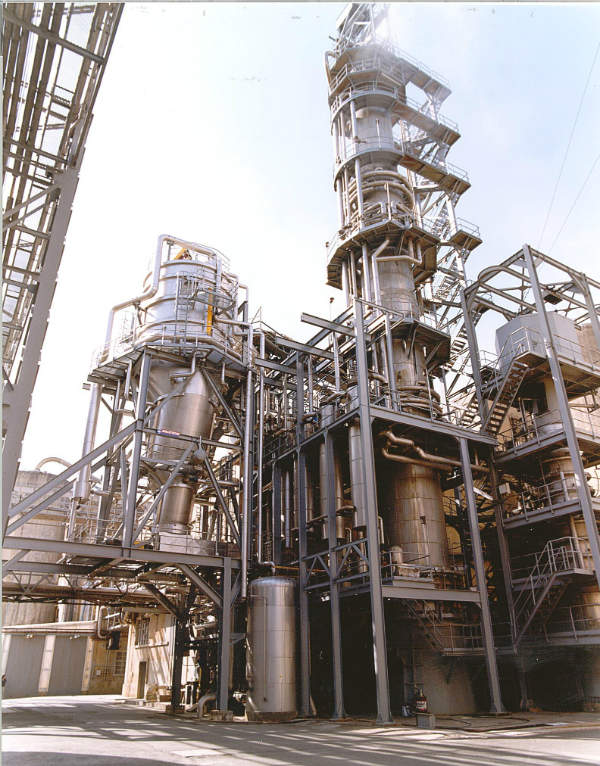 We carry out fabrication and field installation of items such as an Ahlstrom Diamondback pre-steaming chip bin.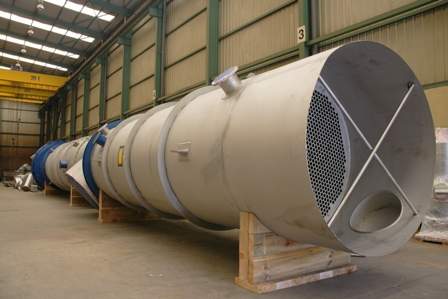 We can perform mechanical design, fabrication, shop pre-assembly, testing and CE marking of equipment such as a METSO Recox boiler vent gas condenser.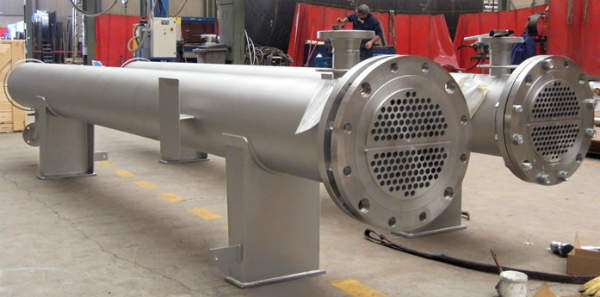 We offer the design, fabrication, assembly, testing and U Stamp of NASH-SAUDI KAYAN heat exchangers.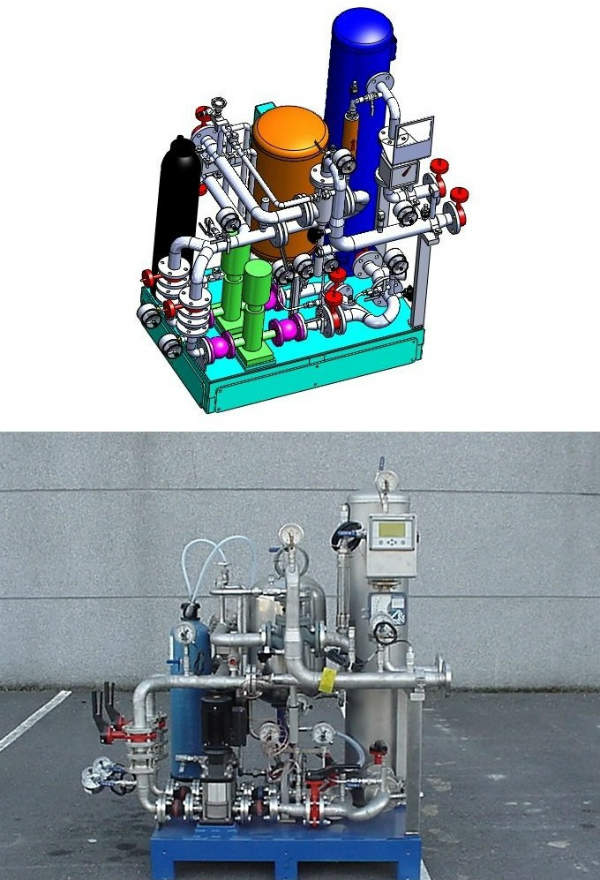 We provide services for the design, fabrication assembly and testing of refrigeration pump units of electronic power devices.
We also design tube and shell heat exchangers according to TEMA and HEI (mechanical and thermal calculations) specifications.
Clients from different sectors worldwide use our services, including Gardner Denver NASH, KADANT, VOITH, METSO, and ANDRITZ.
We work within industries such as paper and pulp, chemical, petrochemical, power, bio-energies, water treatment, food industry. In short, we work in any industrial sector that requires the storing, processing and conduction of fluids in any of their phases (gas/liquid/solid).
Fabrication and piping
We have two different but complementary business lines, which are:
Workshop equipment manufacturing and fabrication: any kind of apparatus / skid units according to client requirements
Field installation and erection at client's site of equipment and piping
In both lines, we can contribute detailed engineering to turnkey projects.
We have an engineering technical office with five engineers, including an international welding engineer (IWE ), which specialises in welding unions. This gives us the ability to offer clients an integral service, subcontracting with usual suppliers / collaborators the additional operations required in the fabrication (machining, heat treatments, equilibrating, couplings, etc), in order to deliver the equipment completed.
Fabrication, welding and testing facilities
We have a 7,100m² site strategically located in an industrial park, 15km from San Sebastian, Guipuzcoa provincial capital and 90km from Bilbao Port. On this site, we have a 4,800m² modern workshop that was built in 1998, offering a lifting capacity up to 50t, and integrating the fabrication processes of cutting, forming, welding, non-destructive tests and surface finishing.
Design, fabrication and revamping of pressure vessels
We posses the following certifications:
ISO 9001. The effectiveness and efficiency of the company is guaranteed from TÜV certification of its quality system according to the DIN EN-ISO 9001:2008 Norm standard, which was achieved by ARROSPE in 2002 and retained ever since
ISO 3834-2. We meet the EN-ISO 3834-2 standard: comprehensive quality requirements for fusion welding of metallic materials both in workshops and at field installation sites (TÜV certification is scheduled before 30 June 2013)
ASME VIII Div1 U Stamp + National Board
International welding standards
We have procedures and officially accredited welders according to European ISO and American ASME standards for the following materials:
Stainless steels: austenitic, duplex, super-duplex, nickel alloys
Carbon steels
Titanium
Pressure vessels, equipment and installations
We have been accredited with the 'U-Stamp' and 'National Board' for the design, fabrication and revamping of pressure vessels according to ASME VIII Div 1: 2010 standards.
In addition, we have achieved 'CE Marking' of pressure vessels and piping installations according to PED-97/23CE criteria. ARROSPE is certified for the installation and repair of pressure vessels according to 1244/1979 Spanish Royal Decree, the ATISAE Nº0053 official notified body.
Manufacture of tubular heat exchangers
We fabricate custom-made tubes and shell heat exchangers, including the mechanical calculations and thermal design, according to Tubular Exchanger Manufacturers Association (TEMA) and Heat Exchange Institute (HEI) standards
Company history
The company was founded in 1978 as a cooperative by a group of friends, with two engineers, in addition to tube-fitters, erectors and welders. The group started to work for a local valve company (ORBINOX), supplying parts for paper mills in the area. Due to the paper mill 'boom' of that time, ARROSPE quickly grew, also offering fabrication and erection works to other clients (NASH, AHLSTROM and local paper mills) in the piping works in paper and pulp industry (above all, polished approach flow headbox piping and vacuum installations) in Spain.
Drawing on its extensive experience acquired in metal fabrication and erection, the company began to work across different sectors such as chemical, petrochemical, water treatment and renewable energy in 2000
From the beginning, ARROSPE has based its business on a high-quality products and services, cooperating closely with the client and trying always to surpass customers' expectations.
ARROSPE's company vision
We aim to be a world-renowned specialist in custom stainless steels, special alloys and high added value fabrications / projects, working closely with clients and suppliers, working sustainably and environmentally friendly, providing professional and personal independence to our members.