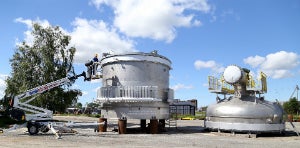 In October 2015 Estanc finished tanks for the petrochemical industry, that were delivered to Belarussia. Our products are going to be a part of a bigger process. Tanks will take part in cooling down gases coming from the system. Tanks were manufactured in line with both European standards and with GOST standard.
Two of the tanks in the project were produced from stainless heat-resistant steel suitable for the needs of the chemical industry. One was made out of chrome-molybdenum steel. Both of these materials were a great challenge to us that we were able to successfully conquer. In addition to complex sheets and outer parts, it was Estanc's assignment to install inner pipings and collectors to the product. Because of the sophisticated materials used in the product the project had maximum level demands to quality testing. Non destructive tests for circa 99.9%. In addition heat treatment was required after welding.
The project was a very big challenge for Estanc. The good quality of the products that offer us a crucial reference for the future could have not happened without the effort of every team member in our company.