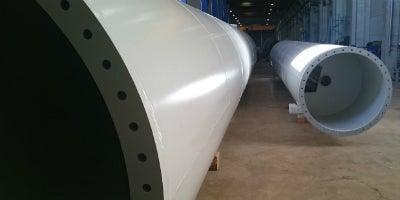 In the first half of September Estanc purveyed two towers of wind turbines to its long-term co-partner.
Estanc has manufactured wind turbine towers, their extensions and connection adapters since 2004.
Manufacturing a conic shaped tower with the connection adapter takes alot of precision, anykind of offset in measurements between linkage points could in longer terms lead to breakages in tower construction or in bolt connections.
Estanc has manufactured wind turbine towers to all over the world. There are some in Italy, England and Scotland alongside with our own homeland Estonia.
The latest two finished towers have length of 31 meters, were composed out of two parts, each weighing in on more than 16 tonnes. Towers were manufactured according to the EN 1090-2 standard and and have CE signs.
Our co-partner assembles, piece outs and adds to the towers wind turbine components beginning from 15 meter blades; rotating generator head along with a reducer on a winding drum and ending with networkdensity inverters and all the other electronics. Both parts of the process takes place in Estonia.
Nowadays the core of a wind turbine is effective permanent magnet generator, that inverts nonuniformly alternating AC current parameters U, fc and P into direct current (DC). Continous current saved into capacitator-batteries will in the final stage be inverted to alternating current with right parameters. In this status the alternating current will be led to electrical network.
Wind turbines in the core of this newspiece have power output of 250 kW and our co-partner will install them to the coast of Scotland.
Estanc ltd is a member of Estonian wind energy cluster and hopes to see it's continuous contribution in field of future energy solutions.