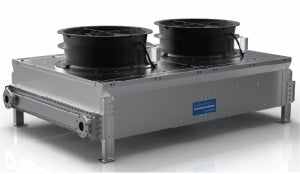 Luvata has launched the new High-Grade Process Cooler (HGPC), which is designed for the most stringent requirements.
The HGPC is a high-end quality product that offers flexibility in material choices and numerous ways for customisation to meet the requirements of the world's most complicated installations, including cooling power plants and emergency and standby generator sets for offshore platforms and reactor cooling plants.
When quality and reliability matter most, the HGPC is the answer. Developed specifically for projects where site ambient conditions are harshest and material choice matters, every HGPC is customised to meet the customers' exact specifications.
It can be equipped with one or up to 56 fans, depending on the cooler size and other variables such as power supply voltage, frequency variations, sound level, power consumptions and speed regulation.
Luvata's heat transfer solutions division industrial global product manager Patric Jonsson said: "No two installations are ever the same.
"Delivering high-quality products upon which our customers depend is what we do best, even in the harshest conditions."
Luvata's computer software COILS is used to help the selection and size of the correct cooler for the corresponding installation.
A new feature of the COILS software is a slider. By moving the slider, the data will change in accordance with the changed fan speed. Based on various factors such as cooling capacity, cooler size, number of fans, tube row and environmental conditions, the software is used to further improve the cooler design.
Based on the required performance, application and environment, available tube and pipe materials include stainless steel, aluminium, copper nickel, titanium and copper.
The exact combination of materials, along with a long list of available options and accessories, are selected using Luvata's metallurgical expertise and heat transfer knowledge to deliver the complete optimal solution for the customers' requirements.
---
Image: Luvata"s new HGPC product. Photo: courtesy of Luvata.