ÖMV manufactures advanced process equipment that includes heat exchangers, reactors, tanks, cisterns and columns.
Our products often have to work in corrosive conditions at high-temperatures, so their design and the materials used are of the utmost importance. Experienced designers work in our in-house design department to achieve these aims.
Manufacturers of advanced process equipment
We assist our customers with modifications and new solutions. We are also a part of OSTP, which means we have additional resources, including materials knowledge, research and development, and access to stainless steel base material.
The primary sectors we have supplied over the last 50 years are: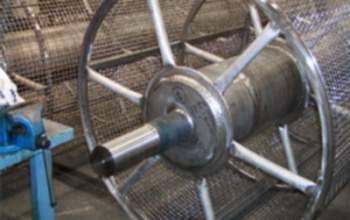 Our granulators have been developed for grinding low concentrations of fibre materials.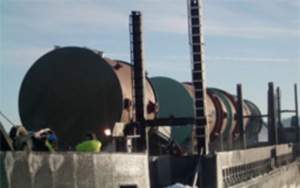 A pipe-heat exchanger transfers heat from one medium to another, and can be used for heating and cooling.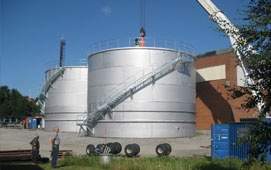 We build large tanks using jacks. The welding of the mantle is automated, while the tank is rotated.
Pulp & Paper
Chemicals
Oil and gas
Nuclear power
Energy
Process equipment for energy preservation
We work with customers to devise products and solutions that can be applied to energy preservation.
Our location, at the entrance to Örnsköldsvik, means that we can we can load onto barges directly from our factory, as well as transport equipment by truck and railway. We can also use our ice-free deep water harbour, which is 4km from ÖMV.
Experienced stainless steel welders
We work with customers in areas such as planning and design, product development, welding support, project management, service, maintenance and thermal calculations.
We employ some of the very best stainless steel welders in Sweden, who have expanded their knowledge and skills through training programmes. They are also available to assist customers on-site.
By being part of OSTP, we can access the group's research and development (R&D) functions, which currently consist of 200 specialists within selected areas. With this knowledge, we can assist our customers in areas such as material selection, corrosion, products, applications and training.
TEMA-standard heat exchangers
Maintaining the highest levels of quality and supporting the environment are vital parts of our manufacturing process.
Our customers expect products to meet their requirements and conditions. Documentation forms an important part of the delivery, and this helps satisfy official requirements.
Our heat exchangers are designed on the basis of the Tubular Exchanger Manufacturers Association (TEMA) standard, while we have experience in the following design codes:
EN 13445 (PED)
ASME Div. 8 class 1 (including U-stamp)
BS 5500
AD2000
Many of our products are manufactured with third-party approval, and we are used to working with TÜV Nord, Lloyds and Inspecta, among others.
We are approved in accordance with ISO:14001 and ISO:9001.