Tempco solutions for power generation and cogeneration applications include a complete range of high-performance machinery: radiators and dissipation units, thermal recovery solutions, dry cooler and heat exchangers engines — all designed to minimise waste of heat and power in industrial plants.
The company's offering also includes solutions for biogas and fuel treatment and biodiesel and oil preheating systems. Tempco's product units are designed and manufactured to high standards, along with maximum custom flexibility, easily adapting engines to particular industrial needs, always packed with the highest skills, reliability and strength.
Energy saving is a must for modern industry. Cogeneration, or combined heat and power (CHP), is an innovative technological energy production system that simultaneously provides thermal and electric energy, by recovering thermal heat produced by the generation process.
Tempco's energy saving engines recover thermal heat produced in industrial operations, avoiding energy losses and waste, and increasing energy efficiency within the production cycle, giving huge economical and ecological benefits: less emissions and higher amounts of energy made available for other industrial processes, all with the same fuel consumption at the origin.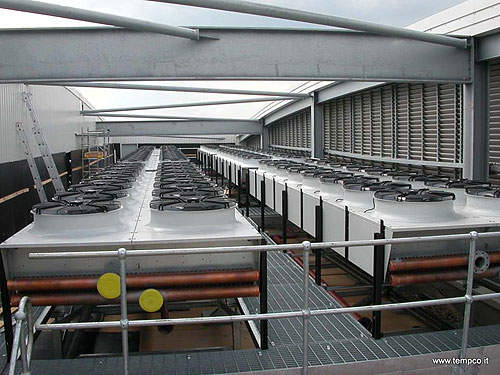 T FIN ENGINE is Tempco's solution for free cooling and heat dissipation in generation sets and cogeneration plants, available in a wide range of radiator models for any industrial need.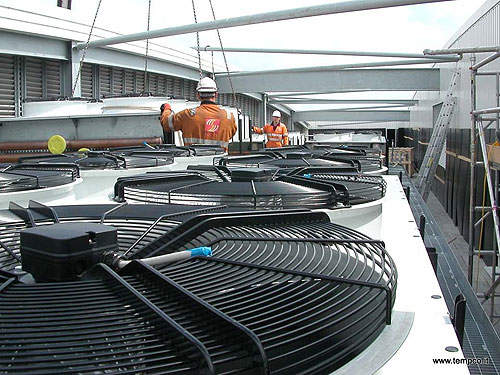 T FIN ENGINE modules for heat dissipation and dry cooling are power technologies engineered with Tempco standard custom flexibility (SCF), for high reliability, easy maintenance and low noise emission levels.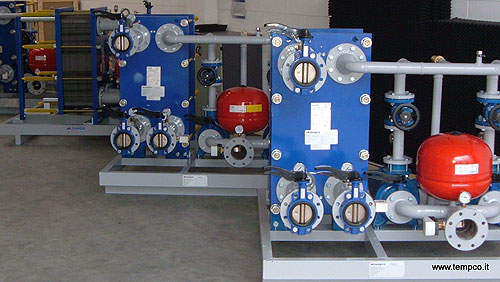 Tempco's T RECOGEN modules are the perfect solution for energy saving needs in industrial processes and applications, recovering heat produced by endothermic systems, increasing energetic efficiency.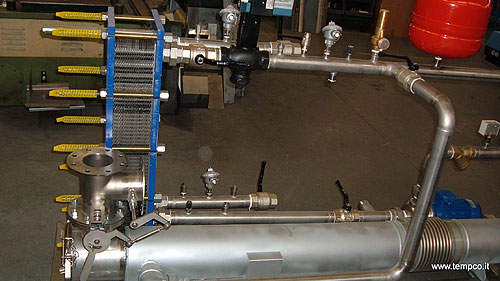 Thermal heat and power recovered with heat exchangers of T RECOGEN modules can be employed to obtain warm water, diathermic oil or vapour, all with a compact and totally customisable design.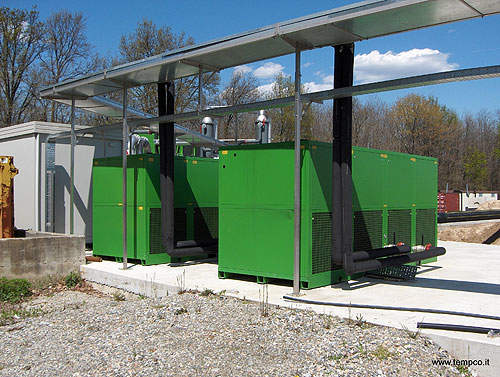 T RECOGEN BIO skid package systems by Tempco are the suitable solution for biogas dehumidification coming from several discharge sources, to use it in cogeneration plants without damaging important equipment's parts.
Radiators for generation sets and cogeneration plants
T FIN ENGINE is the complete line of Tempco radiators for free cooling and heat dissipation in generation sets and cogeneration plants, designed for particular plant needs, ensuring maximum efficiency and energy production, with low noise emission and reduced energy consumption. Dissipators and dry coolers in this line are available in single or double pack type, and come in different materials, such as copper, stainless steel, aluminium and carbon steel.
Cogenerative modules for thermal recovery
Heat recovery is assured by T RECOGEN, Tempco's cogenerative modules designed to recover thermal energy from endothermic industrial systems and applications, achieving maximum efficiency in cogeneration plants, and producing at the same time hot water, diathermical oil and steam. All equipment comes in a compact and fully customisable design, with the possibility of further executions on specific customer needs.
Heat exchangers for outdoor installation
Tempco's TC FC machinery are heat exchangers suitable for outdoor installation, designed for cooling liquids with forced air circulation. They can be used for several applications: as power generation and cogeneration remote dissipators, emergency groups electroradiators, and coolers and radiators for various engine applications.
Biogas dehumidification systems
T RECOGEN BIO are skid package systems intended for biogas dehumidification to be installed on cogeneration plants. They work on gas coming from several sources, such as waste discharge, pig or cow farm discharge and food discharge. Tempco's biogas treatment units give biogas the correct composition in order to work in cogeneration plants without damaging important internal components. They can be installed in outdoor open places or even under cover.
Fuel preheating systems
T START ENGINE are Tempco's skid package units designed and manufactured for palm oil, diesel oil and biodiesel preheating needs, for engine applications and cogeneration plants. The units work at a temperature of 90°C, and heating fluids employed are engine oil, anti-freeze engine water, hydraulic oil and steam. A version engineered with execution by electricity heaters is also available, supplied with regulation and security thermostat.