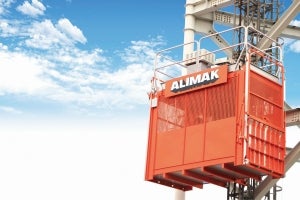 Alimak Hek is introducing two new construction hoist models at Bauma China, a trade fair in Shanghai, China.
The ALIMAK SC 65/32 and SC 45/30 are available in single or dual car configurations and offer payloads of 2,000kg per car, with car sizes of 1.5m x 3.2m and 1.4m x 3m, respectively.
The hoists are available with either direct-on-line (DOL) or frequency control (FC) drive via a highly efficient helical gearbox system.
A new design with quality, high-strength materials ensures low energy consumption, improved running efficiency and less wear for low total cost of ownership (TCO).
Engineered in Sweden and manufactured in China, the new hoist models underwent a series of rigorous safety and quality tests. Driven by a high-efficiency helical gearbox, the ALIMAK SC 65/32 and SC 45/30 offer increased hoist power, smooth operation and energy efficiency, with the safety and usability expected of an Alimak hoist.
The new models will suit all known project demands for vertical access, with reliability and efficiency.
Alimak Hek Group head of business area construction Pepe Olguin said: "We are big believers in keeping the TCO as low as possible. With the new construction hoist developments, we target to widen our product offerings in the BRIC markets."
At Alimak's stand, visitors will also find the latest modular Alimak construction hoist system, the modular Hek medium-range mast climbing work platforms, light-range transport platforms, as well as a new service elevator.
Alimak Hek will be in the outdoor exhibition area of Bauma China, close to 1# entrance and W2 hall, stand number A14.
The company will be happy to show new product developments and the advantages they have to offer.
---
Image: Alimak Hek's new construction hoist models use high-strength materials. Photo: courtesy of Alimak Hek.