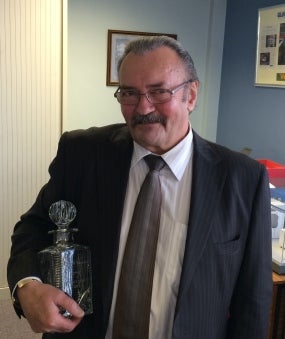 Crestchic's Richard Renders, who sold more than 1,000 loadbanks for the company, has decided to retire.
The 75-year-old spent 29 years with the company and witnessed the transformation of the loadbank market from a niche requirement to an industry-standard device used in the power generation and testing industry.
Before joining Crestchic in 1985, Renders was a well-known figure in the power generation industry.
He began his career at generator manufacturing and rental company Dawson-Keith in 1970, which was headed by self-made businessman Mr Kenneth Wood, creator of the Kenwood mixer and many other household products.
It was here that he managed a purpose-built factory in Claycross, Derbyshire, UK, where he had responsibility for manufacturing large diesel gensets, service and a large rental fleet. Eventually this part of the business was taken over by another company where Renders served as depot manager at its Manchester, UK, site and where he first met Jim Gould.
Renders said: "I will always be thankful for my time at Crestchic. I have witnessed much change in those 29 years, both internally and externally. The industry has changed significantly.
"For me, it is fantastic to have seen the transformation from loadbanks, which originally had large carbon footprints, to some of our latest developments such as the 5MW medium-voltage loadbank, which is designed to leave a smaller footprint by fully integrating a flatbed transformer into the base of the container.
"As a company leader, Jim always advocated a family feel at Crestchic, despite being part of a publicly traded group, and this culture remains today, which is why I think so many of us have long-service records.
"When I first met Jim, little did I realise that one day I would be working for him and counting him as a friend, not just my employer."
Crestchic sales and marketing director Paul Brickman said: "Richard was a fantastic employee and he certainly had a vast knowledge of the loadbank industry. He will be greatly missed within the factory here at Burton-on-Trent and we wish him all the best in his retirement."
---
Image: Richard Renders has announced his retirement after 29 years at Crestchic. Photo: courtesy of Crestchic.