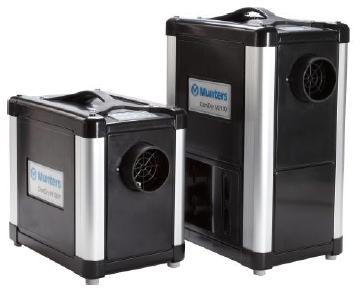 MittSverige Vatten is supplying fresh clean water to the residents in the Swedish Sundsvall region. The water from wells is pumped to the water treatment plant, where it is collected in reservoirs before being distributed to households.
A sophisticated electronic alarm system controls the water distribution and ensures a trouble-free operation and supply of water.
The electrical cabinets, motors and other electronic parts are sensitive to the damp climate that is naturally caused by warm, moist air meeting a cold surface as well as added underground soil moisture. This results in corrosion, condensation, and problems with malfunctioning electronics.
At MittSverige Vatten, heating was used in an attempt to control the humidity related problems. However, while heat prevents equipment from freezing at low temperatures it does not remove the condensation at cold surfaces which damages equipment and disturbs the operation of the electronics.
Compared with heating a Munters dehumidification solution typically uses 30%-70% less energy and with desiccant dehumidification the cause of the corrosive atmosphere moisture is removed.
Munters ComDry keeps the relative humidity constant and below 50%RH so no corrosion occurs and all electronic equipment is efficiently protected against humidity related problems.
The new ComDry series from Munters is a modern state-of-the-art range of dehumidifiers offering a wide variety of features, not normally seen as standard on units this size.
Lars Lövgren, Engineer at MittSverige Vatten said: "We saw that the cost of electricity to heat the unmanned buildings to our major reservoirs was very high, and began to explore alternative solutions.
"To avoid destructive corrosion we require an environment of max. 50% RH. As Munters have worked with dehumidification since the 40s, we installed the ComDry M160L units in our two largest reservoirs, and have more than halved energy consumption in each building, from 40,000kWh to 18,000kWh.
"The investment has paid for itself in less than a year. We are very satisfied! We have a completely different climate in our buildings, much fresher and corrosion has stopped. Also our electronic alarm devices are no longer affected by the moisture."