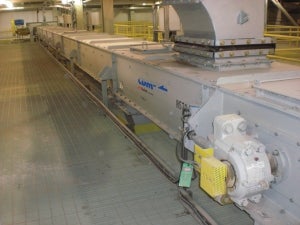 CDM Systems, a leading manufacturer of heavy-duty En-Masse conveyors and systems for more than 40 years, has introduced drop-forged chain and conveyor designs for aggressive applications.
Also known as Drag Conveyors, En-Masse conveyors offer the best in conveying technology because of the efficient size-to-capacity ratio, the ability to convey in multiple directions, the capability to handle abrasive material without degradation, and the reliability to convey over long distances.
En-Masse conveyors are ideal for a wide range of applications, from potash, to pet coke, to coal and cement, as well as chemicals, steel and light ore.
CDM engineers each conveyor to the specifications of each application. CDM vice-president Andrew Parker said: "Our customers rely on our ability to design conveying systems to meet their exact requirements. For this reason, no two conveyors are identical, even when handling a similar material.
"[The] length of conveyor, location, temperature, infrastructure limitations, number of required inlet and outlet points, and material characteristics and partial size, are all key factors that can change the design of the conveyor."
En-Masse Conveyors engineered for continuous-duty and aggressive materials include:
Capacity ranges from 2TPH to 1000TPH for single strand chains. Higher capacities are available for double strand
Totally enclosed and dust and weather tight
Built for 24/7 operation
Base chain is a high CrMn drop-forged steel alloy, suitable for high temperature and abrasive applications
Chain is case-hardened alloy steel
550BHN to 650 BHN, designed for wear resistance and durability
Self supporting with no additional structure needed
Reliable installation with clearly identified connection points
Auxiliary spring-loaded chain take-up with optional catenary take-up
Inspection doors as standard and optional auxiliary door available
Low maintenance: only two lubrication locations
---
Image: En-Masse mining application. Photo: courtesy of CDM Systems.