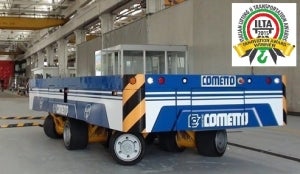 COMETTO recently attended at GIS 2015 in Piacenza, Italy. In occasion of the launch of the new brand COMETTO HT (Handling Technology), Cometto won the ILTA 2015 (Italian Lifting & Transportation Awards) for the 'Product Innovation' category, with the electric modular transporter Cometto EMT.
In the popular location of Galleria Alberoni in Piacenza, Cometto was honoured with this prestigious award that confirms the success of the new application in the heavy logistics.
EMT is the result of the optimal union between the Cometto know-how in the special and heavy haulage and the frequent demand of in-plant transport solutions, which require high-payload capacity, but in accordance to the restrictive health and safety standards such as noise and emissions.
The modules of EMT can be provided with two or three axle lines, coupable longitudinally or laterally, having a payload capacity from 10t to 200t.
EMT is equipped with a hydraulic lifting system for loading and unloading of pallets, which grant an optimal loading distribution.
Thanks to the suspension stroke of 420mm, EMT has the lowest platform height available on the market and the electronic steering system together with the radio remote control give the best available manoeuvrability.
EMT is available also in ATEX version (mod. EXSTREAM) and AGV.