AMC ETEC is specialised in designing and manufacturing customised and standard solutions for high current installations.
We provide innovative solutions to eletro-intensive issues through a full range of products, repair and maintenance services, and performance audits for installation up to 400kA and more.
Our products range from high current disconnector switches, jumper switches, and busbars to tailor-made solutions, electrolytic and electro-technical refit services and energy saving solutions as detailed below.
Energy-saving solutions for electro-intensive processes
As energy cost keeps growing, and reducing our consumption is of real ecological importance, AMC ETEC has developed special energy-saving solutions to turn its customers' electrical energy gains into more profitability, more ecology and more efficiency for their electro-intensive processes.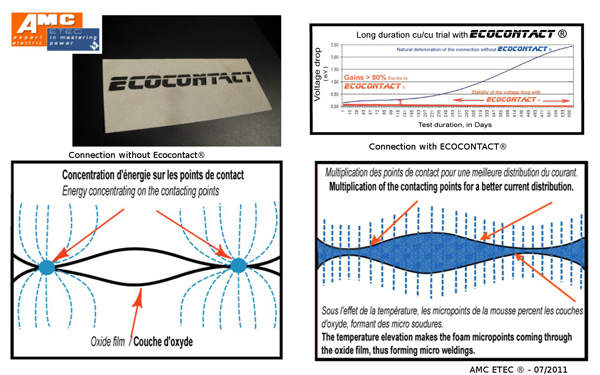 Ecocontact®, the solution against energy losses in your power circuit.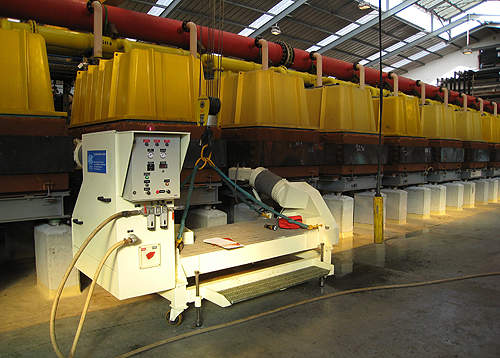 AMC ETEC's ergonomic 150kA jumper switch for MDC55 cell short-circuit.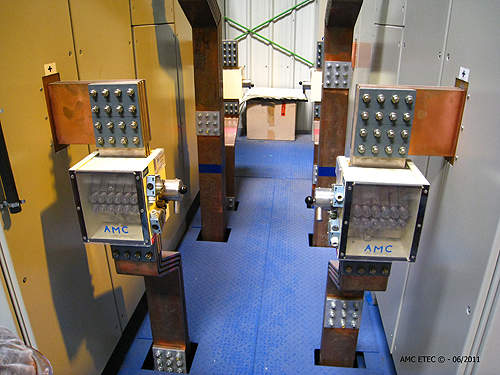 10kA AMC ETEC disconnectors installed on rectifier outlets. Our universal switch easily fits everywhere thanks to its maximum adjustability.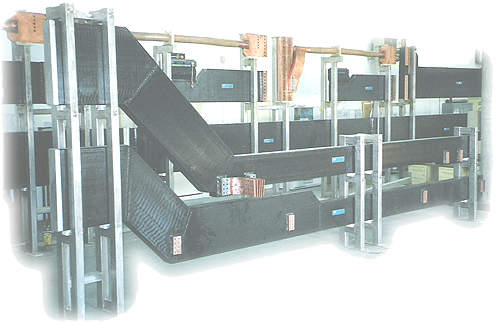 Energy recuperation busbars circuit for optimum energy efficiency.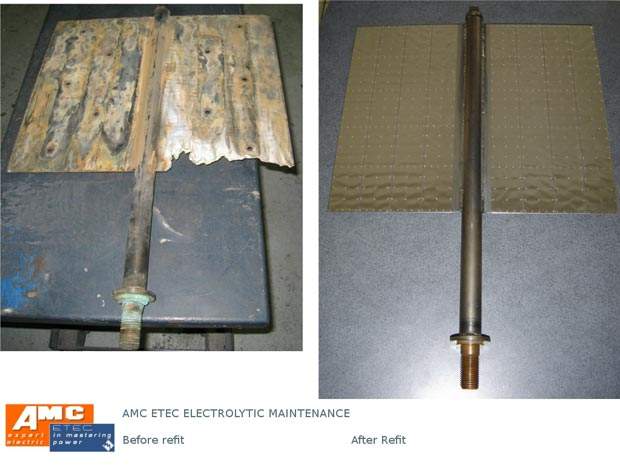 Anode: before and after refit - example of repair and maintenance.
Audits for electro-intensive circuit processes
Our experts in the electro-intensive industry combined with thermal, mechanical and pneumatic skills can assist you to identify solutions through an audit of your installation.
The goal of our audit is to elaborate an energetical statement of your electro-intensive circuit process so as to quantify the prospective energy savings sources and point out which actions have to be implemented in order to make these savings effective.
AMC ETEC's free pre-audit is the first step for optimising your electrical process, so do not hesitate to call our team.
Tailor-made high current solutions
With an integrated design office and workshop, AMC ETEC either provides machines built on customers' exact specifications or designs hand in hand with its customers an adjustable solution to suit their needs. For instance, AMC ETEC developed a special 60kA switch one or three phases adjustable for short-circuit testing of transformers.
Do not hesitate to send us your project; our engineering team will be glad to help you find the best solution.
Repair and maintenance services
Thanks to our skilled team, which specialises in electro-technical work such as titanium / platinum / nickel / steel welding, as well as electromechanical machining, AMC ETEC maintains, retrofits and manufactures anodes and cathodes for the electrolytic industry, and brings to its customers the flexibility of outsourced servicing.
Metallic foam for electrical conductivity enhancement
Ecocontact® is a metallic foam developed and patented by AMC ETEC. It enhances the conductivity of electrical connections by multiplying points of contact. Efficient even at high temperature, it reduces voltage drops and brings stable reliability to electrical connections. It is suitable for aluminium / aluminium, aluminium / copper, copper / copper, stainless steel / stainless steel, graphite / steel, etc.
Ecocontact is a real solution to cutting costs due to energy losses and maintenance of contacts in power circuits. Some of our customers have more than 80% energy gain. Contact us to start a test on some of your electrical circuit, and let's calculate your gain.
High current and high voltage disconnector switches and jumper switches
AMC ETEC designs and manufactures a wide range of disconnectors and switches.
From blade technology to pressure contact chambers with sacrificial parts so as to protect the main contacts, AMC ETEC's disconnectors are compact and easy to install thanks to their adjustable connection (welded, bolted or special adaptation).
Our machines have either pneumatic, electric or manual command depending on the application to be realised. Our offer goes from 2kA to 200kA, 1kV to 100kV, AC or DC.
Pre-assembled busbar systems
AMC ETEC offers pre-assembled busbar systems from 5kA to 200kA.
Disconnector and inverter integration
Remote design validation
Short delay realisation
Easy installation
Contact optimisation with Ecocontact