Over the years in our long-term history, Gleitlagertechnik Essen has acquired a comprehensive know-how in the handling of white metal, babbitting technology, and bearing design and bearing application.
Our diversified portfolio of products and services ranges from new bearings for initial equipment or as spares, bearing regeneration, and journal and thrust bearings, to tilting pad and fixed profile bearings with diameters from 50mm to 4,000mm.
Our highly qualified employees with long-time experience and a large up-to-date machine shop have developed numerous references and long-term customer loyalty.
New bearing manufacture and bearing regeneration
In our modern technology centre, more than 50 highly qualified employees produce high-quality components and complete assemblies to individual customer designs. On demand, they take over the complete development, layout and design process based on the customer's basic data.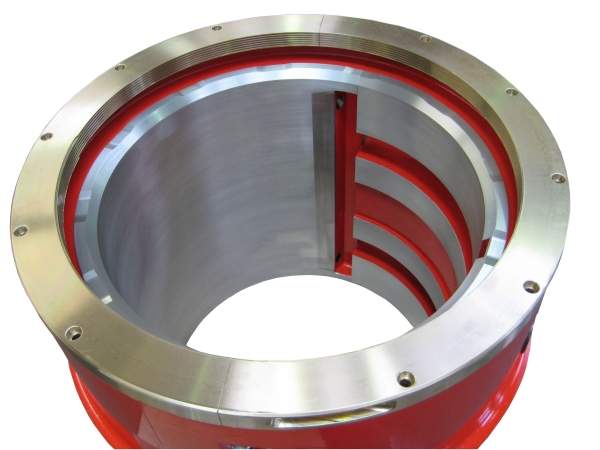 Bearings are the interface between rotating and stationary machine components. Bearings are the most important component in any rotating machinery.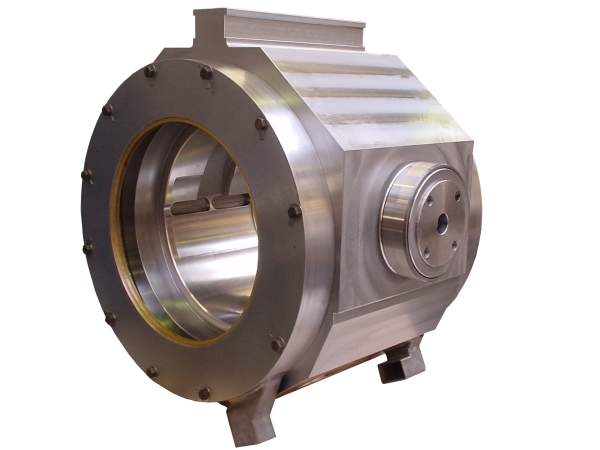 With high-speed turbo machinery, bearings strongly influence the system characteristics. Exact prediction of the bearing characteristics is essential for proper and safe machine operation.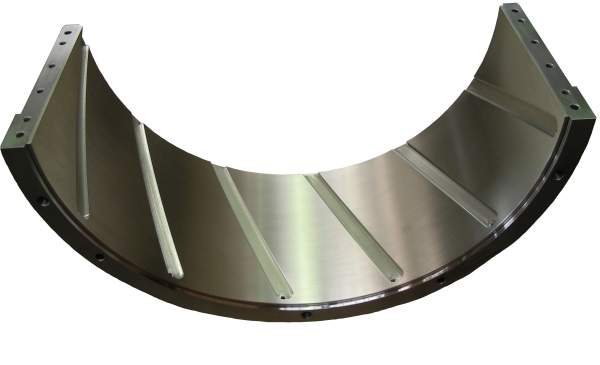 We manufacture and assemble bearings and bearing pedestals for journal and thrust bearings, tilting pad bearings and fixed profiles bearings.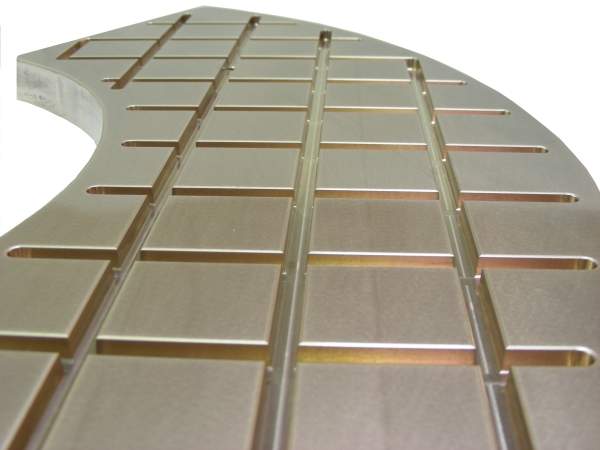 Wherever fluid film bearings need dry-running capacity (e.g. in cases of elevated bearing temperatures or in cases of bad lubrication conditions) SB Bearing Bronze is ideal.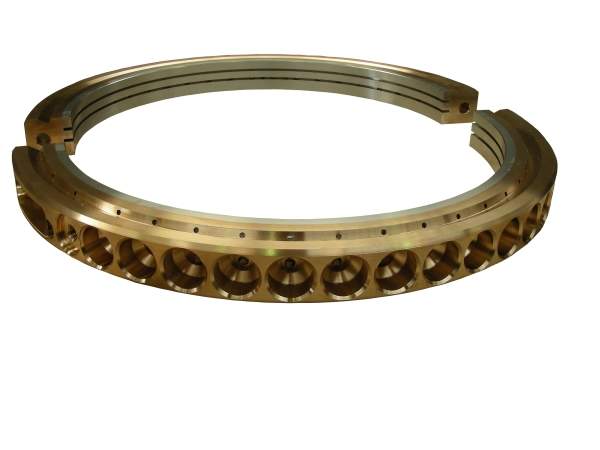 SB Bearing Bronze alloys meet the requirement for high mechanical strength, where common copper cast alloys do not withstand the static and dynamic loading requirements.
Our medium-sized enterprise, certified to EN ISO 9001:2008, has a reputation for its decade-long know-how and manifold portfolio of products and services, from new manufacturing to bearing regeneration, serving numerous well-known, long-time customers all around the world.
White metal bearings and special bronze bearings
Properly designed and precisely manufactured, modern fluid film bearings are high-tech, long-life components. Our outstanding quality ensures reliable operation of the customer's machinery. The flexibility of our repair service guarantees minimised outage times. This is why numerous manufacturers and operators of large rotating machinery rely on our competence.
New / regenerated bearings
We manufacture and assemble bearings and bearing pedestals for journal and thrust bearings, tilting pad bearings and fixed profiles bearings. We have long-time experience and first-class references in bearing regeneration / re-babbitting. Our internal processes are focused on the flexibility and fast reactions that are required in the service business. The autonomy of decision guarantees a lean, project-orientated organisation. If you need bearing analyses or drawings we can solve your problem.
We offer bearing analysis using approved calculation methods (DIN 31657 etc.). Detailed analyses (3D calculation method) are applied in special and extreme cases. We also offer preparation of drawings, design services, design modifications and bearing modernisation, in addition to the development, analysis and design of complete assemblies to customer specification.
New bearings for original equipment or spares
Our capabilities include new manufacturing for original equipment; new manufacturing of spare components, and regeneration / upgrading. We use the following production / coating methods:
Centrifugal casting for white metal bearings
Gravity casting for white metal bearings
Welding process for white metal bearings
Static casting for special bronze bearings
Centrifugal casting for special bronze bearings
Continuous casting for special bronze bearings
Bearings for the power industry
Our bearings are used in all fields of mechanical engineering, plant and machinery, but they are particularly used in:
Steam and combustion turbines
Generators
Hydro power
Turbomachinery
Cement and mineral processing
Plastic / rubber industry and processing
Steel industry and processing
Gear industry
Shipbuilding
Bearing support and service
We offer technical support and service for our bearings. We can handle the development and design, manufacturing and assembly of complete assemblies, as well as design services and the preparation of drawings. We can provide diagnostic findings in case of bearing damage, and we offer short reaction times for repair and the enhancement of bearing performance. Our capabilities even extend to non-destructive (PT + US) testing on-site for white metal bearings.
About Gleitlagertechnik Essen
The history of Gleitlagertechnik Essen includes the following milestones:
1915: initiation of bearing technology by Th. Goldschmidt AG Essen
1995: disassociation of Th. Goldschmidt AG from the bearing business; establishment of Svenska Bearing Deutschland GmbH
2003: today's Gleitlagertechnik Essen GmbH is founded, associated with the Berlin-based companies KST and GLS
2006: relocation of Gleitlagertechnik Essen GmbH to new, enlarged facilities