NuBlu Energy provides patented liquefaction technology, design, engineering and construction solutions for Micro / Mini LNG, Floating LNG, and Small-Scale LNG.
The company also offers flare gas capture, LNG to Power packages, peak shaving, and boil-off gas (BOG) re-liquefaction capabilities.
NuBlu's patented technologies are one of the most efficient LNG solutions on the market. Its specialised equipment and design, coupled with a small footprint and modular approach, create a cost-effective solution for distributed LNG production.
Small-scale LNG facility design, construction and operation
NuBlu designs, engineers, constructs, commissions and operates liquified natural gas facilities for customers.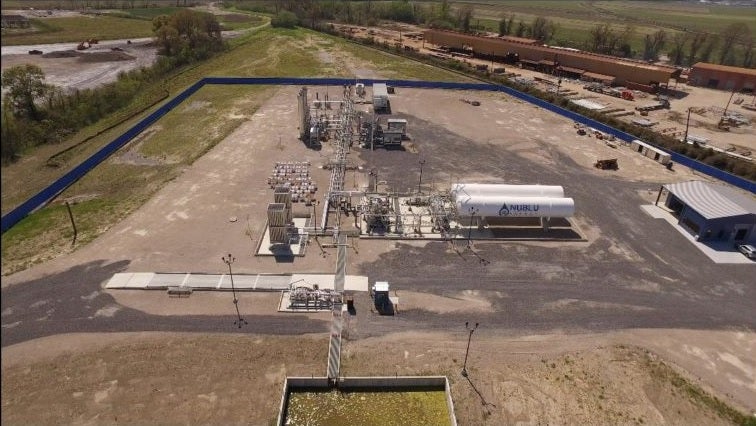 NuBlu Energy's Port Allen facility in Louisiana, US, offers 30,000gal per day of storage, which can easily be expanded up to 100,000gal according to regional liquefied natural gas (LNG) requirements.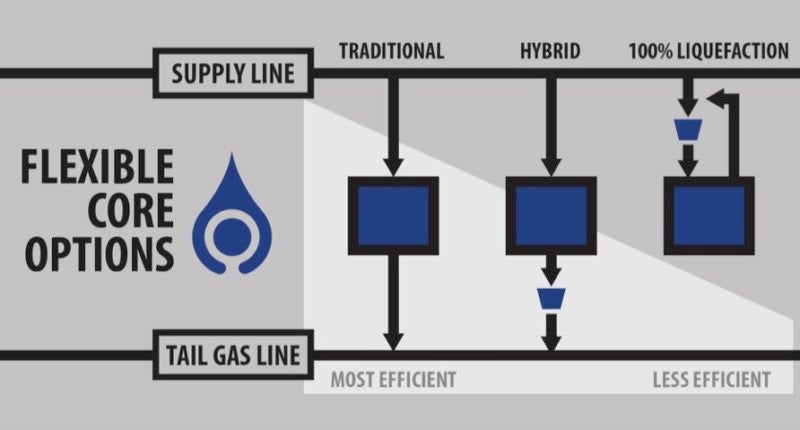 The company provides flexible technology for mini-to-small-scale LNG production, flare gas capture, peak shaving, and boil-off gas (BOG) re-liquefaction applications.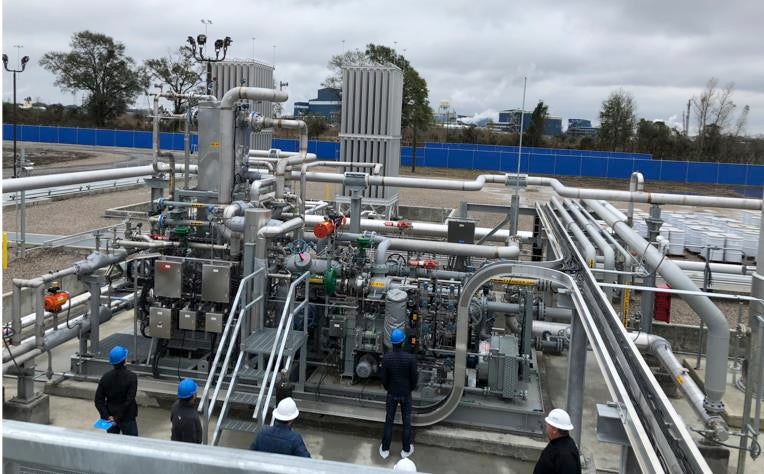 NuBlu's products and services provide modular expansion flexibility, no external refrigeration, unparrelled efficiency, cold LNG, as well as low capital expenditure (CAPEX) and operating expense (OPEX).
Key advantages of the NuBlu technology are low capital costs, modular expansion capability, NO external refrigerants, unparalleled efficiency and we produce cold LNG.
NuBlu's designs can be used in distributed liquefaction, flare gas capture, peak shaving, and BOG re-liquefaction applications.
Micro, mini and small-scale LNG production solutions
Micro, mini, and small-scale all relate to localised distributed LNG production in comparison to large-scale export facilities. Our plant sizes range from 30t to 1,000t of LNG production per day.
NuBlu's goal is to make LNG local by moving production closer to the end-user.
The technology's low CAPEX and OPEX enable local and smaller production of LNG to be competitive with larger facilities.
Floating small-scale liquefaction
Natural gas wells are found on land and water. Local gas users do not need mega-liquefaction ships that cost billions of dollars. Applying NuBlu's technology to a barge or ship will allow the end-user to produce LNG at an affordable cost and volume to meet local demand.
Flare gas capture / LNG to Power
Countries around the world have wasted untold amounts of energy and money over the last 50 years by flaring natural gas.
NuBlu is currently designing a package that captures, processes, cleans and liquefies an entire flare gas stream. Natural gas liquids (NGL) and LNG can then be used for localised power production, heating, and transportation fuel.
Countries can now utilise their own natural resources instead of exporting or flaring.
Peak shaving for surplus LNG units in the power sector
Natural gas peak shaving involves storing surplus natural gas in the form of LNG to meet peak consumption requirements during the year.
Peak shaving is used to keep natural gas prices down during periods of high consumption.
Combined with its modular and cost-effective approach, NuBlu's patented process sets the standard for new peak shaving projects and provides an appealing upgrade for existing facilities.
Boil-off gas (BOG) Re-liquefaction services
BOG is created when heat enters cryogenic tanks during storage. When this occurs in LNG applications, liquid continuously evaporates, which creates BOG.
BOG is becoming a major issue as more large LNG storage projects come on-line.  These include import terminals, peak shavers and large plants that have millions of gallons of storage.
When storage tank gas heats up, it must be addressed to prevent flare and waste. NuBlu's liquefaction technology is an efficient way to capture and re-liquefy gas.
Engineering, design and construction solutions for LNG plants
NuBlu works closely with its sister company High Roller EPC (HR-EPC) to design and build small-scale LNG facilities.
NuBlu leverages its LNG expertise and HR-EPC's engineering and construction know-how to provide cost-effective, energy-efficient solutions and packages for all of the solutions listed above. By providing specialised services ranging from full-scale design to project delivery, NuBlu meets client needs under one entity.
From conceptual design, front-end engineering and design (FEED), detailed engineering, construction, commissioning to ongoing operational support, NuBlu saves time and money by maximising return on investment (ROI).
NuBlu and HR-EPC supply a range of technical solutions for energy clients, including turnkey systems, 3D modelling, detailed engineering, feasibility studies, conceptual designs, and project management. It also offers procurement, industrial construction, modification and maintenance, construction management, commissioning and start-up, field services and concrete supply via mobile batch plants.
About NuBlu Energy
NuBlu provides gas liquefaction solutions and technology for strategic local partners and resellers worldwide. The company develops its small-scale LNG products according to specific regional requirements.
NuBlu currently owns and operates a 50t per day facility in Port Allen, Louisiana that it designed, engineered and built. We welcome visitors to tour the facility.
NuBlu is always looking for strategic partners and representatives worldwide, so please contact the company via the enquiry form to find out if representation in your market is currently available.