OASIS Alignment Services (OASIS) is the recognized industry leader in the precision alignment and dimensional inspection of production machinery and process lines. Since its inception in 1982, OASIS has performed more than 25,000 successful projects across a wide range of industries and continues to set the standards in alignment and dimensional inspection and mechanical alignment procedures, technical reports, mobile machine shops and specialized tooling.
Using laser trackers and portable coordinate measuring arms, OASIS metrology engineers and technicians can provide alignment surveys and measurements where more traditional methods fail. These portable, highly accurate metrology systems gather and interpret large volumes of data quickly and accurately, and data is presented instantly via 3D metrology software.
With eight service centers located across North America, OASIS can be where you need us, when you need us – 24 hours a day, seven days a week.
3D metrology services
OASIS provides 3D metrology services for any application or process that requires highly accurate dimensional measurement. With metrology services from OASIS, the inspection and alignment of turbo machinery is now much more flexible, efficient and cost effective. The benefits of OASIS 3D metrology services include:
Measuring hydro-turbine inlet vane locations using laser tracker technology.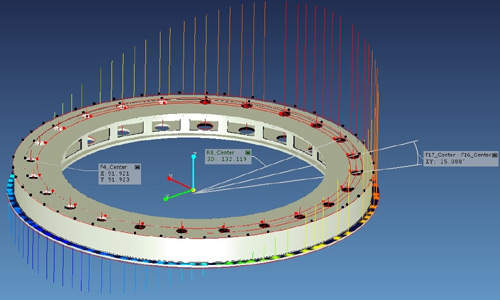 Field measurement data on wicket gate stay rings on a kaplan turbine.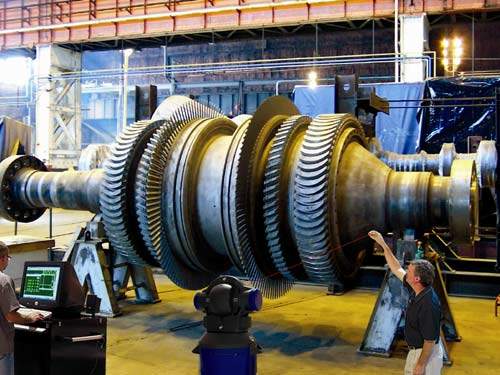 Inspection of a turbine rotor using laser tracker technology.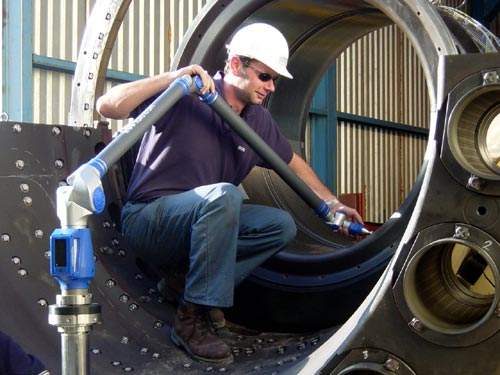 Inspection of a gas turbine module using portable coordinate measuring arm technology.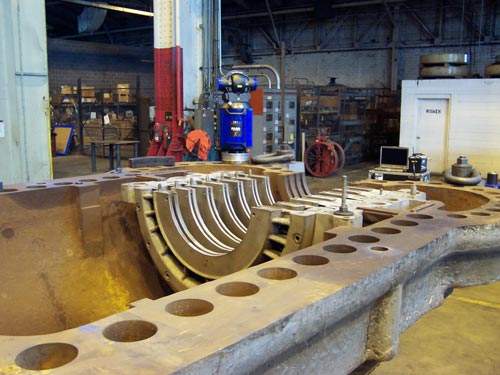 Turbine vane alignment using laser tracker technology.
Alignment surveys and dimensional measurement in areas where traditional methods fall short
Quick setup and reverse engineering measurements of existing installations
Precise and accurate dimensional metrology in less than perfect environments such as nuclear reactor vaults, hydro installations, steam turbine halls and more
Thermal growth and load studies completed over warm-up and cool-down periods
3D metrology applications
OASIS' 3D metrology services can do more than just replace traditional alignment methods. OASIS can measure position, perpendicularity, parallelism, angularity, surface profile, line profile, straightness, flatness, circularity, cylindricity, symmetry, concentricity and datum qualification. Some of the more common applications for the power generation industry include:
Casings inspections and alignment
Wicket gate stay and discharge rings inspections and alignment
Runner inspections
Generator alignment – keybars, stators and main bearings
Horizontal machine bearings alignment
Main shaft inspection and alignment
Case-to-case alignment – with or without rotating assemblies
Tops-off alignment
Installation pads alignment and verification
Scroll case alignment
Dynamic load and thermal growth studies and verifications
Foundation stability studies
Pipe strain effects analysis
Metrology reports and reporting software
Every OASIS dimensional inspection is documented in a report that provides a complete evaluation of the data gathered, as well as the graphical images produced. These reports are an effective tool for remediation of components, planning future improvements in process, alignment, or maintenance needs, and documenting machine conditions, movements or changes.
OASIS' metrology reporting software includes output capabilities to advanced GD&T and point-to-surface / curve analysis, and more.