If you are in search of 'best in class' when seeking a manufacturing partner in South Africa, look no further than Remkor Technologies, a TUV – ISO accredited manufacturer operating in Africa's busiest industrial hub and exporting to markets worldwide. This start to finish manufacturer has it all in terms of sophisticated, state-of-the-art equipment and machinery, a highly trained and skilled workforce, award-winning design and finished product capabilities, and a reputation for unrivalled quality amongst its peers.
Worldwide provision of specialised metal components
Part of Remkor's 30-year local and global successes has been its consistency in its approach to its customers, from the company's favourable pricing structures to a flawless quality check process. Remkor has, for these reasons, become a first choice among some of the largest and most successful companies in Southern Africa.
Remkor's origins in manufacturing are based in the automotive sector in the 1980s, a sector in which it still operates today. In the pursuit of growth and diversification prospects, the company realised the opportunity to enter the telecommunication market through the manufacturing of payphone products including payphone booths, and was awarded a contract to supply Telkom South Africa (South African fixed line operator) with payphone booths.
This in turn allowed the company to play on the global stage by exporting its products to over 20 countries, which also included innvovative and market-leading products such as the fully integrated solar powered payphone booth solution, which allowed for truly wireless communication in a cost-effective and secure package. As a result, over 75,000 of Remkor's products can be found at customers around the world.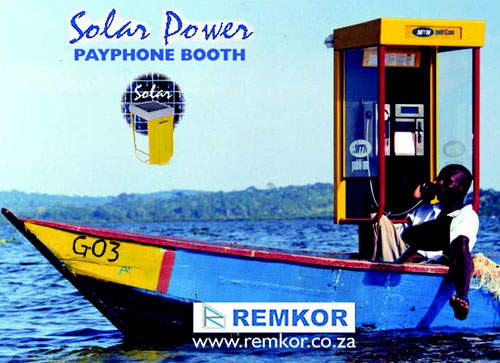 Innovative fully integrated solar-powered telephone booth.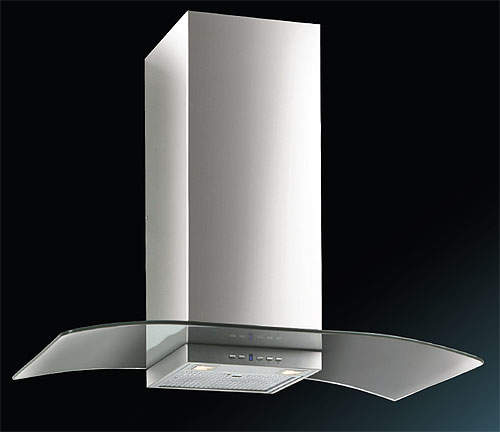 Remkor Technologies specialises in high-quality stainless steel manufacturing.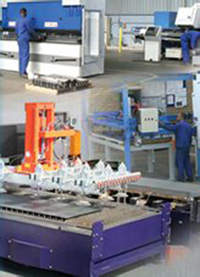 Remkor has a wide range of state-of-the-art machinery for metal manufacturing.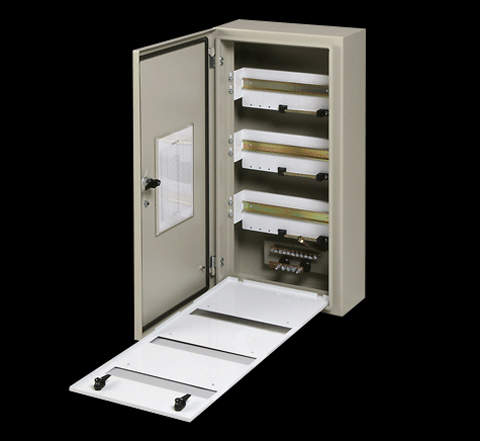 Specialised metal manufacturing and design through a highly skilled workforce.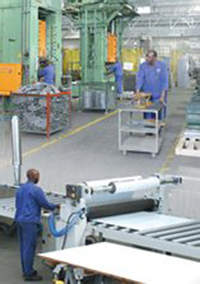 Remkor's capabilities include presses up to 600t, and surface finishing on stainless steel and aluminium sheet.
Specialised stainless-steel manufacturing
Naturally with the advent of cellular technology, the market for public telephones declined. Remkor changed the scope of its business and began a process of diversifying its facilities for various internationally accepted production outputs, including the domestic appliance market with extractor hoods, public seating, outdoor advertising products, and data cabinets / electrical panels, to name a few. Some of the company's more recent (and notable) projects include specialised stainless-steel manufacturing for Johannesburg's high-speed rail system, the Gautrain, as well as critical componentry for the roof structure of Moses Mabida and Nelson Mandela Bay stadiums for the FIFA world cup.
State-of-the-art machinery for metal manufacturing
Remkor's modern 9,000m² under-roof operations house some of the most sophisticated machinery to land on African shores, including high-speed laser cutting and CNC punching machines, a stainless-steel brushing machine (which produces a scotch brite finish on stainless steel), laser engraving to permanently precision mark on various materials, robotic welding, continuous foam gasket technology for placing continuous formed gaskets on products where IP rating is required, and an automated powder coating plant, just to name a few. Other machinery includes press brakes with capacity up to 4,500mm long, and mechanical and hydraulic presses up to 600t.
Included in the core competencies of the company are a highly skilled team of draughtsmen and product designers, tool-making facilities for new products as well as maintaince of current dies, and finished goods assembly for completion of end user products.
World-class metal work / fabrication
Remkor sells ability which results in high-quality output; they are serious about customer service and developing long-term business partners. The company has an immaculate track record which is the foundation of the business's success; this is primarily due to the fact that Remkor is a family business. The La Monica family has their roots in Turin, northern Italy, where metal work / fabrication is of the highest standard in the world.
Company founder Nino La Monica started the business with the intention to run a world-class facility in Southern Africa, and throughout 30 years of operation has grown the firm into a giant amongst its private manufacturing peers in Africa.
A strong partner for specialised metal manufacturing
For those corporations who seek a prototype design to final delivery as a full solution to a product line, and in almost any metal substrate, then Remkor is a first choice partner for many global corporations.
In 2011, Remkor celebrates 30 years of excellence in manufacturing. The company continues to invest in more facilities, staff skills development, and expansion, which indicates that the company will also continue to re-invent itself and rejuvenate product offerings in order to change with market trends. Remkor Technologies aims to partner with international firms in order to be a 'ready-to-go' partner in Southern Africa and assist local and international investors to open up new untapped African markets.