Self Leveling Machines (SLM) is a specialized field machining company offering engineered machining solutions to many industrial sectors. We provide precise-machined tolerances to large symmetrical, circular and irregular-shaped surfaces on structural components. With modular portable and transportable equipment readily available, we cover worldwide demands for on-site machining from six bases around the globe.
Experience in power generation:
HP and LP horizontal half-joint machining
Vertical gland seal face machining
Transverse and axial key restoration
Diaphragm pocket boring
Stay vane contour machining
Wicket gateboring
Stay rings and head cover machining
Embedded parts
SLM's unique modular machining equipment combines proven accuracy, versatility and time-saving dependability.
Turbine half-joint machining utilizing self-leveling mills
The LSLM is specifically designed to machine large irregular areas such as steam-turbine horizontal half-joints under accurate laser-controlled guidance.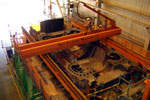 Setting up of an LSLM on a nuclear turbine half-joint.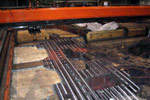 Finished LP half-joint.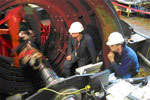 We provide boring services for diaphragm pockets using 8in boring bars with CNC control.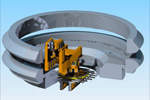 Three-dimensional layout drawings used for design / application.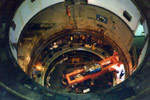 Machining a 700MW hydro-turbine.
The principal advantage of this machine is its ability to maintain a parallel machining plane regardless of any deflection in the component or supporting structure. This enables areas as large as 10m x 20m (32ft x 65ft) to be machined in a single set-up to close tolerances.
Diaphragm pocket boring
We provide boring services for diaphragm pockets (in an assembled shell) employing 8in boring bars with CNC control.
SLM's 8in boring bars with CNC control enable the contour and large-radius machining required in steam-turbine refurbishment to be carried out efficiently without the need for the operator to be near the rotating bar.
All our bars are designed with the ability to control support-bearing tolerances, reducing the tendency for the bars to cut an out-of-true bore when lying in the horizontal position. Bars are set using bore lasers.
Hydraulic drill and tapping system
SLM provides field services for stud removal or refurbishment using a hydraulic drill and tapping system.
Stay vane contouring milling machine
We have custom-developed a three-axis hydraulic milling machine for stay vane contouring.