Agilis Technologies
Manufacture of Mist Elimination, Evaporative Coolers, Mine Air Washers and Radial Spin Vanes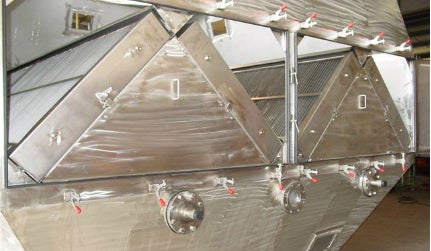 Agilis Technologies manufactures a wide range of industrial equipment, focusing on mist elimination systems including profile-style and mesh pad-style mist eliminators.
Mist eliminators, often referred to as entrainment separators or droplet separators, can be manufactured to provide 100% removal of droplets as small as 1 micron. Our mist eliminator systems can be provided as framed units or profile packs in a variety of materials, including stainless steel, polypropylene and aluminum.
Agilis Technologies is a leading manufacturer of both direct and indirect evaporative cooling units for industry applications. Using evaporative cooling can cut your initial capital costs by 80%, ongoing operating costs by 75% and maintenance costs by 75%. Each Agilis industrial evaporative cooler is manufactured in stainless steel for a long and reliable life.
Agilis Technologies is pioneering the way to improve mine air scrubbing. Our existing mine air washing system is 100% effective in removing fumes and dust particulate from mine air, making the underground environment a safer, healthier place to work. Our continued expansion into diesel particulate matter (DPM) removal is proving to be a highly effective method of cleaning large amounts of air of diesel particulate. Each Agilis air wash system for mines is built to a robust standard in order to survive harsh working environments in underground mining.
Mist eliminators
Agilis Technologies mist eliminators are manufactured in a variety of materials, comprising all grades of stainless steel, carbon steel, aluminum and plastic. The profiles can be heated for arctic conditions or where snow buildup is a problem. Our patented designs include a wide range of shapes to meet your specific application needs. Profile mist eliminators have a low-pressure drop and high-efficiency, and can collect droplets as small as 1 micron.
Mesh pads for droplet removal
Agilis Technologies mesh pads are manufactured in stainless steel or polypropylene and can be supplied as loose pads or in a robust frame. Different wire sizes, materials, thickness, and densities are used to achieve the required results. We also use our mesh pads in combination with our profile mist eliminators to provide a hybrid unit with remarkable droplet removal results.
Industrial evaporative coolers
Agilis Technologies direct industrial evaporative coolers (IECs) and indirect industrial evaporative coolers (EDIECs) will provide cool air for your large equipment room, warehouse or power generation inlet at a fraction of the cost for air conditioning; the initial capital, operating and maintenance costs are much lower.
Mine air washer systems
Agilis Technologies mine air washer systems (AWS) are designed for rugged mining environments. They remove fumes, dust and particulate from the mine air in large air quantities, making your mine environment a safer and cleaner place to work. The AWS is a low-cost, low-maintenance system designed to fit in the tight confines of mine environments.
Radial spin vane droplet separators
Agilis Technologies manufactures advanced design radial spin vane droplet separators for applications with high solids loading or fibrous air streams. These units can be manufactured in a wide range of materials and in a variety of sizes.
Agilis Technologies Images
Press Release
Agilis Technologies is now located in a larger manufacturing facility in Kingston, Washington, US.
Read more