ERG Air Pollution Control Ltd
Industrial Gas Treatment, Flue Gas Cleaning and Industrial Odour Control Systems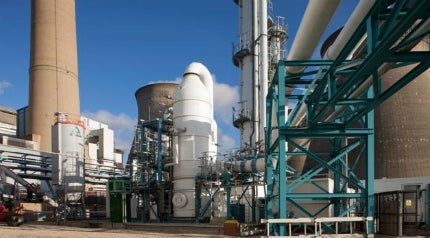 ERG is a leading independent supplier of air pollution control and odour control systems to a broad range of industrial sectors.
Industries and market sectors that have used our systems include:
Power generation
Anaerobic digestion
Waste recycling
Fertiliser manufacturing
Specialty chemicals and gases
Petrochemicals
Metal and mineral processing
Pharmaceuticals
General process industries
Many of the world's leading industrial companies are ERG clients. We now have more than 1,000 operational air pollution control and odour control plants worldwide. All systems are specifically process designed and optimised to give the best solution for the lowest capital and running costs.
ERG was founded in 1978 and is based in the UK, with a regional branch office in the Middle East and a global network of licensees.
Industrial gas treatment
Depending on the need, ERG systems can be designed either for downstream flue gas cleaning where they are typically specified to meet both current and foreseeable regulatory emissions limits; or for upstream process gas conditioning as an integral part of the process operation.
Gas scrubbing and stripping technologies
ERG has experience in designing systems using the full spectrum of gas scrubbing and stripping technologies for purifying gases and air of a broad range of contaminants for bespoke applications required by our clients.
Examples of some recent applications include:
Primary stage scrubbing of high-pressure 'crude' methane extracted from a sub-sea gas well at 35bar to remove particulates and acidic contaminants prior to downstream urea fertiliser manufacture in Qatar. The ERG system used a stainless steel venturi scrubber, pressure rated to 50bar, and incorporating explosion proofed instrumentation
Removal of SO2 and particulates from coal-fired power station flue gas using a two-stage 'polishing' tray scrubber and a direct contact packed tower cooler prior to downstream carbon capture and storage in the UK
Extraction, multi-stage scrubbing and compression of chlorine gas, which is released from the anode of an industrial scale electrolysis using HCl electrolyte in the process of refining specialty metals in Russia. The chlorine is then recycled to generate more electrolyte
Use of ERG's proprietary V-tex scrubbing technology for purification of speciality gases used in production of plasma TVs in South Korea
Odour control systems
ERG is also a leading supplier of odour control solutions. Our systems are designed to extract and treat odour from pungent waste handling and waste treatment operations. Industry sectors using our systems include:
Wastewater treatment
Waste composting
Anaerobic digestion
Food processing
A typical odour control system consists of extraction fans drawing air through a network of ducting from the vicinity of odorous handling operations or processes. Extracted air is then passed through various stages of bio / carbon filters and chemical / bio scrubbers prior to emission into the atmosphere.
Maintenance, consultancy and analysis solutions for gases and emissions
Maintenance services
We are able to provide either preventative maintenance under contract or ad-hoc maintenance as and when required to ensure that our clients' odour control and air pollution control plants are kept running at optimum efficiency.
Consultancy
Odour control and air pollution control can be achieved in many ways but choosing the optimum solution demands a significant in-depth understanding of a broad range of factors. Many leading organisations, both end-users and contractors, draw on our 30 years of expertise to advise the best practice approaches for their particular challenges.
Emission dispersion modelling
Our emission dispersion reports supply all the calculations and assessments required during the planning and design stages of a project. We also offer our advice on process requirements.
Odour mapping
For clients with an existing facility, ERG offers an odour mapping service to determine the most significant sources of odour. Armed with this knowledge, a structured approach to combating emissions can be developed, and a fully optimised, site-wide odour management plan can be proposed.
When odour control equipment is installed, this can be targeted to the most odorous parts of the site first, maximising the return from the capital outlay, improving the site's working environment and reducing the odour at the site boundary, and with it the odour complaints from neighbours.
Pilot trials
For existing polluting processes, it is often helpful to carry out a pilot trial using an effluent side stream to establish the feasibility of treating the odour or air pollution using the proposed system prior to committing the capital investment for the full-scale process.
ERG has pilot plants available offering a complete range of pilot trial options. These include V-tex™ scrubbers of different sizes and materials, packed bed scrubbers, venture / quench and dry media (activated carbon and oxidising media) systems.
ERG Air Pollution Control Ltd Images
ERG Air Pollution Control Ltd