Flow.Vision is specialised in the reduction of nitrogen oxides in flue gas from heavy industry. Flow.Vision employs handpicked experts from Scandinavian suppliers of equipment for power, waste-to-energy or cement plants, representing comprehensive knowledge and experience with SNCR and SCR NOx reduction technology.
Equipment for SNCR systems
Flow.Vision offers the full range of mechanical and electronic equipment required for a complete SNCR system, from initial studies with CFD to the final staff training from one hand. Our own shop builds and tests all mechanical and electrical components. Larger equipment such as tanks is purchased locally.
CFD and physical model testing
Our laboratory is able to perform CFD analysis and mixing calculation as well as physical model flow test on a large scale.
Dust deposition tests, pressure drop measurement and mixing evaluation can also be carried out.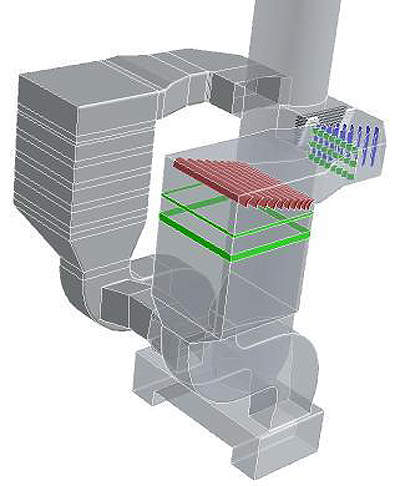 CFD of a large SCR plant.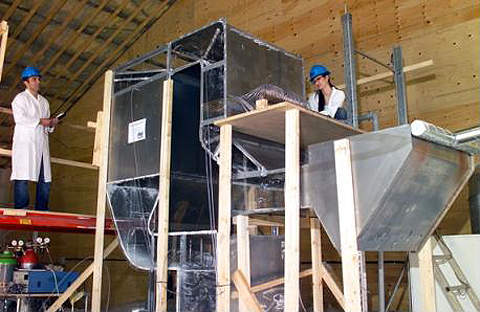 Physical model flow test on a DeNOx plant.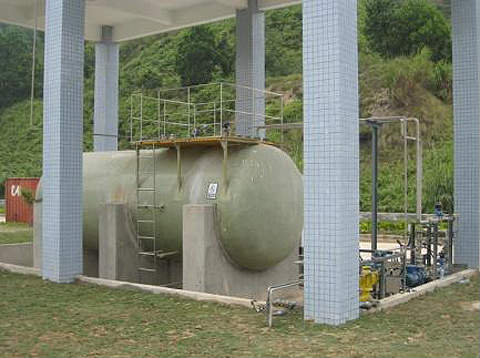 FRP tank for NH3-storage made from FRP.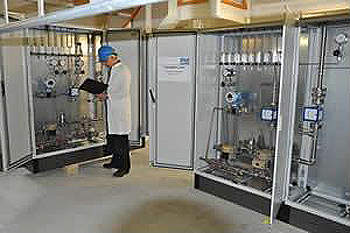 Dosing and mixing modules for use in large plants.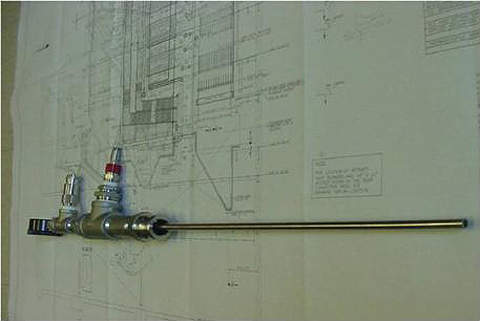 Injection lances.
Storage systems for urea / ammonia solutions
For storage of solutions of urea or ammonia, Flow.Vision offers double- or single-walled, horizontal or vertical non-pressurised vessels constructed from steel or fibre reinforced polyester (FRP) – complete with all necessary valves and instruments. The tanks are equipped to return displaced vapours to the road tanker during filling so that odour problems are completely avoided.
Dosing and distribution modules for reductant and dilution water
In large-scale plants or plants requiring a large control range, dilution of the concentrated solution can be necessary to increase the impulse of the injected liquid or to get a good distribution of the chemical when small quantities are required. For such systems dosing and mixing modules are used for controlling the flows of reductant and dilution water.
Dual flow injection lances
Flow.Vision builds its own dual flow lances based on an external mixing chamber principle. Small lances can be placed between fins of a boiler membrane all.
DeNOx control systems
The control system is built up in a modular way:
Local terminal boxes are controlling each area for individual modules or groups of instruments
A main PLC with touch-screen normally placed in the storage area is controlling the entire DeNOx
All boxes and cabinets communicate with each other via bus connection. External signal transfer to DCS or central control room is also done via bus connection.