Trelleborg specialises in the design and production of engineered rubber products. Our focus is on the markets of power generation, civil engineering, offshore oil and gas, dredging, sewage, construction and industry.
Grout seals and grout hoses
Trelleborg supplies grout seals and grout hoses for offshore wind energy applications. Each turbine's tower rests on a pile foundation, usually a mono-pile or a tripod. During installation of the upper part, the tower is positioned over or in the pile. The space between tower and the pile is sealed by a rubber, inflatable grout seal from Trelleborg. Grouting the space above the grout seal results in a very strong joint.
On top of the seal, more grout is injected – using a special grout hose that is also made by Trelleborg – in order to make a solid connection. This construction method secures the perfect vertical position of the tower. Trelleborg is specialised in the design and supply of active (inflatable seal) and passive (lip seal) grout seals.
Expansion joints
Our Teguflex® expansion joints are suitable for all types of industrial applications. They compensate for thermal elongation and misalignment, isolate vibrations, and dampen noise and pressure surges in connection with engines, pumps, turbines, etc.
Trelleborg supplies grout seals and grout hoses for offshore wind energy applications.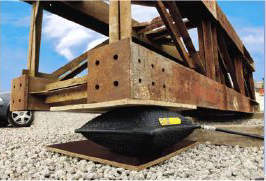 We have developed a completely new line of lifting bags for a wide range of industrial applications.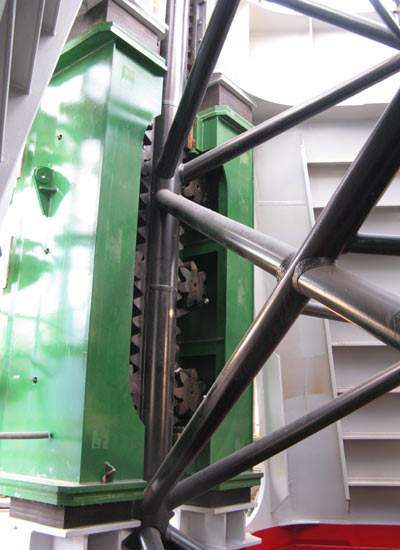 Our range of elastomeric bearing systems includes shock pads for jack-ups.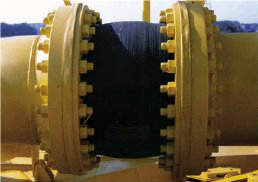 We supply a wide range of expansion joints for onshore and offshore applications.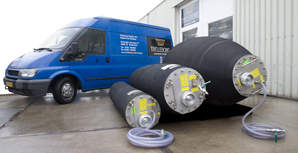 Trelleborg offers inflatable plugs to temporarily close off pipes, for example in sewage systems.
Trelleborg offers a wide range of Teguflex expansion joints, each with specific capabilities depending on the application. Examples of uses for Teguflex expansion joints include: cooling water systems at power plants, pumps, air-conditioning systems, irrigations, gas and drinking-water supply lines, compressors and heating systems.
Lifting bags
Trelleborg has developed a completely new line of lifting bags for a wide range of industrial applications. The use of high-quality materials and craftsmanship in combination with stringent quality control ensures safe operation.
The Trelleborg lifting bags are capable of lifting loads of up to 67t with compressed air at a pressure of only 8bar. In comparison with conventional jacking equipment, lifting bags have major advantages, such as the very small insertion height of approximately 3cm, fast operation, light weight and practically maintenance-free operation. Typical applications include lifting, pushing, separating and fixing.
Elastomeric bearing systems
Trelleborg supplies a wide range of elastomeric bearing systems for conventional energy markets such as offshore oil and gas and onshore oil, but also for renewable energy markets like offshore wind energy.
Our range of elastomeric bearing systems includes leg mating units, deck support units, shock pads for jack-ups (also with integrated load cells), module support bearings for FPSOs, anti-vibration pads, shock cells and special fendering systems.
Each of the products is designed to perform to the client's specified operating criteria. We are focused on working closely with our clients to develop innovative designs and cost-effective solutions.
Inflatable plugs for pipes
Trelleborg manufactures a range of inflatable plugs to close off, in a quick and simple way, a range of pipe diameters and thus block the flow. The plugs are built with high-quality Kevlar® reinforced layers of Neoprene® rubber.
Dredging hoses and seals
Trelleborg dredging hoses and seals are the best choice for reclamation and dredging works at harbours, rivers and seas. The dredging industry demands higher efficiency and bigger capacity as the scale of reclamation works and dredging works has become much larger and discharge lines of such works have become much longer.
Rubber expansion joints and pre-shaped bends
In oil sand fields our specially designed rubber expansion joints and pre-shaped bends are increasingly used, as they have a proven track-record of offering a much better resistance to the very abrasive material that is transported and thus have a much longer lifetime than conventional metal piping and bends.