CF Industrial designs and produces active carbon filters for all industrial applications in air filter technology, and is used throughout the power sector.
Sustainable active carbon filters for the power industry
CF Industrial's extensive range of sustainable active carbon filters, cylinders and cassettes, is used throughout Europe and beyond. The company's product solutions can remove unpleasant odours, purify air or capture harmful gases. The company offers a complete package of standard active carbon filters that can be customised to the client's needs.
CF Industrial can also work alongside its customers to design filters. The result is a solution that focuses on quality, cost efficiency, sustainability, flexibility and service.

CF Industrial filters can be customised to the client's needs and can be produced in stainless steel, galvanised steel or plastic.

Active carbon filters allow for high-quality and sustainable air filtration.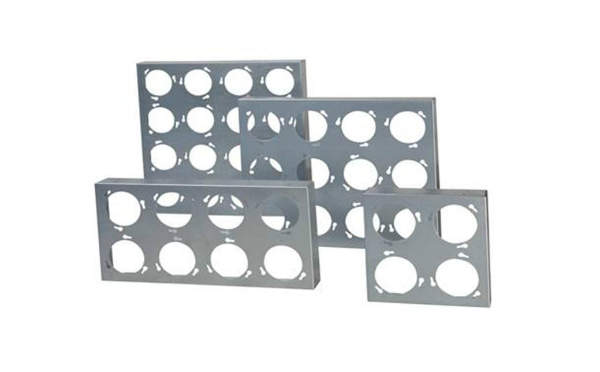 CF Industrial prides itself on being able to actively work with customers to find suitable air filtration solutions to maintain healthy and clean air.
A state-of-the-art solution with one purpose. CF Industrial's aim is the health of people and animals, and the maintenance of customer installations and production means.
Customer designed cylinders and cassettes
Particulates that are harmful to the environment, very fine air pollution, smell and odour molecules, and undesired gases are a threat to the health of people and animals, and can damage machines and production means. With its active carbon filters, CF Industrial offers air filtering technology, creating a safe and healthy work environment.
CF Industrial manufactures filter cartridges filled with active carbon (chemically or thermally activated coal) for eliminating odours and gases, or adsorbing unpleasant smelling or harmful substances. The filter cartridges are manufactured according to internationally standardised measurements. If necessary, CF Industrial can adjust the length or diameter of the filter.
The company's air filters can be delivered in galvanised steel, stainless steel or plastic variaties. CF Industrial filters are used by our customers in the catering sector, laboratories, airports, hospitals, industrial buildings, and industrial manufacturing environments.
In addition to the company's standard design of cylinders and cassettes, it also offers custom-designed air filters. Depending on the air conditioning system, and the results of an air measurement that is carried out in a laboratory, CF Industrial can develop and manufacture a filter in the desired shape and design.
Because CF Industrial manufacture filters in Europe, it can guarantee fast delivery and competitive prices. It also offers solutions for customers with deviating measurements, panels, cassettes or other special requests.
Air treatment, air purification and odour control
CF Industrial has satisfied customers in all areas of the power sector. Its filters with active carbon are shipped worldwide, from Europe to Australia.
The company's customers regularly ask the companyh improve and optimise air technical applications for air treatment, air purification and / or odour control.
Thanks to CF Industrial's experience, it understands the needs of customers and has the knowledge and expertise to achieve a useful, sustainable and efficient solution with active carbon filters.
CF Industrial's approach is that the customer's problem is its problem until it is solved.
About CF Industrial
The company began its operations in Ameide. The brother CF Industrial's founder had a car spraying booth that blew out unfiltered spraying fumes, causing pollution. The car-spraying shop was forced to filter its air. As pioneers, the brothers began to work on the creation of a cylindrical active carbon filter.
This was the beginning of the current high-quality air filter technology that CF Industrial has been inventing, developing and manufacturing for its customers worldwide. More than any other material, active carbon has the qualities to adsorb and neutralise every odour, gas and molecule in the air.
CF Industrials air filters stand for quality, sustainability and innovation. In order to guarantee these core values, the comapny has a hi-tech and professional team of employees that works with great enthusiasm and passion.