Defitec have over 20 years of worldwide extensive experience with replacement cartridges for urban, industrial, inland, coastal and desert gas-turbine sites. We offer guaranteed customer satisfaction in spite of extremely hostile environmental conditions such as dust, sand or snow storms, low and high temperatures and high-humidity exposure, as well as:
High-quality and excellent performances: high-efficiency, high dust-holding capacity, low pressure drop and long life to better protect your large investment
No alteration nor any modification of existing air intake filter systems necessary
Fast response, technical assistance, flexibility, short delivery terms
Impressive reference list of major customers in Europe, Africa, Middle East and Asia
Defitec replacement air-filters for gas-turbine air intake
A wide range of Defitec air filter element-cartridges are available, including: cylindrical, conical, V-pack and panel with multiple ways of fittings: vertical or horizontal yoke, hand crank rod, flange-top or twist locked bayonet.
We offer high-performance media providing protection against erosion, fouling and blade corrosion:
Cellulose and synthetic fibres
Our unique blend of cellulose and synthetic fibres: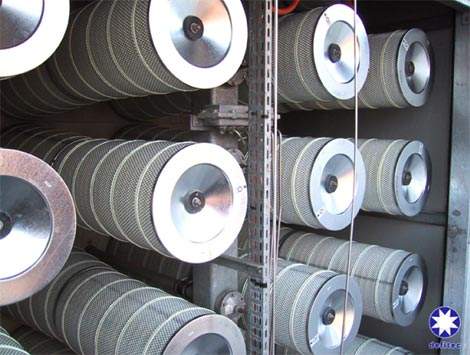 Wide range of Defitec air filter element-cartridges for pulse-jet self-cleaning and static / non-pulsing gas turbine intake systems.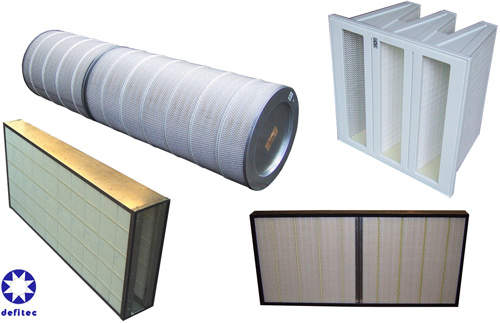 Defitec air filters protect large customer's investment.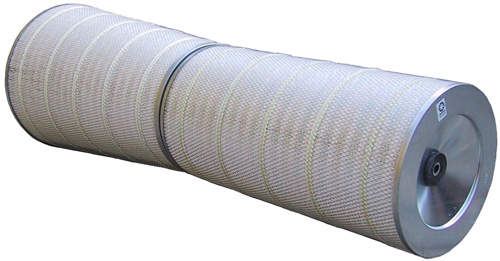 The most popular air filters.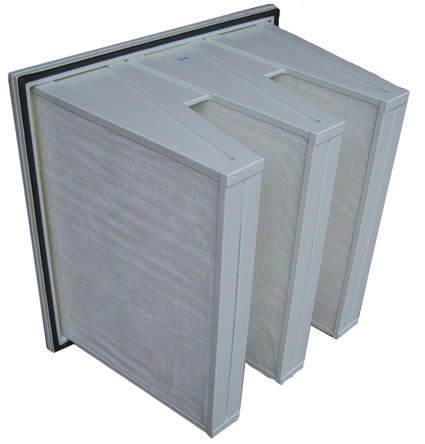 Defitec MiniPleat cassette barrier-final filters.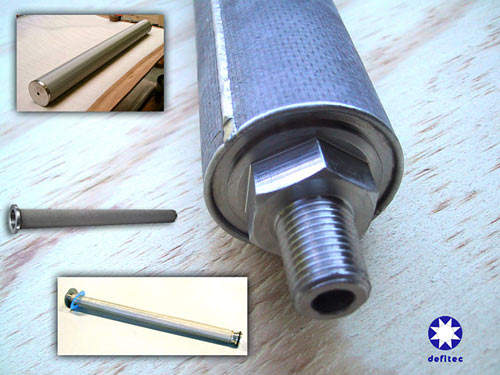 Filter cartridges in sintered stainless-steel fibre or metal powder, wire mesh, wrapped or pleated, bonded or welded assembly according to customer application requirements.
With optional additional layer of nano-fibres to capture sub-micron particles
With optional flame retardant to reduce the ever present risk of fire to the bare minimum (it will self-extinguish once the source of ignition has been removed)
100% premium grade synthetic fibres
We can provide a premium grade of media to fit your specific operating conditions, matching environmental requirements such moisture, fog, humidity and storms and designed to provide very high filtration-efficiency, extra long lifetime and minimum operational pressure drop in order to keep the turbine output at the maximum.
Defitec replacement air-filters offer the following benefits:
DefiLock feature keeps uniform pleat spacing to improve the efficiency of the air pulse system and to increase the cartridges replacement time by at least 60 %
Efficient dislodgment of the filter-dust cake when the reverse air pulses, even in very cold or hot atmosphere and high humidity content
Sturdy construction, excellent reliability, high-durability in the toughest environments
Pleats held in place with hot-melt adhesive beads are deposited at regular intervals on liners, to hold the pleats evenly spaced and to bind them securely to the liners, providing extra strong mechanical resistance on the media during pulse cleaning
Each cartridge with its own seamless polyurethane gasket, of strong adhesion to end open cover, moulded in place to ensure an airtight seal for exposure in any compression, humidity and temperature
Over 70,000 conical / cylindrical cartridges sets (one of the most popular air intake system) supplied to around 50 power plants worldwide with not a single failure
Defitec minipleat cassette barrier final filters
Very strong and rigid plastic frame
High burst pressure superior to 5,500Pa without any damage
Fibreglass media; Filter Class F6 to F9 following EN 779 with surface area up to 32m²
Available sizes: 592mm x 592mm with a depth of either 296mm or 400mm
Sized for standard cells with full interchange-ability on existing housings
High volumetric airflow with very low-pressure drop
Extra outer pleat protection
Metal-free option (fully incinerable)
Metal stainless-steel filter-elements
We can replace industry standard metal stainless-steel filter-elements with industrial gas and liquid filtration processes in the petrochemical, pharmaceutical and chemical-processing industry.
Filter cartridges in sintered stainless-steel fibre or metal powder, wire mesh, wrapped or pleated, bonded or welded assembly according to applications required by the customer.