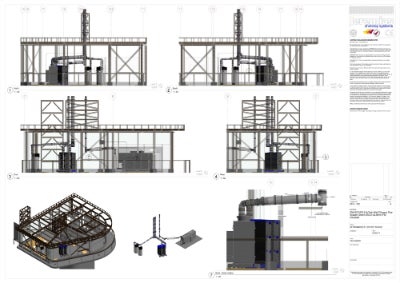 Jeremias are pleased to announce that they are fully BIM Level 2 ready. Over the last two years Jeremias have been working towards a complete and innovative BIM Solution within the Autodesk REVIT Software with the help of the CADSPEC BIM Development Team. Jeremias now have a bespoke Flue System Design Solution Add-in which can distributed to our customers and clients enabling quick creation of bespoke Flue System.
The REVIT workflow enables fast creation of single & twin line Flue Systems layouts, add additional Flue Fittings, (Wall Supports, Dampers, End/Rain Caps), also assigning Material/Construction information to the Flue Runs conforming to Jeremias design specifications and the creation of Construction Documentation.
Working in 3D within the REVIT Building Model allows the creation of a simple Concept Drawing of the Flue with the correct Construction / Material added.
Also in 3D it's easier to place additional Parts and Bracketry avoiding routing clashes.
All Jeremias Flue Families and Routing have been created using standard Revit Pipe, Pipe Fittings and Accessories to allow creation using Standard Revit Commands. In addition to this a Jeremias Ribbon Panel and a Revit Family Manager enables easy location and insertion of the required parts for the Flue, EW-ECO, DW-ECO, DW-KL & DW-FS Ranges.
The Jeremias Add-in and Revit Content have parameters which dynamically update on design change.
Our Solution exports a full Bill of Quantities for quick and accurate quote generation directly from the Revit Model. This provides our customers and prospects with unrivalled response time and guaranteed quote accuracy.
Jeremias have evolved a BIM Strategy to include the current product Range through all European sites including Spain, Germany and France incorporating all languages.
We are the market leaders in Europe for BIM Flue Solutions, for more information please contact us.
Stainless steel system chimneys consist of two concentric stainless steel metal walls with insulation filling the annular space between them.
The family owned company Jeremias established in the 70s is specialised in the production of stainless steel factory made chimney and flue systems for multiple...
Details of the installation of six kitchen extract ducts using the factory made preinsulated fire rated system SV-EI30.