Jeremias Chimney Systems
Stainless Steel Chimney Systems for Power Plants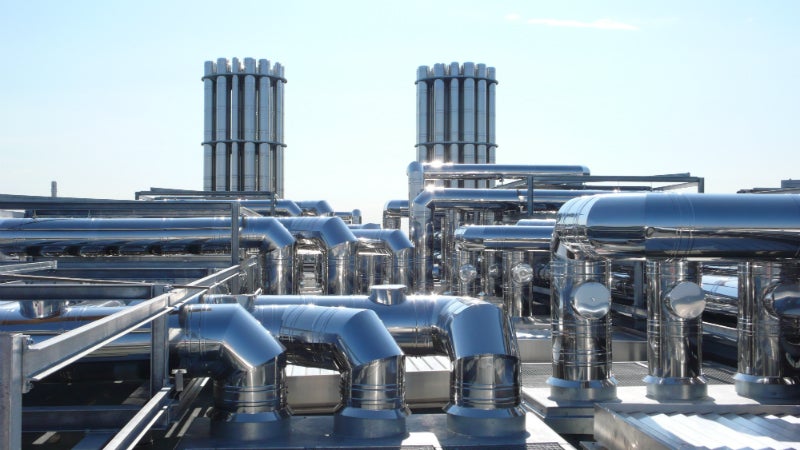 Jeremias Chimney Systems specialises in the manufacturing of pre-fabricated stainless steel chimney systems and freestanding steel chimneys.
The Jeremias Group offers a wide range of engineered high-temperature stainless steel flue and chimney systems for different kinds of industrial, commercial and domestic applications.
Exhausts, chimneys and special ventilation stacks for power facilities
Jeremias Flue and Chimney Systems provides exhaust stacks for the power generation industry. Its exhaust system range includes products for generators and turbines, industrial process exhausts, cogeneration and CHP and incinerator exhausts.
As well as chimney sizing software, Jeremias can offer customers a broad range of high-quality chimney systems, including chimney relining and freestanding and mass supported chimneys. The company also provides ventilation towers for underground facilities, mechanical controlled ventilation systems and cleanroom ventilation.
Push fit connections for quick chimney system installation
Jeremias products offer a push fit connection secured by a locking band that allows for a robust and secure joint of each pre-fabricated component that can be easily installed by a semi-skilled labour force.
There is no need for welding on-site welding just install the factory made components and fix them to the wall with the appropriate fixing accessories such as bracketry, supports, sleeves and flashings, allowing for a quick and simple installation.
Corrosion-resistant stainless steel alloys
As modern technologies progress and flue gas temperatures reduce, corrosion is an increasingly important consideration. Jeremias uses high-quality stainless steel and corrosion resistant alloys, as well as austenitic Aisi 316L stainless steel as inner liner material. All joints including inner liners and outer cases are held together with continuous laser or inert gas welds.
The thin materials used by Jeremias which have a low mass and high density enable the rapid stabilisation of the draught, which in turn reduces condensation. Every Jeremias system has also gone through the highest quality corrosion test possible (UL).
Continuous insulation and lightweight materials for chimney systems
The company can provide constant insulation without thermal bridges or hot spots. Twin wall insulated chimney systems produced by Jeremias are insulated with preformed rigid mineral wool insulation and without a metallic spacer between liner and outer case to avoid heat transfer. Various insulation thickness are possible such as 25mm, 32mm, 50mm or 100mm. A minimum 120kg/m³ density is guaranteed.
Jeremias systems are ideal for marine and offshore applications. The products are extremely lightweight due to superior materials, this means no heavy lifting is required on-site, and there is no need for heavy structures / bracketing. Project components are easy to ship on pallets and / or containerised.
Chimney sizing and overall technical support
Jeremias offers customers full technical support, chimney sizing, fire rating advice, muffler / silencer specification advice, and mechanically controlled ventilation calculation.
The company can also provide design and system recommendations, structural design and test-capable chimney static calculations, supply and installation services (own installers, or via accredited specialists) and an after sales service in the clients local language.
Company history and certification
Jeremias group was originally established in Germany 40 years ago, it has developed its international activities during the last ten years to become the only industrial group specialising in exhaust systems, producing in six countries and able to supply to almost every continent in a fast and economic way.
All the systems produced by Jeremias group are certified under European (CE) or American (UL) Standards. Jeremias also has thecertifications and listings required in countries such as Switzerland or Russia standards, among others.
Jeremias can provide the CE certification under the TÜV quality management and the products are UL listed. These certificates demonstrate the specialist know-how of the company. They also show that the company is able to test different building scenarios in its own accredited test laboratory. The company has even created a new label, 'Jeremias certified' for tests done under more restrictive standards than CE, BS or UL.
Jeremias fire-rated ducts and kitchen extract systems are rated according to different standards. The four hours fire rating to BS 476/20 and the fire-resistant to UNE-EN 13501 with standard systems covering all types of EI – 30, EI – 90, EI – 120 have become compulsory in many European countries for the installation of systems for kitchen extraction and smoke exhaust.
Jeremias Flue and Chimney Systems focuses on three main sectors:1) the power generation, 2) the hot water supply and 3) special ventilation
Main product applications: Exhaust systems: Generator / turbine exhausts, – Cogeneration / CHP-Incinerator exhausts, – Industrial process exhausts, – Engine exhausts-Dry oven exhaust, – Micro-cogeneration.
Chimney systems: Heating and hot water, – Chimney relining systems, -Fan dilution / fan assisted systems, – Freestanding Chimneys, – Mast Supported Chimneys, – Windshield Chimneys
Special ventilation systems: Ventilation towers for underground facilities, -Fire rated kitchen extract, -collective shared kitchen extract, -mechanical controlled ventilation systems, – chemical ventilation, -clean room ventilation.
Jeremias Chimney Systems Images