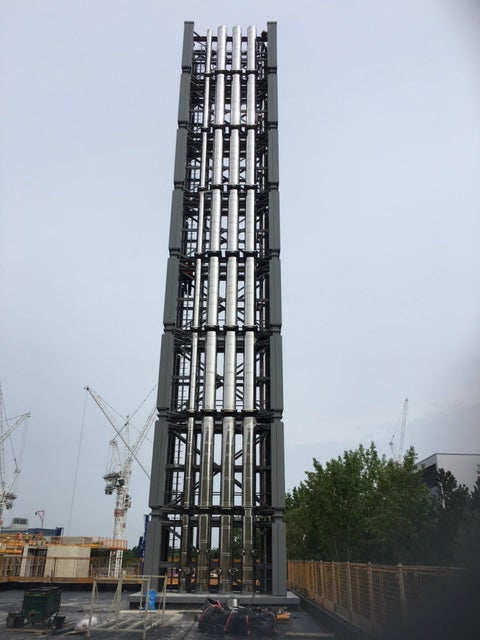 It gives us great pleasure to inform you about our new flange connection system, DW-FS.
DW-FS is a prefabricated modular metal chimney system made of stainless steel inner and outer pipes and insulated with high density rigid Rockwool (128kg / m²).
The inner pipe joint is made by a flanged connection (10mm) which has a locating spigot to assist in guiding the flange sections together for ease of installation in horizontal and vertical chimneys. A graphite gasket is located between the two flanges. This joint is covered by a V-band mechanism which secures both sections to ensure the correct pressure tightness.
The generated airgap space between inner and outer pipe within the joint area is filled with ceramic fibre insulation. The outer pipe is secured with our 2.0 locking band inserted within the swages.
The system is designed to specifically extract combustion gases from generators, furnaces, fire places, micro-cogeneration, etc. Whichever model of DW-FS product range is to be selected is totally dependent on the application and the type of fuel used. The DW-FS system has different models depending on the material specification (Grade 304 Grade 316…) and the insulation thickness (32mm, 50mm, 75mm, 100mm). If required expansion bellows can be used within the system.
The advantages of DW-FS system are: It enables every application to achieve the maximum pressure classification (H1 5000 Pa), have no thermal bridges, to be suitable for applications involving high temperatures etc. All DW-FS system components carry a CE classification label which indicates the smoke direction to assist during installations. If a requirement to disassemble is required then this is an easy process due to the ease at which the flange system can be removed.
The DW-FS system like all other Jeremias product range has the CE certification according to EN 1856-1 and EN 1856-2, as indicated in the European Regulation for the Marketing of Construction Products. We would be pleased to offer you more information about DW-FS systems and its feasibility for any project.