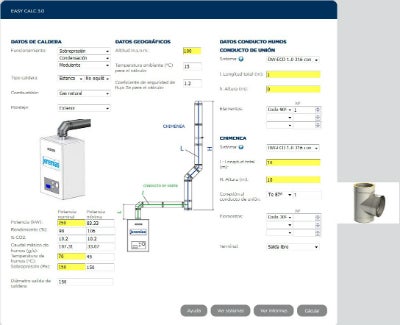 Jeremias is proud to present its latest version of the EASY CALC 3.0 software for calculating flue system sizing. The new application allows a quick and easy design sizing calculation for the flue systems, for any type of installation for the extract of post combustion flue gases, according to the European standards of EN 13384-1 and EN 13384-2.
In addition to the characteristics of the previous version, the latest version includes improvements that assist in the ease of its use and understanding of the results:
Web based application which can be found within the Jeremias website. Access for registered users can be simple with name and password
The different types of installation include (individual boilers, gensets*, cascades* and collective systems*)
The latest software allows the user to modify separately the connection pipe and chimney diameters dependent on the needs of each installation, always fulfilling the operating requirements
The latest application provides our clients with a personally filed record of all calculations carried out, allowing ease of recollection or modifications to be quick and easy based on the stored project calculations within their own file
The system also creates full pdf reports, which can be included in specifications for projects
The web based-application is available and can be operated on any computer, smartphone or tablet with internet connection.