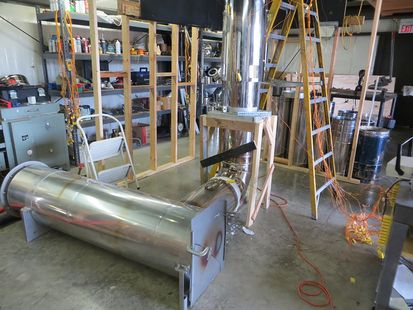 The Jeremias Inc. standalone R&D / UL Testing Laboratory located in Logan, Ohio, USA is one of the world's largest laboratories for testing venting and chimney systems.
This dedicated lab has over four million BTU/h (2050 kWh) natural gas capacity, making it one of the world's largest capacity testing facilities solely dedicated to chimney and pressure stacks testing.
Inside the lab we have two natural gas burners used in conjunction with three flue gas generators and other testing equipment for very large diameters chimneys and other venting systems up to 36 and 48 inch (900 and 1200mm) diameters. An 80 channel data acquisition and computer center continuously monitors and logs testing data in real-time. The lab is staffed by experienced technicians, some with over 25 years of specific chimney testing experience.
Underwriter Laboratories (UL) witnesses our testing and we are nearing our initial goal of over 20 different UL and ULC (North American) safety certifications. Planned next steps of UL and ULC testing will be incredible in the eyes of most American engineers as Jeremias brings more German and European technologies to the Americas. Jeremias Inc. is leading the industry in product innovations and new applications in the American markets.
Stainless steel system chimneys consist of two concentric stainless steel metal walls with insulation filling the annular space between them.
The family owned company Jeremias established in the 70s is specialised in the production of stainless steel factory made chimney and flue systems for multiple...
Details of the installation of six kitchen extract ducts using the factory made preinsulated fire rated system SV-EI30.