Purolator Advanced Filtration is a creative engineering and manufacturing organization offering porous metal filter products to address specific needs for diverse markets. A host of custom and standard products is available for fluid filtration, fluidization, and other applications.
Purolator Advanced Filtration products are used in a wide range of applications within the power generation industry, including applications within the nuclear, fossil, gas turbine, and solar power generation sectors. Housed in facilities totaling 150,000ft² in Greensboro, North Carolina, our 200 engineering, manufacturing, sales and administrative employees work tirelessly to create and provide innovative filtration solutions to our customers worldwide.
Automatic backwash filter system
The PoreRestore™ filter system incorporates the proven Poroplate® sintered wire cloth filter media along with a proven automatic backwash system to enable virtually maintenance-free operation.
The Poroplate media is custom-engineered to perform as surface media, thereby capturing all of the debris on the surface where it is easily removed during the backwash cycle. The Poroplate media is configured as a basket, with the flow passing from outside to inside. This configuration further enhances the backwash ability of the system, as the debris is free to fall off the media wall to the bottom of the housing where it can be easily evacuated. The PoreRestore system is available with Poroplate baskets rated as low as 10µm absolute. Flow rates of up to 200gpm per basket are possible.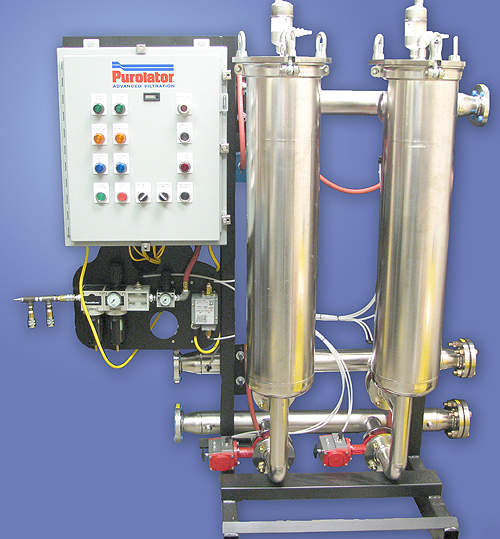 The PoreRestore™ automatic backwash filter system offers virtually maintenance-free operation.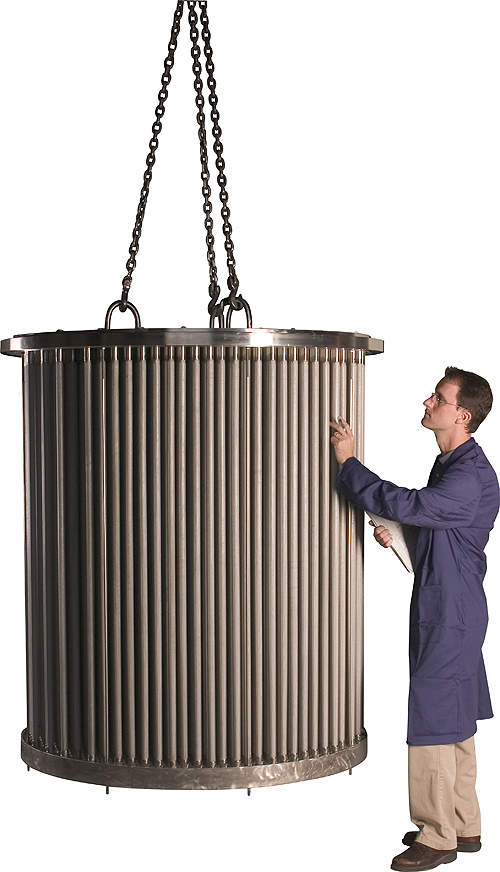 Poroplate® filter septa are used for nuclear power plant water filtration. They are tailored to meet the exact needs of your systems.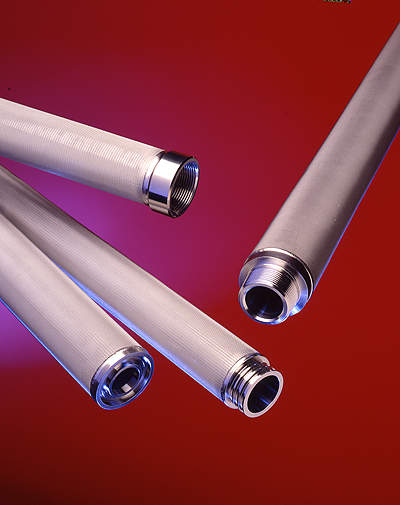 Poroplate® tubes are used for gas turbine filtration to protect internals and nozzles.
Filter septa for nuclear power plant water filtration
Purolator Poroplate septa are application engineered and manufactured to optimize your F/D systems. They are tailored to the specific operating conditions and requirements of your systems.
These septa will extend run times, maximize the use of ion exchange resins, increase pre-coat uniformity, and improve backwash efficiency, with no measurable resin bleed-through. Poroplate septa pre-coat uniformly, without the need for a cellulose pre-coat. Poroplate septa filters are available in micron ratings of 2µm-200µm, although the most common is our 64µm media. These filter septa are typically used in reactor water clean-up (RWCU), fuel pool, liquid rad waste, and filter demineralizer applications. Poroplate septa are available as single filter elements or as a full tube bundle assembly (pictured).
Tubes for gas turbine filtration
Purolator Poroplate filter elements are used in gas turbines to protect the internals and nozzles in the equipment. Filter elements are available in a wide variety of alloys, including 316Lss and Alloy 20, with micron ratings as low as 2µm.