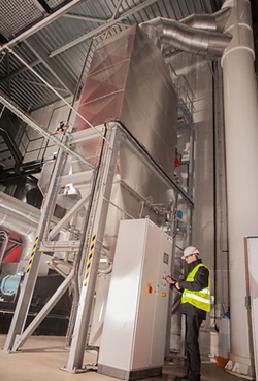 In France, operating a flue gas heat recovery system economically is often challenging because district heating system return flow temperatures are unknown, or too high, at the beginning of a project.
Conventional flue gas condensation systems can only be operated when certain parameters apply.
Not only must the fuel used in the boiler be appropriately humid, the return flow temperature also has to be low enough to remain, on the whole, below the water dew point in the flue gas.
If these conditions are not met, conventional heat recovery systems cannot work profitably or safely, and need to be shut down.
Scheuch ERCS Type 02 – Heat recovery for all operational conditions
The new Scheuch ERCS Type 02 plant can automatically detect if condenser operation is no longer possible or economically efficient, and automatically switches to what is known as 'economizer operation'.
As a result, heat recovery plants can still be operated even if the parameters referred to earlier are not met.
A plant of this kind from Scheuch GmbH was first commissioned in the Etouvie heating plant last year.
During condenser operation, with an average fuel water content of 40%, the plant can generate more than 1,000kW of condensation heat from the flue gas of the 5MW Weiss boiler.
With the new economiser operation, it is able to produce 400kW even at return flow temperatures greater than 65°C.
Minimum operating costs
Unlike standard heat exchangers, the Scheuch ERCS Type 02 plant features low pressure loss on both the flue gas side and the heating water side.
An additional benefit is that permanent flushing is not necessary for heat extraction, as the rinsing pump is only active intermittently.
This means a 50% saving in electrical operating costs compared with conventional wet scrubber systems.
Benefits of the Scheuch ERCS Type 02 plant
High-efficiency, with a temperature difference less than 3°C
Minimum operating costs thanks to low flue gas pressure loss
Direct heat transfer from the flue gas to the heating system
Compact design
Can be retrofitted
Technology for clean air
Since the company was founded over 50 years ago, Scheuch has grown to become an international leader in ventilation and environmental technology.
Headquartered in Austria, the company offers its customers application-specific, top-quality complete solutions for the wood and wood-based panels, industrial minerals, metals and energy industries all over the world.
The company is constantly at the forefront of the latest technological developments, manufacturing high-performance air and exhaust gas cleaning plants and products for industrial enterprises.
An international network – Scheuch subsidiary in France
In recent years, the growing trend towards using biomass in energy recovery has also made its way over the French borders
Combined heat and power plants that use biomass are currently being designed and built in many cities and municipalities across France. At the same time, the market is becoming increasingly attractive to the energy industry.
Flue gas cleaning is one of the key areas of expertise of Scheuch, which is why some well-known French companies have already put their trust in Scheuch and ordered filter systems and heat recovery plants.
In order to expand its local presence, it was an obvious move to set up a Scheuch subsidiary in France.
Over the past two years, staff members Thomas Le Cointe and Francoise Gallic have been employing their wealth of experience in project engineering and plant manufacture for Scheuch GmbH in Paris. The two engineers are responsible for all project management, coordination and communication with customers.
APitec, represented by Abdel Berkoune, has been brought on board to handle the sale of Scheuch plants.
The company, which is headquartered in France, has been a reliable Scheuch partner for a number of years now and represents the interests of the Austrian family-operated company in this ever-growing market.
---
Image: The heat yields achieved through heat recovery have been checked and verified in the Etouvie project by an independent measuring institute. The results were more than 25% better than expected.
With a complete programme for dedusting, heat recovery and pollutant reduction, we offer process-specific solutions of the highest caliber. This makes it possible to compare...