Scheuch offers a complete line-up of efficient extraction, dedusting and pneumatic transport equipment, as well as economical cleaning systems for exhaust gases and flue gases. The Austrian company keeps technology in this sector moving forward with innovative, patented technologies.
Scheuch's technologies and plants make a valuable contribution to the protection of our environment and climate by significantly reducing fine dust and contaminant emissions. Energy-saving designs and integrated heat recovery systems boost energy efficiency while significantly reducing CO2 emissions.
Customised solutions for flue gas cleaning
Scheuch's ongoing programme of innovative developments and improvements builds on nearly 50 years' experience with extraction and dedusting equipment and the challenges of cleaning exhaust and flue gases. Scheuch is responsible for developing new solutions that are redefining the standard of this technology, especially in the area of flue gas cleaning for biomass-fired plants and waste incineration installations.
Scheuch's plants meet the increasingly strict environmental requirements and have emission levels significantly lower than set limits. The rated capacity of these units ranges from a few thousand cubic meters of flue gas an hour to several hundred thousand.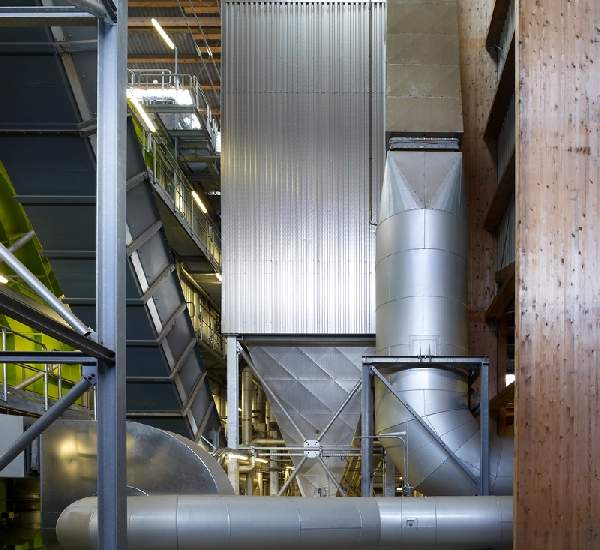 Flue gas cleaning biomass-fired plant.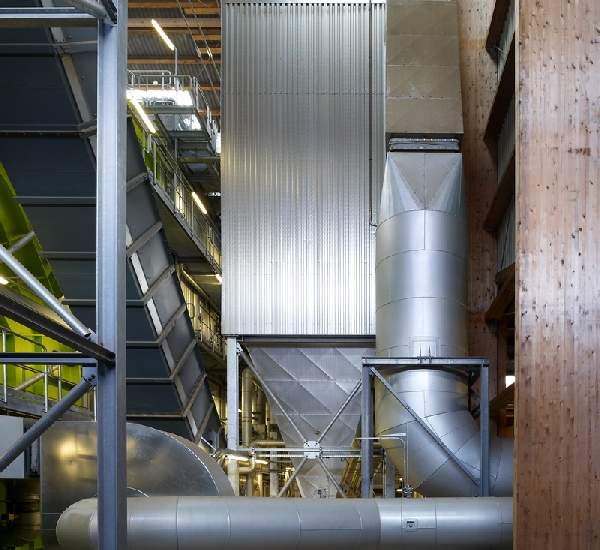 Flue gases dedusting.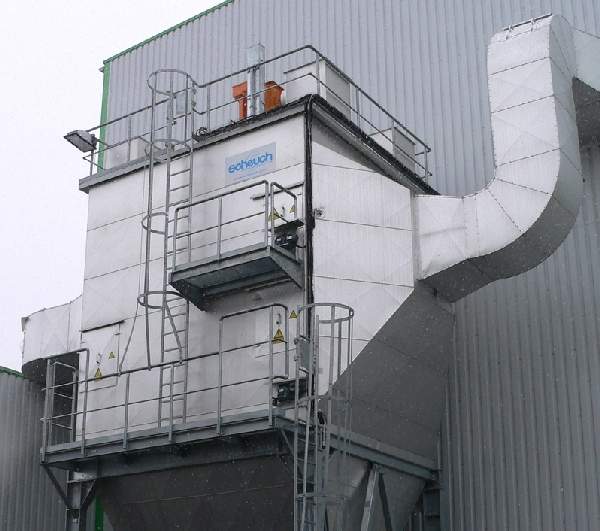 Flue gases dedusting with electrostatic precipitator.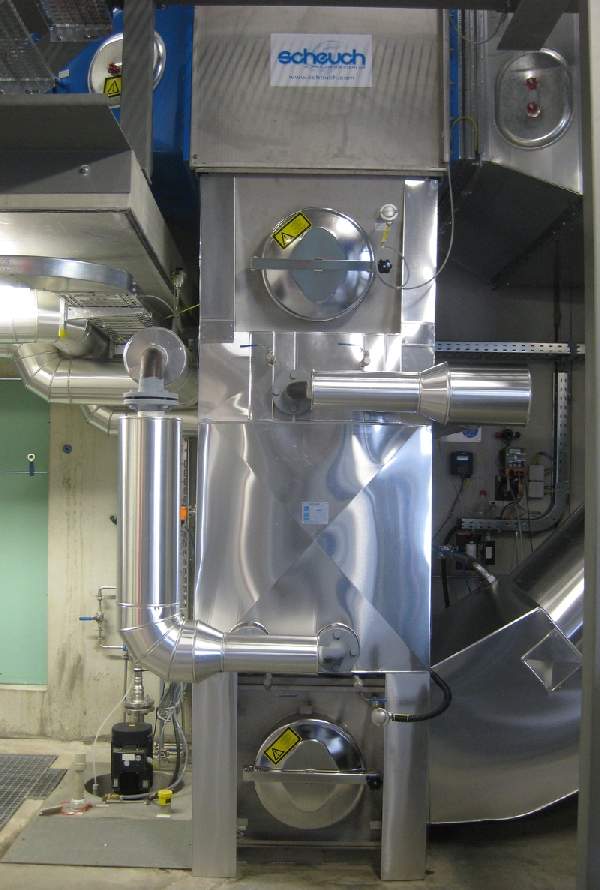 Heat recovery system.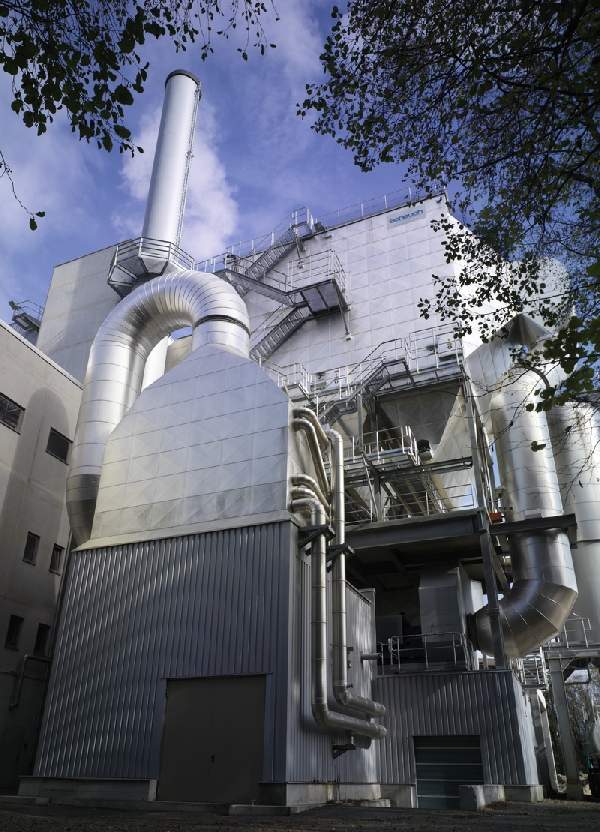 Flue gas cleaning plant inclusive condenser.
Flue gas cleaning for biomass-fired plants
The combustion processes in biomass-fired plants use untreated fuels, such as forest refuse, bark, saw chips, and straw, as well as treated fuels, such as coated particle board and fibre board, recycled wood and wood remnants.
Scheuch's flue gas cleaning systems for firing plants of this kind are in compliance with the TA Luft, BlmSchV, FAV, LRV and other environmental regulations.
Flue gas dedusting for effective dust removal
High-quality mechanical separators are used for simple dust removal and pre-filtration of particles from the exhaust gas created by combustion processes. These mechanical separators include tangential cyclones, spark and rotary separators, as well as axial and multi-cyclone filtration plants.
Electrostatic processes are used in applications requiring separation efficiencies of more than 99% and clean gas dust levels of < 10 mg/Nm³ These applications use Scheuch's dry electrostatic precipitator, the SENA wet electrostatic precipitator and the SEKA wet condensation electrostatic precipitator.
Heat recovery / condensation, matched technologies for heat recovery
Despite today's high technical standards, the combustion of biogenic fuels rarely results in thermal efficiencies of more than 90%. With wet fuels in particular, a substantial amount of the energy generated is used to evaporate the water contained in the fuel, causing this energy to be lost in terms of practical use.
Only through the use of suitable heat recovery systems, usually in the form of flue gas condensation systems, is it possible to use this energy and reduce fuel consumption. A technology matched to the needs of the plant operator, the prevailing grid conditions and the fuel used makes it possible to achieve plant efficiencies of more than 110%, reduce amortisation times and guarantee the economic success of the plant.
The following components are used individually or in combination in these heat recovery systems:
Flue gas economiser
Flue gas condensors
Condensation scrubbers
Air pre-heaters
Exhaust gas cleaning and cooling
The use of polluted waste wood requires a more comprehensive process for cleaning exhaust gases in order to remove environmentally damaging contaminants from the air.
Scheuch uses sorption-based cleaning processes to remove acid-forming noxious gases, such as SOx, HCl and HF, as well as additional eco-toxic organic and inorganic trace pollutants in PCDD / PCDF and heavy metals (Hg, Cd, Ti, As, etc.).
In the process of conditioned dry sorption with a gas conditioning tower (GCT), water is injected into the exhaust gas stream after it leaves the pre-separator. This cools the gas to a temperature <160°C, which is the temperature necessary for the sorption of contaminants to proceed, or to a preferred temperature of 145°C-140°C when using Ca(OH)2. Injecting water also correspondingly increases the humidity of the exhaust gas in order to improve reaction conditions.
Equipment and process technology installed downstream from the GCT are essentially the same as those in the dry sorption process without conditioning.
Flue gas cleaning systems
Scheuch offers flue gas cleaning systems with rated capacities of up to 50,000Am³/h for small combustion plants burning household, commercial and special waste.
In addition to fly ash and aerosols, the systems separate contaminants such as HCl, HF, SO2, heavy metals (mercury, arsenic, lead, zinc) and dioxins/furanes. To this end, Scheuch has developed its own proven dry sorption processes: the Scheuch additive injection process and the patented Scheuch dense phase SDS sorption process.
In the area of clean air technology for large-scale waste incineration facilities, Scheuch is a partner to many well-known plant manufacturers. Because of the company's extensive know-how and time-tested technologies, their fabric-based filter and electrostatic filter units are used to clean flue gas emissions at waste incineration plants all across Europe.
The technologies used to clean exhaust gases include dry electrostatic precipitators (dedusting) and dry sorption or conditioned dry sorption using a fabric filter (dedusting and removal of SOx).