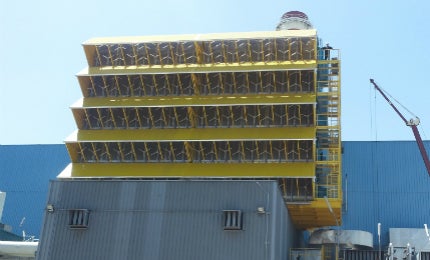 As a provider of specialist air intake systems, Veotec supplies a range of products for gas turbine housings, diesel engines and heating, ventilation and air-conditioning (HVAC) systems used throughout power plants worldwide.
The company also offers weather louvres, heated moisture eliminators and filter housings.
Air intake systems and vane profiles
Veotec air intakes are specifically designed for the removal of rain, mist, dirt and grit in adverse conditions, as well as preventing the build-up of ice and snow. The company offers numerous unique products, which enable it to provide efficient and cost-effective solutions.
The company also provides a number of vane profiles allowing for different levels of protection and pressure drop profiles.
Marine-grade weather louvres
The Veotec weather louvre (WL) offers basic protection from the impact of conditions such as rainwater and mist. Weather louvres are constructed from galvanised steel, marine-grade aluminium or stainless-steel.
For harsher conditions, Veotec can provide a weather-tight hatch with closing mechanism.
Moisture eliminators for air intakes
The Veotec SE1 provides air intakes with the capability to remove the build-up of water, debris from aerosols and salt.
Constructed from marine-grade aluminium or high-grade stainless-steel, the Veotec SE1 can be fitted with various water drainage systems and runs at a low-pressure loss, eliminating more than 90% of 5µ water particles.
Vanes can also be constructed from PVC plastic if required.
Air filter systems for power plants
The SE1 inertial vane and filter coalescer, and either a bag filter or panel filter are combined to make the Veotec SE2. The type of filter can depend on size constraints or pressure drop constrictions.
When placed in a gas turbine filter system, the SE2 is capable of protecting HVAC apparatus, ventilation systems and diesel engines.
Combining all the advantages of the SE2 with an additional vane separator, the Veotec SE3 allows for higher velocities up to 6m/s. The SE3 meets IPX6 classification, having undergone testing and certification at 4m/s.
The added vane separator ensures that the removal of salt and water build-up is maintained, which is required for air intakes used near saltwater bodies.
Combined moisture eliminators and dust removers
When high-level moisture removal and the elimination of dust are necessary the Veotec SE2F can be implemented. The unit offers the customer a compact solution to protect equipment.
To meet client specifications, the SE2 model is combined with bag-type filters but F7 – F9 are generally suitable for HVAC intakes and gas turbine intakes take up to H10 – H12.
Trace-heated inlet vanes
For protection in some of the most adverse operating conditions, Veotec's SETH heated inlet vanes help stop inlet icing for power, oil and gas plants, as well as HVAC apparatus, diesel engines and ventilation equipment.
The inlet vanes are compatible with the Veotec WL1, SE1, SE2 and SE3 moisture eliminators.
Fluid-heated moisture eliminators
Unique to Veotec using patented technology is a new concept in heated or cooled vane technology. Instead of using electrical heating to prevent snow and ice, Veotec has designed a method to use fluid to offer even greater thermal performance benefits.
With no electrical sacrificial load and a far greater range of air temperature rise available, this is a new far more environmentally friendly way of achieving snow and ice protection.
Vanes for new builds or retrofits
Veotec can supply vanes preassembled into a separator core or as vanes cut to length for installation into a client's casing. Cores can be manufactured from stainless steel, aluminium, or PPTV and PVC plastics.
All of these products can be used for new-build projects or as a retrofit on existing installations where a greater level of protection is required.
Veotec's clients and end-users include power generators, gas turbine OEMs, leading filter companies, drift eliminator, evaporative cooler, and filter house manufacturers.
The Veotec Group is exhibiting at Power-Gen Europe in Milan from 21-23 June.
The Veotec Group is exhibiting again at the Seawork International 2016 Commercial Marine & Workboat Exhibition & Conference, to showcase our innovative and unique solutions for engine room intake and exhaust systems.
Veotec Limited
Unit A Farringdon Business Park
Farringdon
Hampshire
GU34 3DZ
United Kingdom
Veotec Americas LLC
1311 Larc Industrial Blvd
Burnsville
MN
55337
United States of America