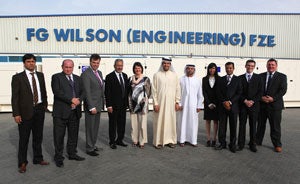 In recognition of the long-standing regional leadership of the FG Wilson brand, 17 April 2012 saw senior members of Northern Ireland's Department of Enterprise, Trade and Investment visit the FG Wilson (Engineering) FZE Facility in Dubai.
Northern Ireland's Enterprise, Trade and Investment Minister, Arlene Foster, led the delegation accompanied by Mr Alastair Hamilton, CEO, Invest Northern Ireland and Mr Guy Warrington, HM Consul General, British Embassy Dubai. Also present were Mr Adil Al Zarooni, Sr Vice President EZW-Global Sales.
FG Wilson FZE, Dubai was chosen for the Northern Ireland delegation, as the company has grown into a power industry leader throughout the Middle East.
During their visit, the delegation received a presentation by members of the FG Wilson teams from both Dubai and Belfast as well as a tour of the 160,000 sq. ft., state-of-the-art facility located in Jafza.
Enterprise Minister Arlene Foster said: "I am delighted to see the level of commitment from FG Wilson FZE towards the brand and to its customers. The facility is very impressive, as is the substantial growth they have been able to achieve and sustain. The level of commitment in terms of stocking, training and support has fostered the FG Wilson brand throughout the region."
Alok Rawat, President of FG Wilson FZE commented: "It has been our privilege to host the minister and the delegation. We have played an active role in the growth of the FG Wilson brand in the region, and we are committed to further strengthening the brand image. We thank the minister and the delegation for visiting our facility."
Delivering outstanding performance with an enhanced choice of options, the new 5.5 - 22 kVA...