Speedy is a leading provider of equipment and support services to construction, manufacturing, industrial, rail and related industries. Since our foundation in 1977 we have grown to an organisation with more than 100,000 customers, 4,000 employees and a national network of around 400 depots. We continue to invest more than our competitors in cutting-edge, high-performance and environmentally friendly equipment.
Our customer relationships are founded on the principle of a real understanding of customer businesses, the market sectors in which they operate and their individual organisational needs. This ensures that we offer outstanding solutions, regardless of sector or scale.
10kVA – 1,250kVA generators
For instant power anywhere, our fleet of 10kVA – 1,250kVA generators provide the ideal solution. Available in canopy, containerised, secure and towable models, they have been designed and manufactured to the most exacting standards, with each machine being carefully prepared to ensure optimum operational efficiency and reliability. Diesel and bio-diesel options are backed by our integrated fuel management solution.
Diesel and electric air compressors
As the market leader in compressed air solutions, we offer an extensive range of state-of-the-art 130cfm – 2,000cfm diesel, electric and 100% oil-free air compressors. These models are available in portable or stationary options, and are fully compatible with our comprehensive range of ancillaries.
Speedy's range of generators, compressors, pumps and temporary accommodation are available from a national network of 400 depots.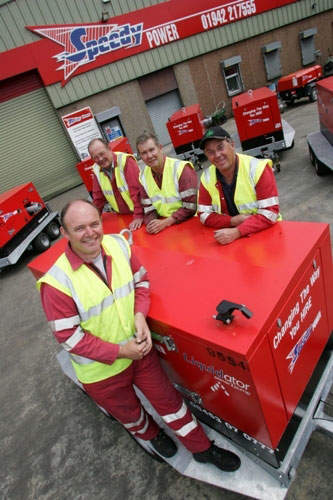 Speedy's fleet of 10kVA – 1,250kVA generators, designed and manufactured to the most exacting standards.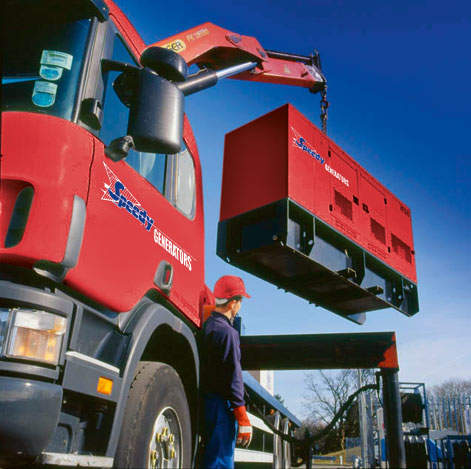 Speedy provides state-of-the-art diesel, electric and 100% oil-free air compressors and fuel-efficient, environmentally friendly pumps.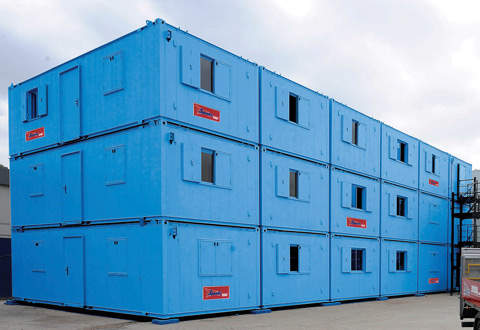 Speedy supplies industry-leading surveying instruments.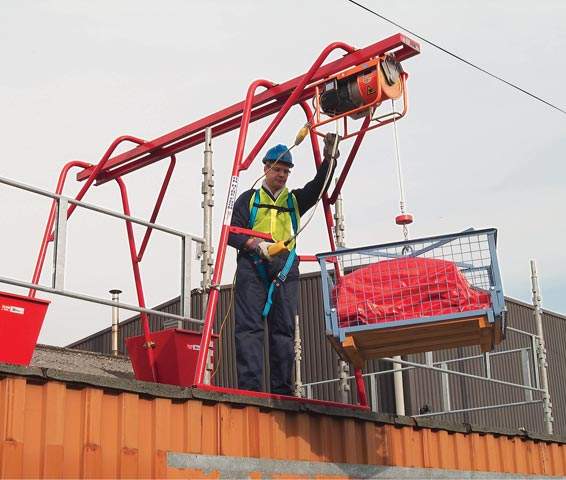 Speedy provides vandal-resistant, portable and stainless steel purpose-built temporary units.
Fuel-efficient pumps
Following a multi-million pound investment, Speedy now offers the industry's newest fleet of high-performance, fuel-efficient and environmentally friendly pumps. Included in the range are 3in – 12in road-tow silenced diesel, high-head diesel, hydraulic, air-operated, bentonite and electric submersible pumps, plus a full range of ancillaries.
Lifting and handling equipment
From materials handling to heavy lifting gear, our modern fleet is built around our customer's needs and the industries they serve. With true national coverage, Speedy offers local service on a national level. With unrivalled technical expertise, we offer extra services such as testing and inspection, engineering, heavy lifting and training.
Surveying equipment
Speedy offers the most modern and diverse range of surveying instruments from industry-leading manufacturers. Included in our fleet are auto levels, total stations, lasers, detection equipment and our exclusive GPS software. Speedy has the solution to your surveying needs.
Wireless communications systems
At Speedy we have taken our focus on safe communications further by extending our product range and availability throughout the UK. As a result of ever-changing regulations and the impact these have on our customers, we can now supply licensed, intrinsically safe and wireless communications systems.
ATEX lighting and safety equipment
A comprehensive range of safety equipment is available from our specialist safety depots. Equipment specified by our customers in petrochemical and nuclear markets form the basis of our extensive product range, including ATEX lighting and equipment.
Temporary steel accommodation units
Speedy has one of the largest fleets of purpose-built steel units in the industry, ranging from vandal-resistant portable temporary accommodation to single and multi-storey building solutions. We offer a full installation package, including a site survey and risk assessment, carried out by our trained and certified teams.
Tools, access and specialist equipment
Speedy is the UK's number one supplier of tools, access and specialist equipment for hire, and invest millions in new technology, ensuring our extensive kit is the optimum in performance and reliability. Our range consists of tools, access, drilling, concreting, fencing and mini plant equipment.
By choosing Speedy as your preferred supplier, you can take advantage of our extensive UK and overseas depot network and an ever-increasing fleet, which is backed by our team of specialists, whose industry experience and superior product knowledge ensure we offer true reliability and a service like no other.