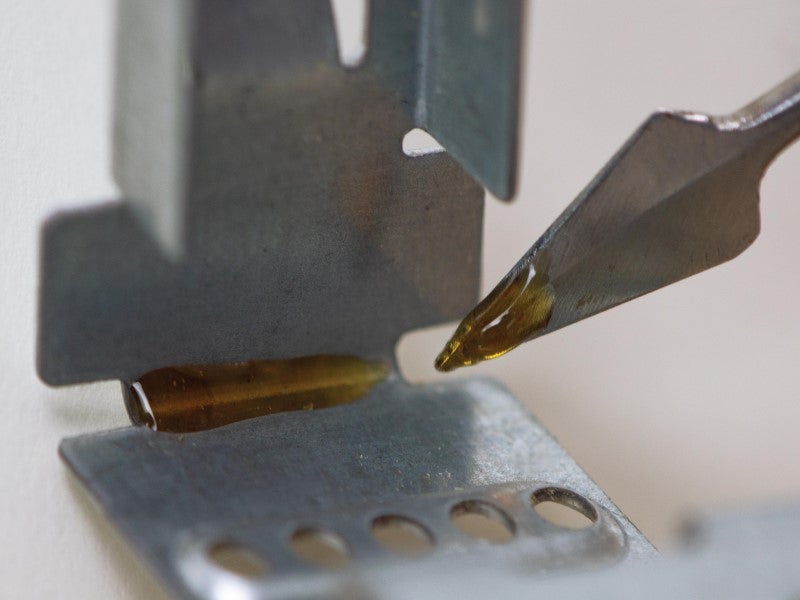 Master Bond EP40ND is a two-component epoxy system, designed for bonding, sealing and coating applications. It is a non-drip, toughened system with an easy-to-use 1:1 mix ratio by weight or volume. EP40ND meets NASA low outgassing specifications and has a high elongation of 80%-90% at 75°F. It adheres well to many plastics, such as polycarbonates and acrylics, making it appropriate for applications that use substrates prone to stress cracking.
This flexible system provides a low tensile modulus of 1,000psi-1,500psi, and a relatively high lap shear strength of 1,600psi-1,800psi. EP40ND has a Shore D Hardness measuring between 50-60 at 75°F. Serviceable from -100°F to +250°F, this electrically insulative compound can withstand rigorous thermal cycling, vibration, impact and shock.
EP40ND cures within two to three days at room temperature, or faster with the addition of heat. The viscosity of Part A is 50,000cps-100,000cps, and Part B is a thixotropic paste. It has a long working life after mixing. In addition to plastics, this epoxy adheres well to a variety of dissimilar substrates, such as metals, composites, glass and ceramics. EP40ND can be used in aerospace, semiconductor, electronic, optoelectronic and medical device industries. It is available in standard packaging, as well as premixed and frozen syringes. It is also available in double barrel cartridges for use with a gun dispenser.
For more information, please contact Masterbond via the contact details on our profile.
Today, there is a great market demand for all sorts of advanced power and high-frequency communications electronics, including high-power semiconductors, diodes, converters, amplifiers, radio devices,...
A NASA publication documented the use of Master Bond EP65HT-1 for use in organic photovoltaic devices.
Scientists at CERN used EP79 to reduce the radiation length and connect electrically-conductive joints of the aluminium barrel and copper end caps of the Faraday...