Ainscough Vanguard (AVL) is the UK's leading industrial equipment handling contractor specialising in the installation of machinery across various industries, including manufacturing, construction, environmental and power. The company caters for all scales of projects, from a single internal machine move up to worldwide factory relocation as part of a turnkey solution.
This service includes, where necessary, de-commissioning / re-commissioning through in-house electricians and mechanical fitters, and movement using our experienced rigging teams and specialised lifting equipment. In addition to electrical, mechanical and lifting / handling the company can also supply transportation, packaging, shipping and storage with all work carried out on a CDM or project-managed basis.
Industrial equipment handling in the power industry
AVL has vast experience in working within various types of power-related facilities, including nuclear, gas, coal, CHP, biomass, waste to power, wind and hydro.
Heavy and technical lifting services
In addition to machinery installations, AVL are experts in heavy and technical lifting solutions and can carry out lifts of any size or weight whether by means of crane, hoist, jacking or winching.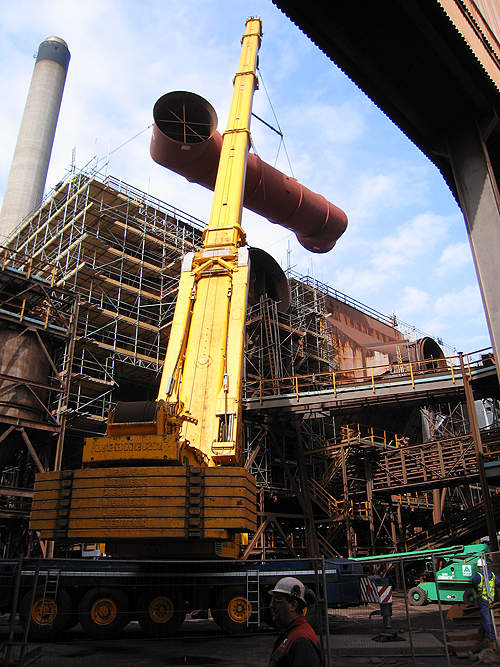 Large crane installs a heavy ducting section at a gas-powered station.
Two Versalifts work in tandem with a hydraulic gantry system to install an overhead crane.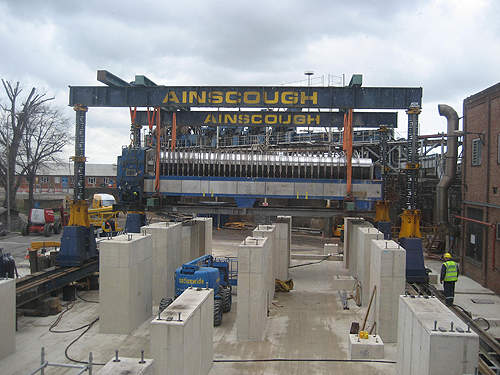 Hydraulic gantry system installs heavy plant items on-site at a coal-fired station.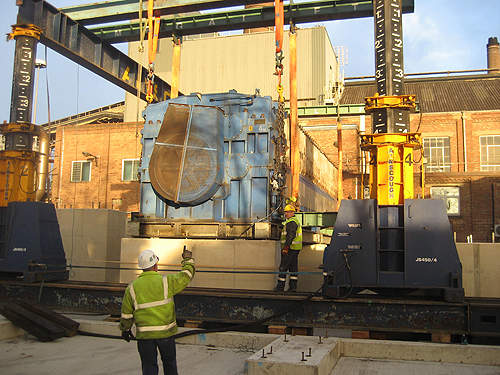 AVL has a wealth of experience in industrial equipment handling within the power industry.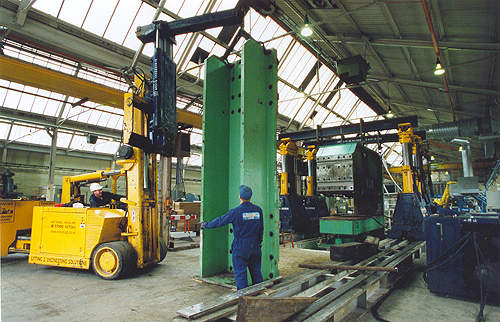 Versalift and hydraulic gantry system handle heavy press components in a low headroom environment.
Specialised handling equipment for the power industry
The company employs over 170 full-time staff members and works out of six strategic locations covering the UK, including Glasgow, Wigan, Rotherham, Birmingham, Bristol and London, meaning that Ainscough Vanguard can offer a local service with the resources of a national company.
AVL has an extensive asset base largely made up of specialised handling equipment. This includes but is not limited to mobile and crawler cranes, hydraulic gantry systems, pick and carry cranes, mini spider cranes, fork lift trucks, Versalifts, lorry loader vehicles, semi-low and low loader trailers, load moving bogies, etc.
Power equipment relocation, decommissioning, lifting and transportation
The common theme in our service to our customers is that all require a competent, experienced and safe contractor to deliver their project requirement within agreed timescales and budgets.
As a mark of the company's quality procedures AVL carries ISO 9001:2008. In addition, the company is CHAS and Achilles approved.
We pride ourselves on our flexibility to deliver factory, plant and equipment relocation, commissioning, decommissioning, dismantling, heavy / technical lifting, transportation and asset management solutions. The service we provide will be delivered with excellence to exceed our customers' expectations.
No matter how big or small your project is, consider us to provide you with a competitive quotation for a complete turnkey solution or single-service provision.