Dunlop Mastclimbers has been a specialist in the design, manufacture and rental of vertical transport equipment in the US since 1984. The company has supplied and installed mast climbing systems on nearly every type of structure, from the iconic Empire State Building to circular power plant chimney stacks.
Mast climbers represent the next generation of scaffolding, offering improved flexibility, intrinsic safety, greater efficiency, and higher productivity than previous systems. The combination of these factors, plus their remarkable stability at height, has made mast climbers the premier solution for cladding, façade repair, new construction, restoration, demolition or any task that requires the elevation of people and materials.
Mast climber systems
Dunlop mast climber systems are engineered to build masts to a height of 600ft. Work platform size ranges from 20ft to 52ft and the modular system has both 4ft and 8ft extension, providing greater flexibility. Dunlop's mast climber system has a freestanding installation to 65ft outdoors and 95ft indoors, with a load of 1,500lb.
Dunlop mast climber systems travel at 26ft/min. The platforms are provided with two 110V power outlets and one 208V power outlet, for power tools. The centrifugal brake system works without power to ensure the safety of the workmen.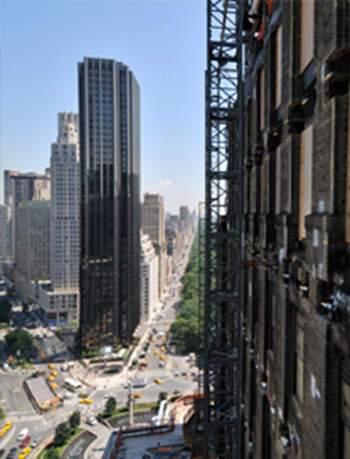 Dunlop Mastclimbers supplies and installs mast climbing systems on nearly every type of structure.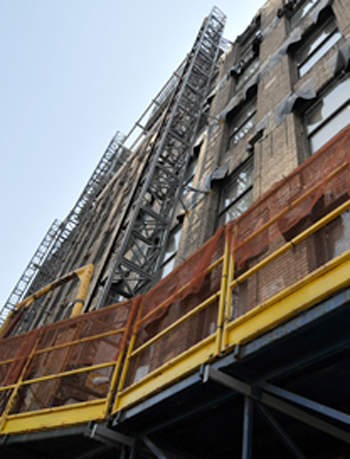 Dunlop mast climbers are engineered with the maximum available safety rating.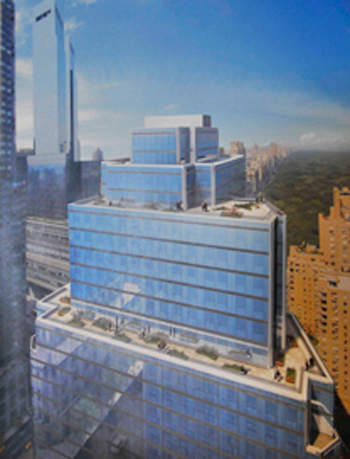 Dunlop mast climber systems travel at 26ft/min.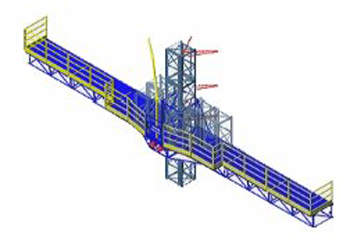 Dunlop provides mast climber installation training.
A mast climber installed at the Tosco Refinery, Martinez CA, US.
Mast climbers
A mast climber is a self-propelled and self-contained ergonomic work environment. It allows workers to bring all their tools and supplies with them at the touch of a button to the exact working height required.
The Dunlop Model 12000 mast climber has a maximum platform length of 52ft and a maximum load capacity of 12,000lb. It has a maximum lifting height when freestanding and untied of 65ft or 120ft inside an enclosed atrium. The maximum height of the Model 12000 mast climber when tied to a building is 700+ft. It has a vertical travel speed of 26ft/min.
Dunlop mast climbers are engineered with the maximum available safety rating. No other mast climber contains the same high level of safety engineering. Safety equipment on the Model 12000 mast climber includes:
Travel limit switches, including top and bottom limit switches
Audible alarm activated when mast climber is in motion
Emergency stop button
Centrifugal brakes
Auxiliary brakes for manual lowering of platform
Overweight safety device to automatically sense an overloaded platform
Top safety mast to prevent overrunning the mast
Electrical phase relay monitor to prevent incorrect three-phase power rotation
Modular mast climbers
Dunlop provides modular mast climbers with great flexibility. The standard length can range from 20ft long to 52ft long, and anything in between.
A Dunlop mast climber can also be curved to go around turrets and chimneys. It can even go around corners and in between balconies and building juts. It can be stacked two on top of each other on the same mast for double the productivity.
Dunlop mast climbers increase productivity and safety for almost every type of application. They have a long history of meeting customer access needs. At Dunlop Mastclimbers we have the expertise to engineer a solution precisely to meet your needs.
Mast climber installation training
Dunlop mast climbers can be installed safely and easily using a crane, a boom truck, or a forklift. Alternatively, with the optional chassis mount, a Dunlop mast climber can be driven right up to the side of the building and placed in position from a tow-hitch.
Any and all installation should only be performed by trained and certified personnel. Dunlop provides installation training and certification for personnel wishing to learn how to safely install Dunlop mast climbers.