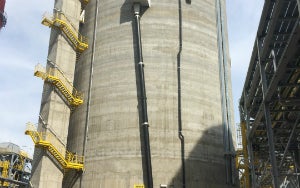 At the PKN ORLEN refinery in Plock Poland, the first real live filling process of their new 5,800m³ FGD Gypsum silo was completed successfully. PKN ORLEN is a major oil refiner and petrol retailer, owning seven refineries and over 2,000 stations in Poland.
After extensive system tests of equipment and operation software (cold commissioning), the desulphurization unit was fired up to produce the input for the silo. An extensive team, including our supervisors, overlooked the test with life input (hot commissioning).
We'd like to thank everyone for the great cooperation. The main reason for PKN ORLEN to work with the Eurosilo concept is the very limited space at the plant site in Plock. Therefore the dewatering system was built on top of the silo and load out directly underneath. Reliability and maximum uptime are essential, so we're really pleased with the satisfaction and confidence of PKN in the system and our efforts.
With more than 160 Eurosilos built around the world and more than 50 years of...