Hoist-Co is one of the oldest full-service passenger elevator companies in the US specializing in rack and pinion elevators, industrial elevators, material lifts, personnel lifts and construction hoists. We offer new equipment, parts, service, modernizations and emergency repairs.
Hoist-Co provides the STROS line of rack and pinion elevators with eight standard sizes. Custom size packages are also available. Manufactured in Europe, STROS has been supplying elevators to the industrial market for 50 years. Hoist-Co has been in the US market for over 30 years.
Engineered and built to last in the harsh environments of the industrial application, the STROS elevator boasts a combination of technology and reliability. Dependability and extended machine lifecycles help our customers maximize their investment.
Rack and pinion elevators for power plants
Our rack and pinion elevators are equipped with either variable frequency drives or direct on line drive systems. The choice of single automatic or selective collective operations is also available. The utilization of three mast wall thicknesses (4mm, 6.3mm or 8mm) allows the customer to choose the best option for the location and extend life. Our equipment is non-proprietary and does not mandate special requirements for access to components.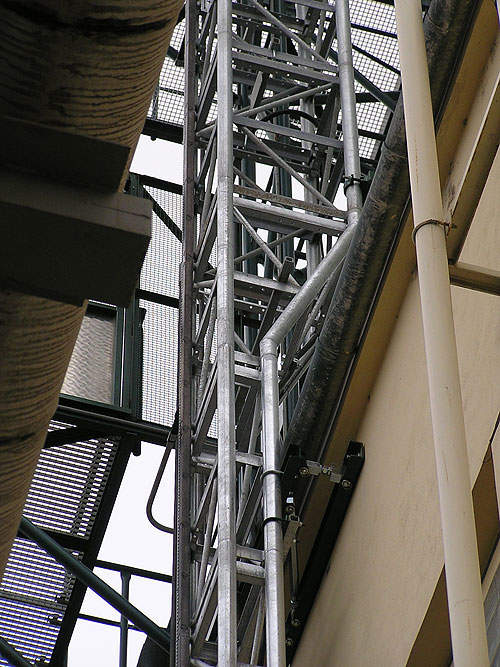 Hoist-Co specializes in rack and pinion elevators, industrial elevators, material lifts, personnel lifts and construction hoists.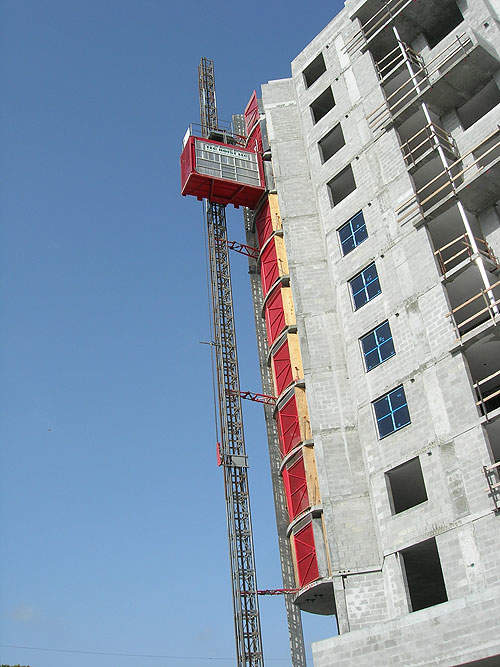 Hoist-Co provides special-purpose elevators for power plants.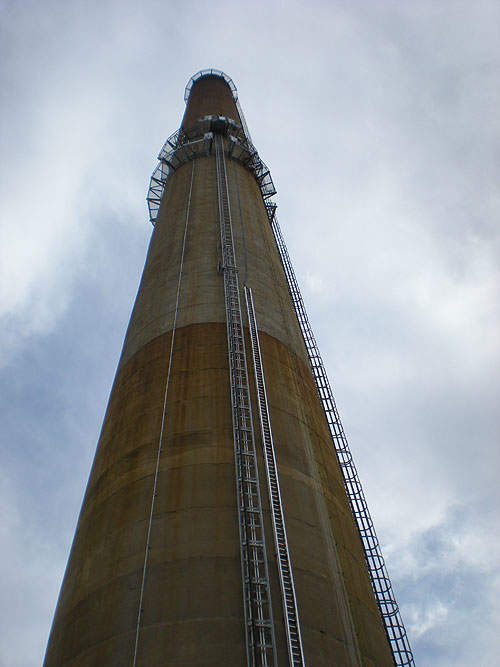 Hoist-Co offers modernization programs for industrial elevators.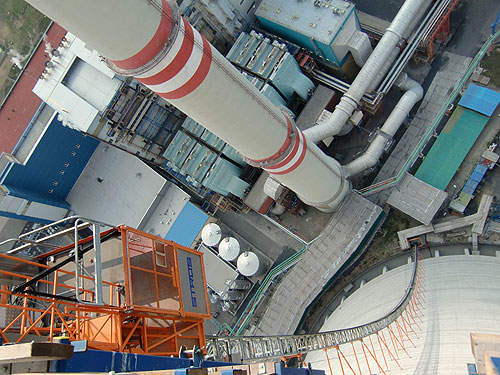 A hoist on a slip form cooling tower in Ledvice, CZ.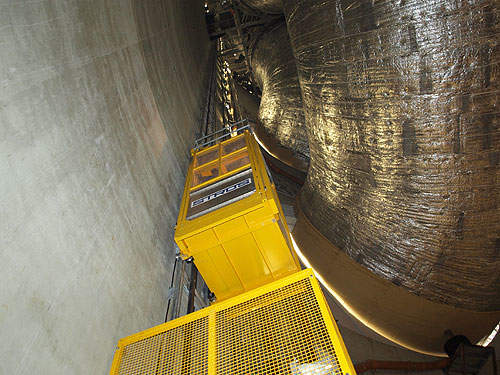 A STROS special-purpose elevator inside a stack application.
Certified industrial elevators
All of our elevators are designed, built and installed to meet applicable codes: ASME A17.1 part 5.7 and part 4.1. and ANSI A-10.4, as well as NEC requirements.
STROS is EN ISO 9001-2009 certified. Hoist-Co has two sitting members on the ASME part 5.7 and 4.1 code committees as well as four QEI-certified elevator inspectors. We are providing direction and leadership to the industry though our involvement in the National Association of Elevator Contractors and National Association of Elevator Safety Authority International.
Special-purpose elevators for the power industry
Hoist-Co is actively involved with the installation and maintenance of permanent and temporary elevators located on the following power house structures:
Chimneys
Stacks
Boilers
Crushers
Coal yards
Fly ash facilities
Absorbers
Silos
Recovery units
Cooling towers
Maintenance and parts for rack and pinion elevators
Hoist-Co has developed extensive maintenance and service programs. Specializing in rack and pinion elevators we offer routine and emergency programs to fit your needs.  Monthly, quarterly, bi-yearly, yearly and special circumstance programs are available. Our programs are designed to be proactive with preventative maintenance, allowing our customers to save money through pre-planning expenditures. Our programs include:
Extensive documentation
Phone support
Field support
Experience technicians
Detailed safety inspections
Detailed equipment reports
Our experience in the industry allows us to maintain and supply parts for almost all of the major rack and pinion elevator manufacturers. We maintain relationships with the OEM as well as our extensive structure of third-party parts suppliers. Stocking replacement parts to allow us to maintain every type of elevator is a priority, reducing downtime and costs.
Elevator modernizations
Hoist-Co offers modernization programs at all levels: tower replacements, controller replacements, door replacements, and cab refurbishments and replacements. In many cases modernizations are the economical alternative to prolong equipment lifecycles. 
Rental hoists
Through our relationships with suppliers we offer a large range of rental opportunities. Outage rentals as well as new construction are available. 
Experienced elevator technicians
Our experienced licensed technicians and installers are considered some of the best in the industry. Active training programs allow our technicians to provide a high level of quality service. Our track record for supplying new equipment, precision installations and maintenance is proven.
Safety in power plant elevator manufacture and installation
Through certification programs such as OSHA, MSHA and internal safety procedures Hoist-Co maintains the highest level of safety. It is not only our responsibility to be safe on the job; it is our responsibility to ensure your equipment meets the highest safety levels through proper installations, maintenance and parts.