As a specialist in vertical transportation equipment for heavy industry, USA Hoist is able to provide the broadest range of elevator and lifting products for power plants, refineries, offshore platforms and mining. We can customize lifting solutions to your needs and budget.
Permanently installed rack and pinion, traction and hydraulic elevators for power plants
The Permanently Installed Division provides manufacturing, installation and servicing of rack and pinion, traction and hydraulic elevators for tough industrial environments. These systems can be customized per your plant requirements, including explosion-proofing, corrosion-proofing, and control system integration with plant monitoring. We are able to provide installation in the US and manufactured solutions and technical representatives anywhere in the world.
Rack and pinion elevators are the type most often used in heavy industry. They are exceptionally well-suited to harsh environmental conditions and offer a few specific advantages over traction or hydraulic elevators:
They generally do not require the additional cost of a separate machine room and hoistway
Almost all of the loading is directly into the ground or structural base
They can be easily installed inside or outside on new or existing structures and can be easily adapted to inclined and curved surfaces
In case of power failure, the elevator can be brought down to a safe landing in a controlled descent via gravity (hydraulic elevators also enjoy this advantage)
Our standard rack and pinion models range from 1,000lb to 6,000lb capacities and run at speeds up to 350ft/min. We can provide custom rack and pinion elevators ranging from 400lb to 10,000lb capacity.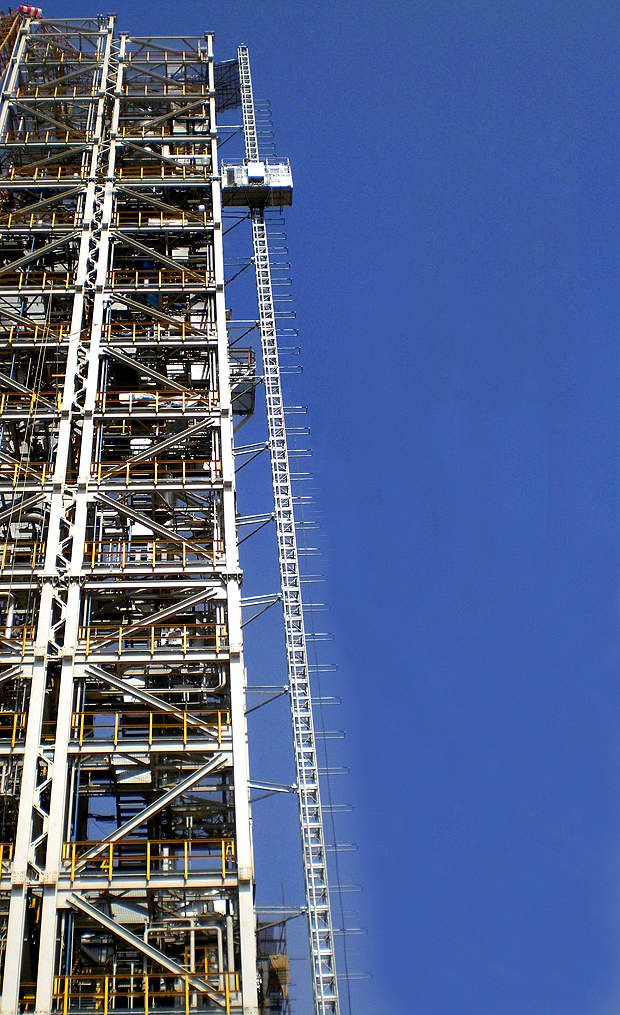 USA Hoist manufactures installs and services rack and pinion, traction and hydraulic elevators for tough industrial environments.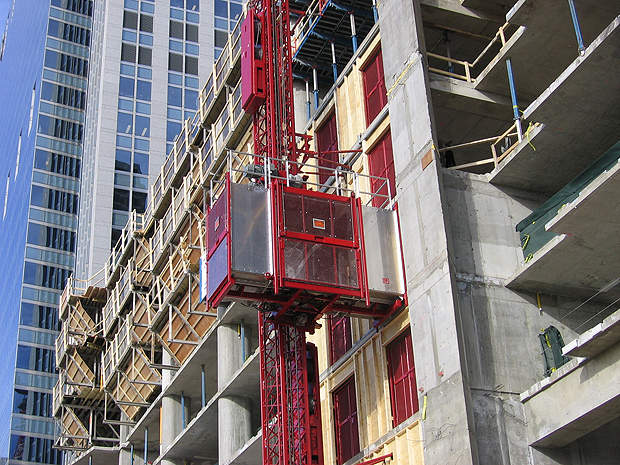 We provided explosion-proof rack and pinion elevators for the Jamnagar Refinery in India.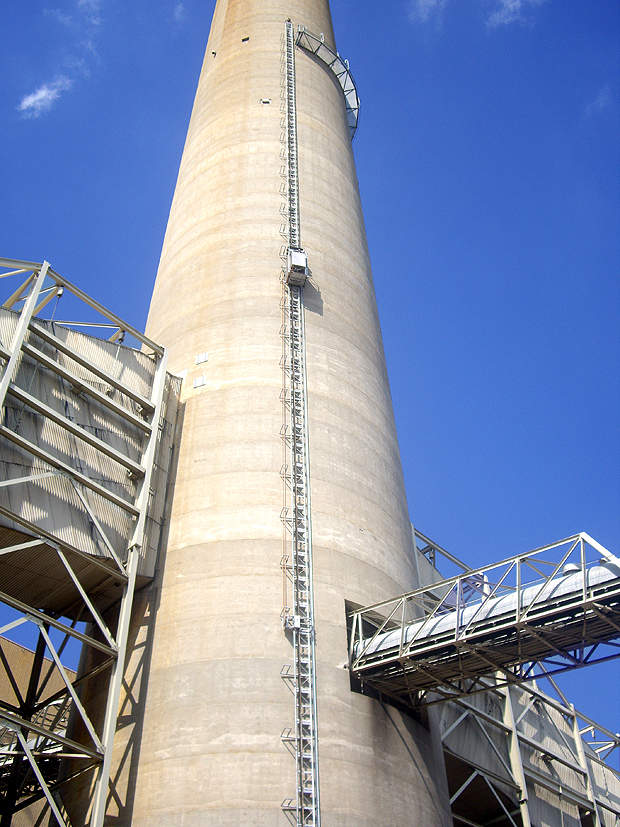 We provide preventative maintenance programs for industrial elevators.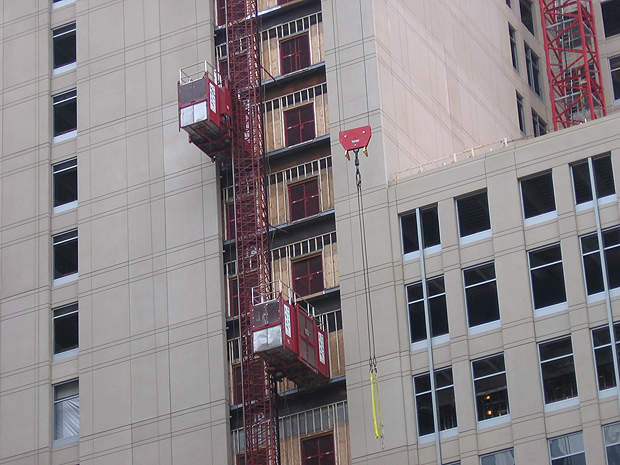 USA Hoist provides Alimak elevator rehabilitation.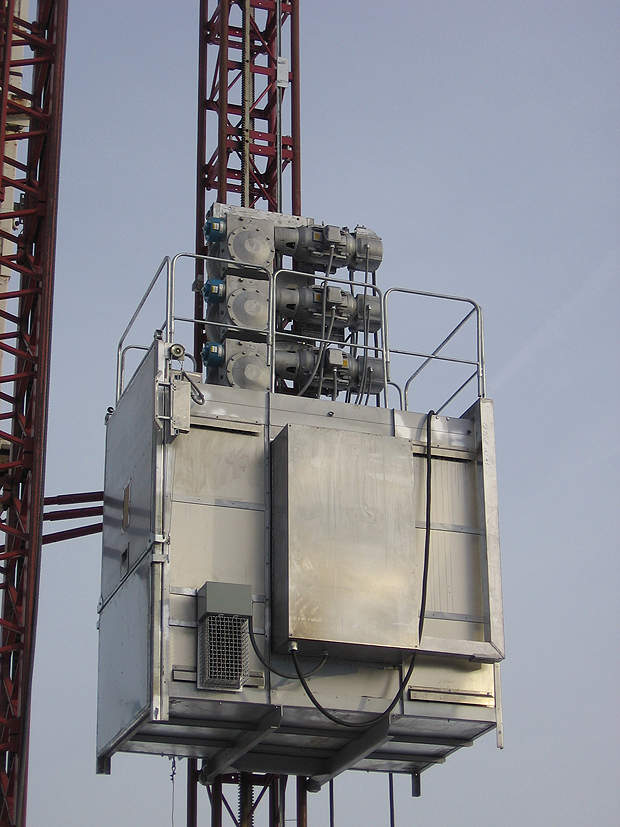 Rack and pinion elevators are the type most often used in heavy industry.
Traction and hydraulic-driven elevators for industrial environments
Traction and hydraulic-driven elevators are far more common than rack and pinion elevators outside heavy industry and are occasionally a better solution than rack and pinions. They offer significantly greater flexibility in speed and capacity and can be designed to withstand difficult industrial environments.
USA Hoist and its sister company Mid-American Elevator have extensive experience satisfying extremely custom lifting requirements. We have installed high-speed, explosion-proof, corrosion-proof traction elevators for use by departing astronauts on the shuttle launch pads at the Kennedy Space Center and 500,000lb hydraulic lifting solutions for Underwriters Laboratories.
Permanently installed industrial elevators
USA Hoist's permanently installed elevators are designed for use on:
Absorbers
Accumulator tanks
Boilers
Chimneys
Coal handling facilities
Control facilities
Cooling towers
Crushers
Factories
Heat recovery steam generators
Launch complexes
Mines
Nuclear reactors
Offices
Precipitators
Selective catalytic reduction systems
Scrubbers
Silos
Solar towers
Water dam shafts
Wind turbines
Alimak elevator rehabilitation
Not only can we provide new equipment for installation and replacement; USA Hoist has considerable experience rehabilitating aging equipment, improving cost effectiveness through increasing the life of the elevator. Capabilities include rehabilitation of other suppliers' products, including Alimak and Champion.
Industrial elevator preventative maintenance programs
USA Hoist provides preventative maintenance and call-back service throughout the midwest and north-east US and has close relationships with other experienced elevator contractors in the rest of the country who are able to provide the same high standard of service.
Construction hoist and mast climbing work platform rentals
The Rental Division maintains a modern fleet of over 100 construction hoists and 50 mast climbing work platforms, and can install and service equipment anywhere in the continental US. Our construction hoists can be used during plant outages, additions, and upgrades to facilitate more cost-effective movement of men and materials. Our mast climbing work platforms are ideal for tower demolition and repair.
Augmenting access to your plant with USA Hoist construction hoists and mast climbing work platforms can dramatically increase productivity during additions, upgrades, planned outages and routine maintenance by providing safe, fast access for personnel and materials.