LoTec has the capabilities to design and supply power-generation gas-turbine exhaust and intake systems, as well as individual components such as enclosures and ventilation silencers for stationary or trailerized/containerized units.
The company can design your intake system, on-skid enclosure or exhaust system from the ground up, or perform modifications to any existing system.
Customized intake systems
Intake systems are provided to customer specifications, and LoTec works extremely closely with its customers to make sure every requirement is met. Design parameters include pressure drop, filtration efficiency and volume flow. In addition, specific components such as humidity control, evaporative cooling and mass-flow augmentation can be added to meet a specific goal. If there is compressor bleed-air available, LoTec can provide anti-icing at the inlet filter.
Intake filter systems
The goal of all filters is to keep dirt out. LoTec's most common type of filter is a barrier type, which typically is just an element with a pre-filter that sits in some type of a holding frame. They come in various styles and configurations relative to the media and replacement schemes.
LoTec designs, fabricates and installs intake systems, on-skid enclosures and exhaust systems.<br/><br/><br/><br/><br/><br/><br/><br/><br/><br/>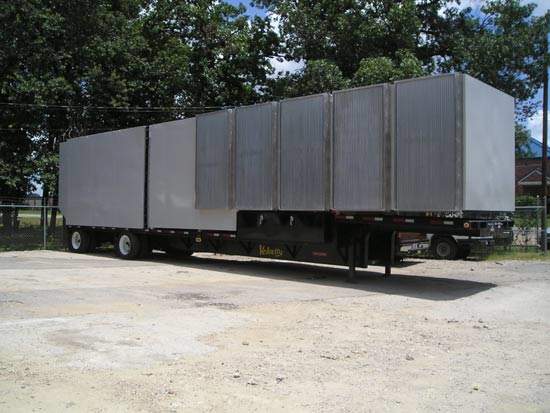 A trailer-mounted combustion and ventilation intake system.<br/><br/><br/><br/><br/><br/><br/><br/><br/><br/>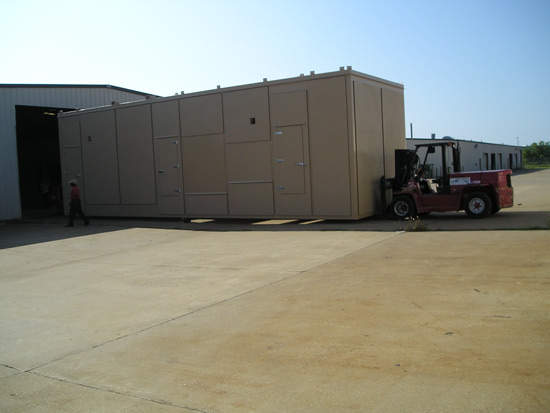 A large turbine compressor enclosure with ventilation system.<br/><br/><br/><br/><br/><br/><br/><br/><br/><br/>
Pulse cleaning systems
Desert environments typically have a high dust load in the air, which is made up of larger dry particles. An effective filter for this application is a pulse cleaning system.
Pulse clean filters are also good in a frosty environment. Light frost can be pulsed off the media, allowing for lower operating pressure drops in cold/frosty conditions.
LoTec works very closely with its customers to ensure they receive the optimum pulse cleaning system for their situation.
Filter and intake equipment enclosures
Equipment enclosures are an essential element to ensure a system operates quietly. LoTec designs enclosure equipment that ranges from tight-fitting, skid-based enclosures to large buildings that go around the equipment and are free-standing to grade. Their construction can vary from an acoustical metal building type to the heavier seal-welded plate and perforated metal type.
Skid-based units tend to be limited to shipping sizes, while off-skid enclosures are not as limited in size. LoTec can modify an existing enclosure or start from scratch and create a signature enclosure depending on the customer's needs.
Power plant exhaust systems
Exhaust systems come in many shapes, but are generally vertical or horizontal. Included in LoTec's exhaust systems for power plant applications are expansion joints, silencers, ductwork stacks, ladders, platforms, and structural steel.
Customized exhaust systems
LoTec can produce specific designs for exhaust systems that can meet any combination of customers' specifications, including acoustics and pressure drop. The company's experience ensures it will provide the right design for your application.
Customized silencers
Noise ranging from engine exhausts to starters can be a huge headache for both site managers and local neighbors. That is why LoTec offers a variety of silencer products that are usually site-specific. The company's specialists can visit the site and determine the best solution or meet a specification given by the customer. Whether the sound is high or low-frequency, LoTec will generally have a silencer to offer.
Ventilation systems for enclosures
Virtually every enclosure needs some type of air movement, which is why LoTec also provides ventilation systems. Depending on the application, the system can include filtration, silencing, fans, louvers, volume control dampers and more. The amount of noise reduction, pressure loss and construction geometry is varied to match the individual project's needs.