Based in France, the Société d'Acoustique Industrielle (SAI) designs, manufactures and fabricates industrial acoustics equipment for the global power generation industry. We supply gas turbine inlet and exhaust silencers, exhaust stacks, gas pressure-relief silencers, reciprocating engine silencers, engine test benches, acoustic enclosures, gas-liquid separators and a broad spectrum of expert services, including the engineering and manufacturing of sheet metal and boilers.
Acoustic enclosures for power stations
SAI's acoustic enclosures provide reliable sound insulation for power station facilities, with more than 400 enclosures for gas turbines from 10MW to 250MW worldwide. Customisable to meet individual client requirements, our acoustic enclosures support explosion and weather damage-protection measures, gas leak evacuations, variable flow rate ventilation, enhanced maintenance access routes, etc.
Acoustic enclosures can be used in conjunction with gas and steam turbines, exhaust gas ducts, generators, ventilation equipment and internal combustion engines.
Gas-liquid separators
We specialise in providing cutting-edge oil mist eliminator technology, with more than 600 units installed all over the world. Our gas-liquid separators are made from coalescing high-density glass fibre and used primarily for gas turbine / generator applications. Our extremely efficient separators can also be applied to air / gas mixtures and all other liquids.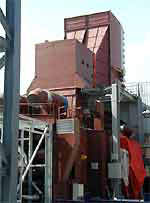 SAI designs and manufactures silencers, reciprocating engine silencers, engine test benches and other equipment for the global power generation industry. <br /><br /><br />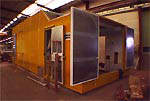 A 70MW generator enclosure during manufacture.<br /><br /><br />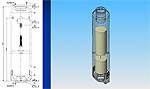 The company produces high-quality gas turbine / gas pressure-relief silencers and reciprocating engine silencers.<br /><br /><br />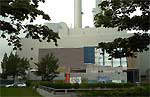 SAI's noise enclosure manufacturing facility in Munich, Germany.<br /><br /><br />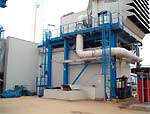 An auxiliary compartment and exhaust treatment unit.
Our gas-liquid separators are fitted with oil sump ventilators that can handle gas turbine / generators, steam turbines, compressors, factory machinery, vacuum pump exhausts and other equipment.
Gas turbine and gas pressure-relief silencers
SAI's gas pressure silencers can handle any type of liquid, as well as air, steam and carbon dioxide under variable degrees of flow, pressure and temperature.
Our DAS-type gas pressure relief silencers can eject any valve down-flow liquid into the atmosphere. This unit consists of a first expansion stage with a shockless device attached and a second acoustic stage with glass wool to adjust acoustic damping. In addition to SVI type or reservoir draining silencers, we also supply LD type or online diffuser silencers that dampen noise pollution caused by control valve down-flow.
Our line of gas turbine silencers is produced with capacities ranging from 1MW to 240MW. This range includes air inlet filters and ducts, expansion compensators, standard silencers and exhaust silencers in ferritic or austenitic stainless-steel systems and other products. Our gas turbine silencer products provide essential noise reduction in standard and combined gas turbine cycles.
Reciprocating engine silencers
SAI customises inlet or air exhaust silencers for use in operating or reciprocating diesel and gas engines, co-generation engines, pumps, boilers and compressors. The company fits these systems with SAR, SARA and RA-type reactive silencers in accordance with customer requirements.
These units effectively reduce low-frequency noise pollution resulting from high-engine running speeds. We also supply SCA-type dissipating silencers for the treatment of medium and high-frequency noise pollution.
Engine test benches
Used extensively in civil and military aviation, SAI's engine test benches can be used to design and assess a wide range of industrial products.
Our test benches can be fitted with exhausts and inlet silencers for work with acoustic technology, while boiler-making procedures are supported by benches featuring air-inlet horns, detuners, mixer tubes and discharge gap baskets.
Power plant exhaust systems
As all exhaust systems are equipped with an exhaust silencer, we at SAI have consequently included the engineering, design, manufacturing and erection of entire exhaust systems for combustion engines in our services. The scope comprises steel structures, ductwork, elbows, diffusors and stacks for projected new plants and for existing plants (retrofits).
Exhaust systems for gas turbines
Depending on the exhaust temperature, SAI provides systems with external and/or internal insulation. Particularly for gas turbine applications, SAI has developed a unique, cost-saving design for exhaust stacks – without insulation.
Gas turbine manufacturers, general contractors and IPPs worldwide rely on our standardised or custom-made exhaust systems.