Advanced Turbine Support is a cutting-edge inspection company that develops and offers inspections you can't get anywhere else. As well as being the leading non-OEM provider of gas turbine borescope inspections we offer INSITU blending, shim removal or grinding, remote eddy current, ultrasonic and dye penetrant inspections.
Our goal is to provide users with a thorough, unbiased, condition assessment of their combustion turbines. In addition to semi-annual and annual borescope inspections our services are utilized for baseline inspections, outage planning, troubleshooting and warranty inspections.
We have thirteen borescope inspectors with extensive experience in all of the General Electric, Westinghouse and ABB frame units, plus the General Electric and Pratt and Whitney aero derivatives.
Our clients include most utilities in the United States and several in Taiwan and Mexico. We are in the process of growing the international side of our business and will offer pricing to our overseas clients that is similar to what we charge our US customers. We will beat any US quote for comparable inspections by 10%.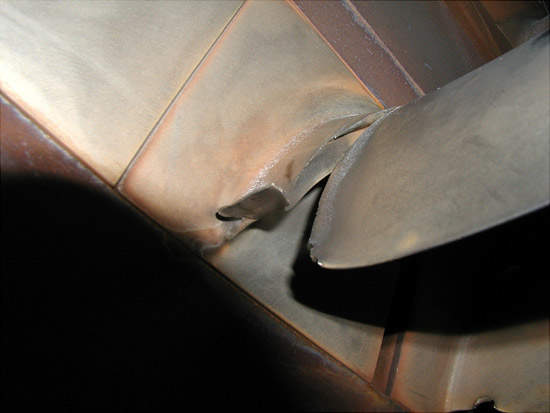 This torn S-5 stator vane was identified during the bi-annual inspection just prior to liberation.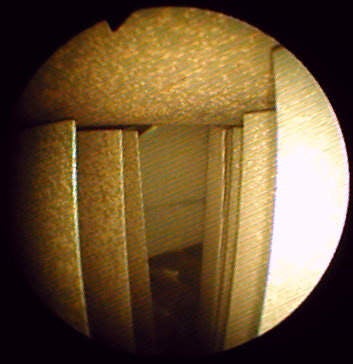 This unit was still in operation with a liberated S-17 stator vane.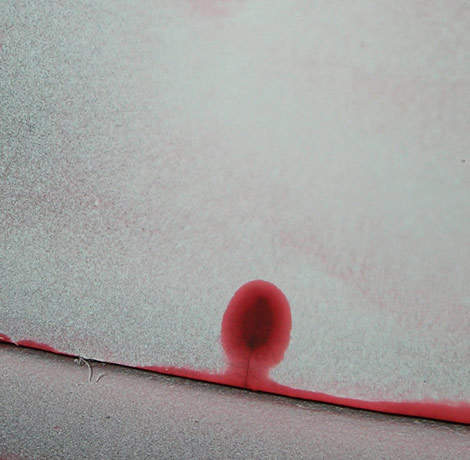 Our remote 1509-1 inspections are designed to identify cracked R-0 and R-1 blades prior to the liberation of tip material.
Specialized inspections for turbines
The majority of the inspections listed below are specialized inspections developed by our company to meet the needs of the utilities.
7FA TIL 1509-1 inspections in 12 hours or less (also available on the 7EAs)
Remote blending of impact damage and tip crack removal on the 7FA R-1 and 7EA R-2 blades once they are identified during the dye penetrant inspections (other companies require compressor disassembly)
7FA remote INSITU R-0 and R-1 platform ultrasonic inspections to identify cracks in both the standard blades and P-Cut blades (100% of the blades can be inspected)
7FA R-1 platform eddy current inspections to identify surface cracks on the platforms
Remote shim removal and or grinding on the S-0 through S-2 compressor shims per TIL 1562 (other companies require compressor disassembly)
501F AeroPac 1 generator spark erosion inspection with engineering review performed by National Electric Coil
Standard borescope inspection
Our standard borescope inspection is designed to provide users with a true representation of the unit's condition. We inspect the compressors in four locations from the inlet, the combustion section, the turbine and the exhaust.
On the 7FA every stage of the compressor is inspected. We also provide a list of supplemental inspections on the 7FA that allows users to add additional inspection items to the work scope: ie number one bearing lift oil lines, full transition piece impingement sleeve inspection, etc.