Masaood John Brown (MJB) are total providers to owners and operators of industrial gas turbines through the world, offering an employee skill base that equates to over 2,500 man years of OEM experience in industrial turbine maintenance solutions, with particular specialization in the frame range of turbines designed by GE and their former business and manufacturing associates.
Our business is founded on the strength of our technical and engineering capability, reinforced by our commitment to quality and customer satisfaction that is demonstrated by our accreditations ISO 9001:2000, ISO 14001:2004 and OSHA 18001:1999.
GAS TURBINE MANAGEMENT
Our expanded infrastructure and partnership arrangements allow us to network and support our services internationally. We are in a unique position to offer both immediate advice and site assistance to industrial gas turbines users for all operational needs.
Services rendered include: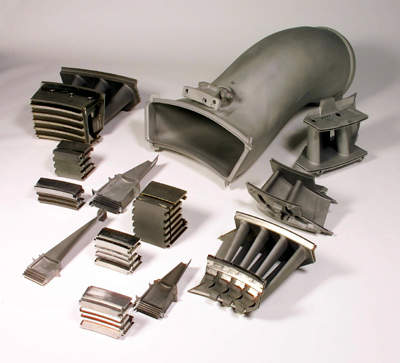 Masaood John Brown maintains a substantial inventory of spare parts for the General Electric design of heavy industrial gas turbines.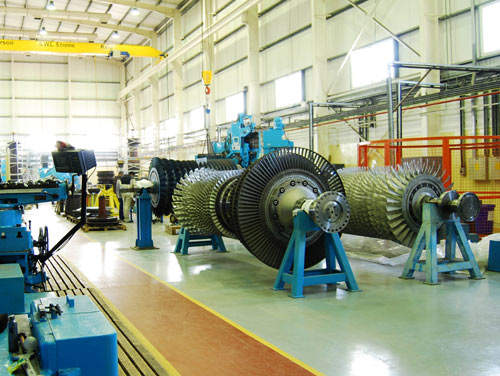 Masaood John Brown's customised facility in Dubai, UAE is fully equiped to perform complete gas turbine compressor and power section overhauls for frame type engines.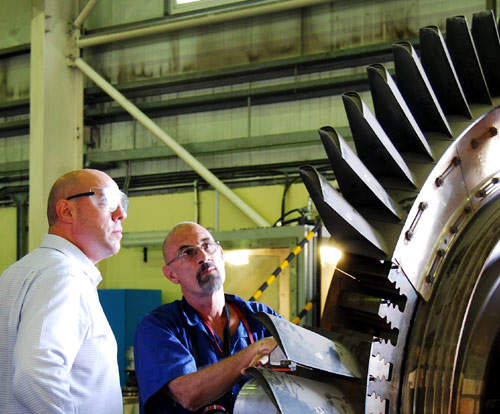 We also offer access to the most comprehensive independant repair service in the world.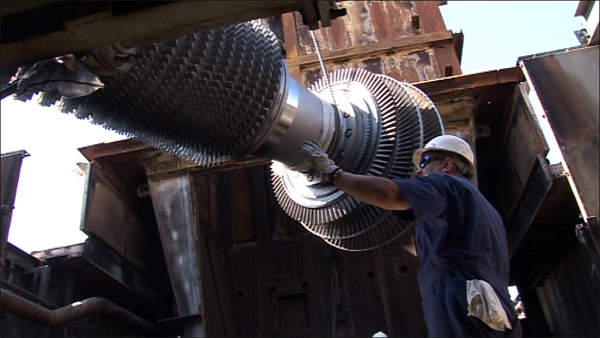 Masaood John Brown employs a wide range of experienced gas turbine field engineers, technical advisors, construction and logistics managers.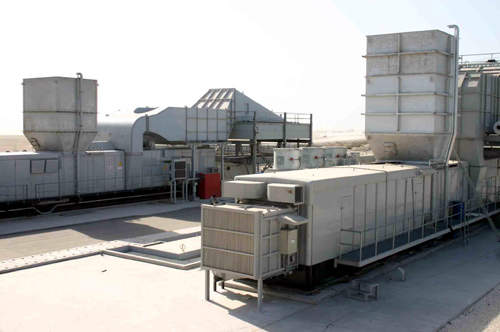 Our facility is fully equiped to perform a complete gas turbine refurbishment service.
Spare and replacement parts
Component repair
Component manufacture
Aero derivative gas turbine services
Field maintenance and engineering services
Control system retrofits
Power systems training rotor repair and overhaul
Turbine blade repair and coatings
Complete gas turbine refurbishment
Engineering technology and support
Compressor services
STEAM TURBINE SERVICES
MJB maintain a substantial computerized inventory of spare parts for the frame type, heavy-duty industrial gas turbines and also for other OEM turbine manufactures.
We are committed to a policy of providing a comprehensive spare parts service to our customers and industrial gas turbine users. MJB have developed a supply chain relationship with a number of international manufactures to offer quality part availability on a competitive and timely basis.
All components repaired or supplied as replacement parts are accompanied with a full warranty to international standards
GAS TURBINE REFURBISHMENT
Part of our joint ventures company, are specializes in the manufacturing, installation and commissioning of refurbished power plant equipment. These include sourcing; planning, constructing and managing contracts to deliver competitively priced power generation equipment within short time frame delivery periods.
GAS TURBINE REPAIRS
MJB offers an extensive and complete range of repair services from our global custom-built repair workshops. Stationary and rotating parts, rotor overhauls, and specialized services such as coating, metallurgical repairs and special laser machining operations are offered as well.
Widely known for cost-effective parts repair solutions through the use of many patented and approved proprietary and innovative process.
We offer component exchange system, giving to our customers the possibility to minimize their inventory and reduce unit downtime during overhaul. Service available for most capital spares and control parts.
GAS TURBINE FIELD AND ENGINEERING
MJB get as part of the staff, field services technical advisors. Engineering and site services include standard overhaul, troubleshooting and planning, technical support, control retrofits and plants upgrades, OEM plant relocation and total maintenance concepts.
TURBINE PERSONNEL TRAINING
MJB has trained more than 2,000 engineers and employees over the last few years and fully recognize the value of properly trained personnel. We have devised specialist courses and comprehensive training programmers for management, maintenance and operating personnel. These are available to suit operational, mechanical, electrical and instrumentation disciplines.