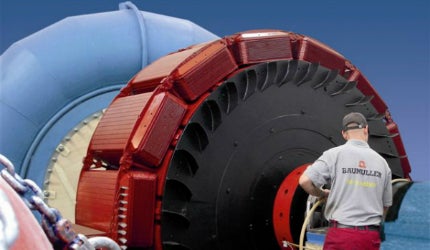 Baumüller specialises in the installation, maintenance, on-site troubleshooting and complete reconditioning of power generators for combined heat and power (CHP) plants, marine, hydropower, wind power and emergency power applications.
Installation and commissioning of generator sets
Baumüller carries out installation and commissioning of generator sets from a wide range of leading manufacturers, from low-voltage synchronous generators, up to generators in the multi-megawatt range. We install and commission reversible machines for all types of operations, power take-in (PTI), power take-out (PTO) and power take home (PTH).
Scheduled maintenance and on-site troubleshooting
Our maintenance activities include visual checking, testing and measurement, reconditioning and replacement, as well as cleaning of all important parts of your generators.
This includes the stator, rotor and exciter, as well as their windings, high-voltage connections, the sleeve bearings and lubrication system, rolling bearings, cooling systems and various other accessories.
Our mobile service teams and network of qualified service partners ensure swift availability on-site and a professional completion of your project.
Reconditioning and repair of generators
Our service ranges from the replacement of faulty components to the complete overhauling of rotating machinery in the multi-megawatt range. Our test equipment complies with the latest technical and environmental requirements to ensure reliable diagnostics and the highest possible quality standards.
Processes such as vacuum-pressure impregnation ensure impregnation of all winding parts free of air bubbles and result in an increased operating life.
Spare parts for rotating equipment
Due to our many years of experience with the repair a wide range of generators and our comprehensive stock, we are your partner for all your spare part needs regardless of the manufacturer.
Our specialists support you in determining your needs and in defining optimised packs of spare parts; from Cosimat voltage regulators, power factor controllers and low-pass filters, through to current regulator modules and rotating diodes.
From our professional logistics and export procedures, we ensure the prompt dispatch worldwide of the necessary parts, when and wherever they are needed.
Global services for rotating machinery
With high quality generator workshops in Germany, Austria, Holland and the UK, as well as a strong network of professional partners, we have a mobile team of generator specialists available for global support 24/7 and troubleshooters onsite quickly, onshore and offshore.
Baum&uumlller (UK) Ltd
Unit 9 Rugby Park
Bletchley Road, Heaton Mersey Industrial Estate
Stockport
SK4 3EJ
United Kingdom