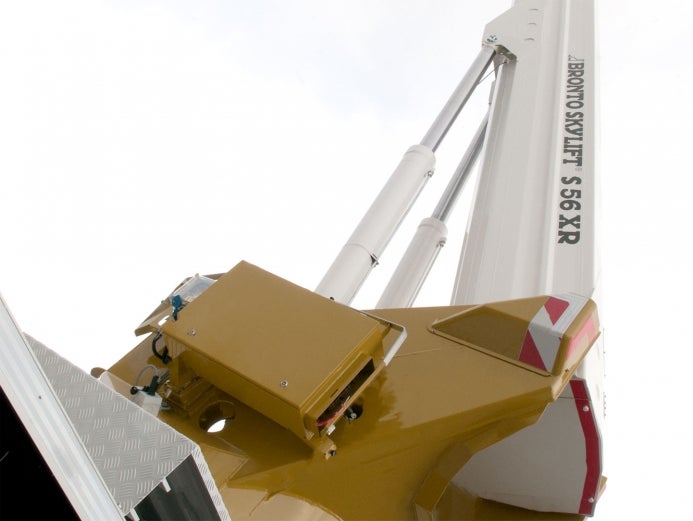 A transfer of 16 Bronto Skylift machines to Jalo and Jalo Oy (J&J) will take place following a business deal with Janneniska Oy.
Following the agreement, Bronto and J&J's close long-term cooperation will become even tighter, while two new S56XR machines will be delivered to J&J during the year.
A long and successful cooperation continues
At the end of April, the leading Finnish hydraulic platform vehicle service providers, J&J and Janneniska Oy, announced a business deal under which both companies will focus on providing hydraulic platform vehicle services in their own categories.
In the future, J&J will provide services with its own equipment up to 80m. The company will buy hydraulic platform vehicle services requiring a B-class driving licence or carried out at heights over 80m from Janneniska.
The deal will increase the number of Bronto's hydraulic platforms at J&J's considerably. The first hydraulic platform was delivered to J&J in 1972, the same year that Bronto Skylift was founded.
Today, J&J has 50 hydraulic platform vehicles and, with only a few exceptions, they are all Brontos. Both companies see each other as strategic partners, and J&J is planning to replace all of its machines gradually with Brontos, which further strengthens the partnership.
New S56XR machines: side reach has a decisive role
This year, Bronto Skylift will deliver two S56XR hydraulic platforms to J&J. The first machine has already been delivered.
The first new S56X model will be supplied during the third quarter of the year and will have the serial number 001. Its new features include a cage that rotates 440 degrees, which enables optimal positioning and easy access to target. The machine also has a stronger boom structure.
J&J head Sami Jalo has indicated that the most decisive factor in the selection of Brontos machines is the company's excellent side reach, while they stated: "For us, the most important feature of equipment is not working height but good side reach, which makes the equipment suitable for diverse uses."
The name of the XR series comes from the words 'extreme reach', and the machine really lives up to its name in practice, as the side reach of S56XR is up to 40 metres.
Bronto's XR machines have proved their excellence and functionality, and the machines now delivered will increase the number of J&J's XR machines to seven.
Maintenance is also another important aspect that adds to Brontos appeal.
Jalo added: "We are more than satisfied with the maintenance services of Bronto Skylift. Cooperation with them is smooth and easy, and problems are solved quickly and professionally."
Reliability from a forerunner
Another proof of the level of the mutual cooperation and trust between J&J and Bronto Skylift is the fact that J&J has already previously bought Bronto's prototype models that have been the first of their kind.
In connection with the deal, a new 2004 model S61XDT machine will be returned to Bronto Skylift. The machine has operated reliably and retained its resale value well.
Bronto Skylift's S70XR truck-mounted platform, which is supplied by LKW Lift, has received a Movicarga...